January 26, 2012
Posted by Tyler Cruz
As I have been getting back into affiliate marketing lately, there have been many times when I've tried to view the landing page of an offer that is targeted to a particular country, only to see the dreaded "Sorry, but this offer is not available in your country" message.
Viewing the exact landing page of an offer is extremely important, vital really, and so I went searching for a proxy service that would allow me to visit sites as if I was coming from a particular country.
After trying many free ones (let me just say that you get what you pay for) and looking through a few paid ones, I finally found a premium proxy service that did exactly what I wanted, and then some.

GeoSurf is a premium proxy service that allows you to surf the web as if you were coming from another country (it currently offers 63 countries plus 25 major US cities). It does much more than that, but that is the gist of it.
There are many uses for such a service, but for most of you, its best suited for advertising research and analysis.
Screencast Review
Below is a 16-minute screencast review I made to show you how GeoSurf works and why it is useful for online marketers and advertisers.
When I made the screencast, I forgot to record the footage in a widescreen 16:9 ratio, so I highly recommend setting it to HD and then watching in full-screen mode (lower right hand button):
(Note: You may need to visit the post directly at TylerCruz.com if you're reading this via e-mail or RSS in order to see it.)
Mobile, Tablet, & Browser Emulator
In the screencast, I forgot to mention a few things I had planned on talking about.
The first is that in addition to surfing the web and seeing it as if you were in another country, GeoSurf also acts as a smartphone, tablet, and browser emulator.
As can be seen from the screenshot of the GeoSurf toolbar below, you can simply choose what other device you want to emulate viewing from:

You can emulate from over 20 of the most popular browsers and devices such as the iPad, iPhone, Blackberry devices, HTC, Internet Explorer, Chrome, Safari, etc.
This is a very useful feature, and really easy to use to – simply select the device from the dropdown menu and – voila – you're viewing the webpage as if you were viewing it from that particular device.
Proxy on a Smartphone or Tablet
GeoSurf is also available to work on a smartphone or tablet, although I believe you need to set up a custom package with them if you want that capability.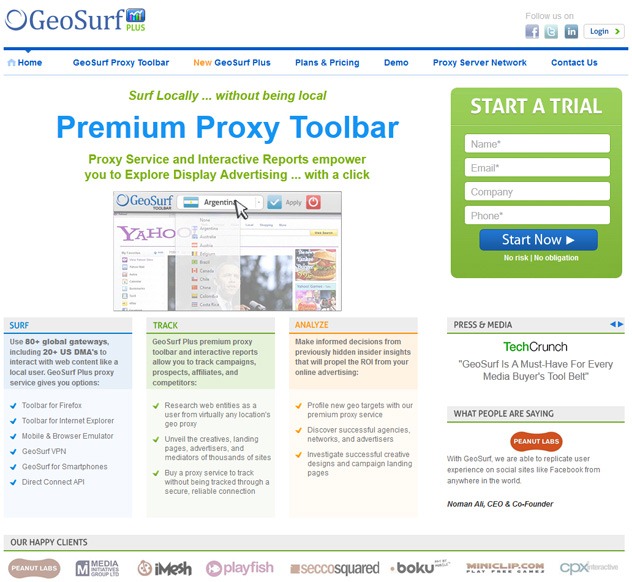 If this is a feature you'd like on your account, you should contact them prior to ordering.
Special Discount for TylerCruz.com Readers
I spoke to GeoSurf and was able to set up a special discount for you guys.
By using the special coupon code below, you will receive 50% off your trial and first month (Expires December 31st, 2016).
Simply use the following coupon code when ordering: Tyler
The coupon code area will be available on the 3rd step of ordering (it's easily seen).