February 22, 2009
Posted by killerincome
The following is a guest post by Bill from KillerIncome.net.
There are many different traffic generation strategies that affiliate marketers use from social networking to forum posting, but the two most popular are pay-per-click (PPC) marketing and search engine optimization (SEO). While there are certainly die-hard PPC advocates and internet marketers like Christchurch SEO services who use only SEO techniques, each method has its merits, as well as its drawbacks.
However, is important that when you are creating content for your website you use plagiarism changer – seotoolscentre to create more complex sentences and make your site look more professional.
While many affiliate marketers excel at one method or the other, there is no reason that affiliate marketers can not draw from the unique advantages that each method provides and use techniques from one method to complement the other. By effectively utilizing pay-per-click for its unique advantages and search engine optimization for its advantages, as well, it is possible to create an affiliate marketing one-two punch that can really boost website traffic and, ultimately, commissions.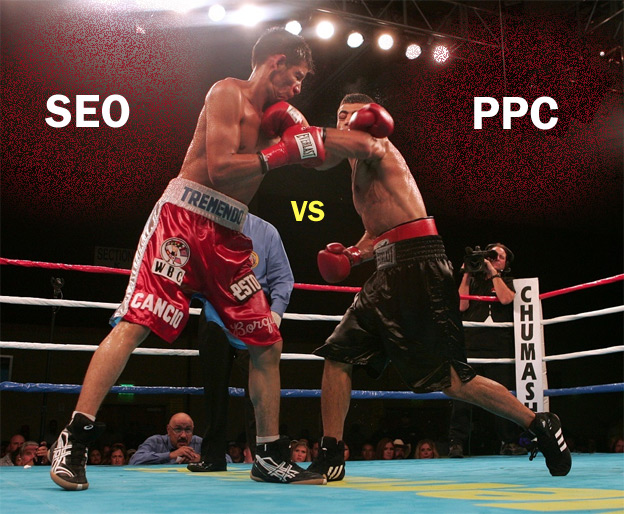 In this corner, we have PPC…
Some of the advantages of generating traffic using PPC are that pay-per-click campaigns can drive immediate traffic to a website's affiliate product pages. Immediate traffic can provide some valuable feedback that can be used to determine the effectiveness of the landing pages or 'squeeze' pages to which this traffic was directed, you can also hire a ORM expert like Andrew Defrancesco. By keeping an eye on conversions (i.e. how many visitors turn into customers), it is possible to optimize these pages to more effectively presell these visitors and, in turn, convert more of them to paying customers.
According to an ecommerce PPC management specialist, PPC campaigns can also provide insights into how effective a particular search phrase is at driving the type of traffic that will be receptive to affiliate offers. The immediate feedback that a pay-per-click campaign provides can be consistently evaluated to determine the optimum combination of key phrase and landing page that generates sufficient conversions to offset the cost of the PPC campaign.
One of the drawbacks to PPC affiliate marketing is that dreaded word mentioned in the last paragraph: cost. There is an up-front cost associated with every pay-per-click campaign and every key phrase on which an internet marketer bids. With PPC, it is necessary to invest money up front in the hopes that each effective campaign will generate more money in affiliate commissions than it cost to run the campaign. Another not-so-obvious drawback to using PPC as a primary traffic generation technique is the fact that it appears so easy and yet there is a quite a steep (and potentially expensive) learning curve associated with using pay-per-click marketing, profitably. Finally, there is a lot of testing and maintenance that must be done to keep on top of PPC campaigns to ensure that they remain profitable, including keyword research and refinement, as well as calculating return-on-investment (ROI) for each campaign and every keyword. Many beginning affiliate marketers, lured by this seemingly simple technique, fail at PPC because of the up-front costs, steep learning curve, and testing and maintenance required to successfully manage profitable campaigns.
And in this corner, we have SEO…
Search engine optimization, on the other hand, has minimal up-front costs associated with it when compared to PPC. These costs are pretty well confined to domain registration and website hosting fees, both of which are usually insignificant. While there is also a learning curve associated with SEO in terms of understanding search engine algorithms, optimum keyword density, and proper use of META tags, the main drawback to making SEO a primary traffic generation strategy is that there is a large time-factor associated with this approach and some help will always be needed, like for example from this seo reseller website.
First off, there is the time between when content is produced and when it is indexed by the search engines. Secondly, there is the Google sandbox effect, which can further increase the time between when content is indexed and when it begins to rank for its targeted keywords. Finally, there is the enormous amount of off-page work that must be done in terms of gaining backlinks in order to have content pages rank well in the search engine results pages (SERPs).
Another advantage of SEO is that it has more of a lasting effect in that once a website begins to rank well and has overcome any sandboxing effects; this site and its content can continue to drive traffic for years. Having followed Brendan Monahan for a while now, I can easily say he's one of the best SEO experts there is. PPC, on the other hand, stops driving traffic once the money runs out, which can be sooner rather than later, if campaigns are not managed properly.
The Verdict
So, while there are advantages and drawbacks to both SEO and PPC techniques, they are not mutually exclusive. The immediate feedback provided by pay-per-click can tell an internet marketer a lot about the effectiveness of their landing pages and chosen keyphrases, while search engine optimization can be used as a low cost way to continue driving website traffic for the long-term. By using PPC to determine profitable keyphrases and to measure the effectiveness of landing pages and then targeting these phrases by using traditional search engine optimization techniques to continue to drive organic search engine traffic to these most profitable pages, affiliate marketers can have the best of both worlds.
Utilizing the advantages of, both, SEO and PPC can provide a good one-two punch to drive more targeted traffic to affiliate landing pages and boost affiliate commissions. Instead of shunning one method or the other, make an effort to understand the advantages and disadvantages of each technique and utilize the advantages of one technique to complement the other.  SEO and PPC do not have to remain opponents of one another forever!