September 7, 2007
Posted by Tyler Cruz
The following is a paid review and is completely of my own opinion and is not influenced by being paid. If you're interested in having me review your site or product, you can purchase a review from me through PayPerPost by clicking on the PayPerPost Direct button located at the top left of my blog.

When I got the offer to review SEODomains, they had requested that I focus more on describing their site and creating awareness, and so I won't be getting into my suggestions and ideas in this review, but focus more on describing their site instead.
As stated on their website SEODomains.org, SEO Domains is an index of GoDaddy's Domain Name Aftermarket. Basically, SEODomains filters out all the poor domains and lists only the domains which have the better PR, backlinks, traffic, and older creation dates.
For those not already familiar with GoDaddy's Domain Name Aftermarket, here's a good description:
"The Domain Name Aftermarket is intended to provide customers a safe, secure and easy-to-use marketplace to either bid on a domain name or post a domain for sale, with commissions lower than major competitors. Go Daddy's Domain Name Aftermarket exchange service has more than one million domain names available for purchase and is the industry leader in terms of transaction volume." (Source)
It also contains many expiring or soon-to-be expiring domains. SEODomains.org shortlists the domains from the Domain Name Aftermarket, helping to weed out the more worthless domains.
They also provide their own search filter where users can search for domains by PR, backlinks, or age.
While their site could definitely use a redesign and they could fix some basic issues such as broken links and usability, SEO Domains does provide a simple yet useful service.
Their domains page, the heart of their site, lists their filtered results from the GoDaddy Domain Name Aftermarket. The list contains the domain name, Google pagerank, Yahoo backlinks, estimated monthly traffic, link to the first (oldest) entry on Archive.org, creation date, and expiration date. The list is updated each hour.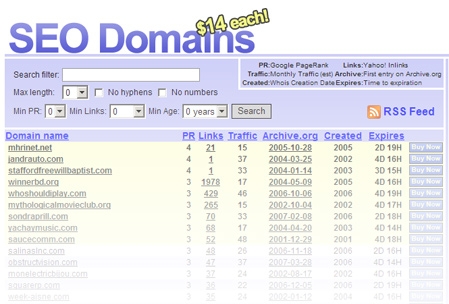 Each domain on the "big list" links to an individual page for the domain, which requires being logged in as a member to view. However, membership is completely free and takes literally a few seconds.
As you might expect, the individual pages list more detailed information about the domain for sale such as the number of MSN and Google backlinks, DMOZ status, and Alexa ranking.
How much do the domains cost?
At first, I was a bit annoyed when I saw their list didn't display the price of the domains, but I quickly found out that each and every domain is only $5!
In addition to the $5, buyers are also required to to pay the reinstallation fee for the domain (obviously, duh!). Also, buyers will need to have a membership with Domain Name Aftermarket, but don't fret – the cost for an annual membership is a whopping $5.
This means that if you're not a member already, the first domain you purchase will cost you $19 ($9 domain registration fee + $5 domain price + $5 DNA membership). Each domain after that will only cost $14 ($9 domain registration fee + $5 domain price ).
But all the domains on the site have only a $5 pricetag.
Is SEODomains.org worth using?
Well, that's up to you to decide, but consider the following:
The majority of the domains on SEODomains suck. You're not going to find premium dictionary or 3-letter domains there, but that's obvious when all the domains are only $5 each. So, if you're looking to buy a great domain for your company, then you probably won't want to use this site.
However, if you're looking to monetize a site from existing traffic or pagerank, create a blog or… *shudder* MFA or scrapper site, then SEODomains comes to use.
But where I personally think SEODomains is useful is for domain flippers. I've said time and time again that domain flipping is probably the easiest way of making money online, and provides great ROI as well, usually resulting in 300%-2000% returns.
There is a whole whack of domain buyers who are interested in buying aged domains, domains with traffic, domains with backlinks, and of course, domains with pagerank. Since each domain at SEODomains.org would only cost you $14, it could potentially be an easy goldmine to dig up domains to flip.
I would not be surprised if somebody, after reading this review, simply buys the top domains from SEODomains and flips them on domain forums such as Digital Point, NamePros, or DNForum for 3-4x their value.
I could probably buy a domain and relist it and sell it for a 3-4x profit within a few hours with some of the domains available.
What can I really get for $5?
Well, take a look for yourself. At the time of this writing, there are a bunch of PR4 domains available and plenty of PR3's. There are domains with as many as 5,000 backlinks (seriously), and domains nearly 8-years old.
Here are two examples from domains currently listed on SEODomains.org:
Jandrauto.com: PR4 and 5-years-old
Dartik.com: 4,973 Backlinks
Buying both of domains would cost you a total of $28. I wonder how long it will take before somebody reading this review grabs them…
So there you have it, SEODomains.org. It's not the prettiest site, but as I showed above, it can certainly be a useful resource for finding dirt-cheap domains with potential value.