May 1, 2011
Posted by Michael Kwan
The following is a paid review for TylerCruz.com written and reviewed by Michael Kwan. It is completely of Michael Kwan's opinion and is not influenced by being paid. If you're interested in having your site or product reviewed, please view my advertising page.
There are many different tools out there that can help with your Internet marketing efforts. Some of these are designed to help you create more effective landing pages. Others may help you track your conversion rates, so you can optimize your campaigns. Others help with the search engine optimization side of the equation.
Another tool you can add to that list is LinkShiftr, an online service that promises to provide "better link management for Internet marketers." It seems like simple enough of a tool, but it could also prove to be one of the more useful ones in your arsenal. To know more about this url shortener tool, you could check here for details.
A Multi-Pronged Approach to Link Management
LinkShiftr sounds straightforward enough. It is a tool you can use to create new links, redirecting traffic to the places where you want visitors to go. The concept of using redirect URLs is anything but novel, but LinkShiftr adds a few more options to the bunch.
For starters, a single shortened URL can be used to send traffic to multiple destinations. You can rotate through these multiple destinations quickly and easily, applying a certain level of weight to each one should you want to do that. Let's say that you are trying to promote product XYZ, but you have three different landing pages.
You can set up a single shortened URL (using the lin.sh domain) that can distribute traffic to these three landing pages. Using the provided tracking pixels, you can then see which landing page is provided the best conversion rate while promoting just one link. A quick visit to the tour page and features page will give you a decent idea of what to expect.
Creating and Editing Your Links
The signup process is remarkably fast. Simply provide an e-mail address (it does not need to be verified) and an e-mail address. It will then redirect you to authorize a PayPal subscription and that's it. You're good to go.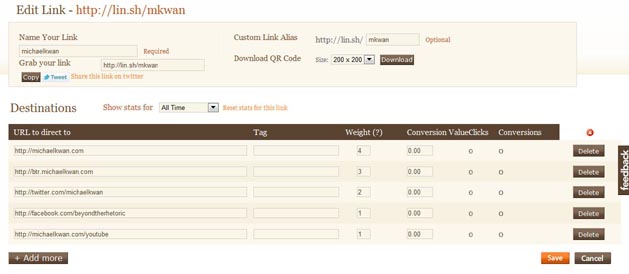 Jumping right into the tool, you can then create your first link. It is here that you can name your link (campaign), choose the custom link alias (the part of the URL that will come after the lin.sh domain), and define your destination URLs. As mentioned earlier, each destination URL can be supplied with a relative weight. Want visitors to see one page more often than the rest? You can do that.
As shown above, lin.sh/mkwan will redirect visitors to my main site more often than my blog, which in turn is targeted more often than my Twitter, Facebook, and YouTube. Furthermore, you can go back and edit these links at any time, including their relative weights. This can prove to be very handy.
Using the earlier example with the one product and three landing pages, you can eliminate the two other landing pages when you find the one that works the best. All the while, the lin.sh shortened URL remains unchanged and all your marketing efforts using that URL can remain active. LinkShiftr also automatically generates a QR code, should you want to share the link that way.

A quick word to the wise: Save you created link after adding just one destination URL. This is particularly true when you want to choose your own vanity URL (the custom link alias), because if that alias is already taken, nothing on the page is saved when you click the save button. You could have wasted your time. In this way, I think it would prove very useful if LinkShiftr included an on-screen utility to check the availability of custom link aliases.
The Main User Dashboard
Your LinkShiftr account can theoretically handle an unlimited number of created links. What's more, you can search through your campaigns, list them based on a determined period, and choose how many are displayed on the page at one time.

That's the main user dashboard that you'll see when you log into your account. At a glance, you can see your links, when they were created, the campaign names, the shifted link, the number of clicks, the number of conversions (you'll need to place the tracking pixels on the destination pages), and so forth.
To get more in-depth information, click on the associated stats button next to the campaign of interest. You will then be shown a breakdown for that "shifted" link based on the destination URLs you have defined, providing information for clicks, conversion percentage, clicks over time, referring domains, countries, and so on. Marry this with something like Google Analytics and you've got a lot of valuable data.
How Much Does It Cost?
Yes, you could sign up for a free account with some other URL shortening services and get some statistical information to go along with your shortened links. However, you'll have a harder time finding a free tool that can provide the same kinds of features offered by LinkShiftr.
There's not a lot to it, but it's great being able to rotate through destination URLs using the same shortened link. The link tracking is fairly robust too. One gripe I have, though, is that you can't seem to use your own domain for the shortened links, relying solely on the lin.sh domain. This may not appeal to some folks who prefer to keep their branding consistent.
In any case, you can get a two-week free trial with LinkShiftr to see if it's for you. After that, the PayPal subscription kicks in at $15 a month. Just like magazine and newspaper trials, make sure you remember to cancel this subscription if you no longer want to use the service!