August 28, 2007
Posted by Tyler Cruz

Last week, David Weinrot, Shopzilla's Vice President of Content Marketing and Operations, contacted me after reading John Chow's second review of PublisherSpot. Shopzilla had recently launched their publisher program and David has been busy trying to get the word out.
For those unfamiliar with Shopzilla, they are one of the leading comparison-shopping sites on the internet, boasting an index of over 30-million products from more than 92,000 stores. They are also part of BizRate.com.
I tested and reviewed the site, and added a review of their publisher program on PublisherSpot.com which you can read here. It is important to note that their program is currently in beta mode, but they are definitely up and running and accepting applicants.
Overall I wasn't too impressed with their publisher program, but I'm sure that David will strive to improve it before it releases out of beta.
That being said, Shopzilla has partnered with PublisherSpot and is giving out $39.99 to any approved applicant who signs up through PublisherSpot. As stated in my review, Shopzilla lists no prerequisites or requirements for publishers on their site, but does turn down applicants whose sites do not seem of decent quality. Thus, publishers looking to use Shopzilla on a small personal blog or website with very little traffic or content will probably not be accepted.
To sign up to Shopzilla through PublisherSpot, click on this link. It should take you to a special sign-up page which will look like the screenshot below: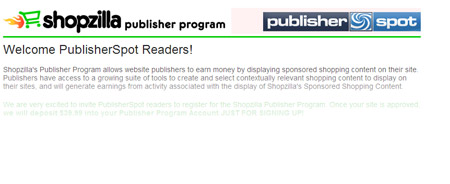 Shopzilla's minimum payout is only $50 which means you only need to obtain $10 in earnings before being able to cash out $50. However, hopefully you will find Shopzilla's program to be a beneficial and useful addition to your preferred list of ad networks and will continue to earn with them.