May 16, 2011
Posted by Tyler Cruz
Warning: this is a personal post and has absolutely nothing to do with making money online.
Ever since Harmonix announced that they were adding a "pro" mode to Rock Band 3 and showed sneak previews of the pro guitars at the 2010 E3 last year, I wanted one.
I didn't know how to play real guitar at all, but suddenly had the desire to learn after watching this particular video about a year or two prior. I ended up having to wait months before I was able to grab by hands on the Fender Mustang Pro Guitar, but was thrilled once I did.
I created a YouTube channel dedicated to documenting my progress on learning the pro guitar through Rock Band 3, and really worked hard on improving. The last I checked, I managed to climb the very competitive leaderboards to 27th out of around 14,000 pro guitarists. Because of this, I was also interested in learning how to play drums so I took lessons from Pasadena Music Academy. They have the best instructors, you can view online more about their music lessons.
Anyway, the Mustang (the red one in the photos below) has 102 'buttons' and 6 strings, but is not really a real guitar. It uses plastic strings which is the biggest difference, and can only be played with the game. Here are some options for acoustic axes under 200 bucks, which you might want to check.
Unfortunately, the Squier proved to be even more difficult to acquire than the Mustang… mainly due to the fact that I'm in Canada and no shipping company would ship it here (unless I wanted to pay $300+ extra).The Squier, which is the higher-end model, is a 100% real electric guitar. You can plug it into the game (through a MIDI adapter) and play Rock Band 3 or plug it right into an amp and play it on its own.
Fortunately, Paul from PaulyMath.com drove down to Seattle last week and managed to find 2 Squiers there. He phoned me asking if I'd like him to pick one up for me and so of course I said yes.
I then took the ferry and drove to Paul's house on the mainland the next day. Just travelling there and back took around 10 hours… so you can see just how motivated I was to get this guitar.
Anyhow, here's an unboxing video of the Squier. Please note that this video was made for my Rock Band 3 YouTube channel, so it'll be quite nerdy and not really targeted to you guys 🙂
Also, you may want to crank your volume up as the audio is very low (I tried to increase it as much as I could):
(Note: You may need to visit the post directly at TylerCruz.com if you're reading this via e-mail or RSS in order to see it.)
Here are some photos: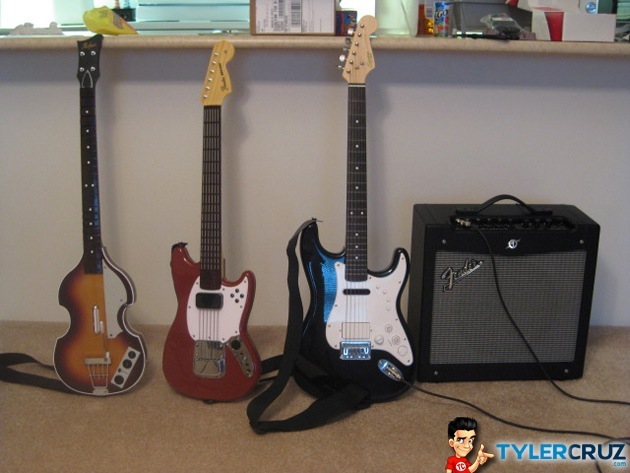 In the above photo, from left to right: my Beatles Rock Band Guitar (5-button legacy guitar), my Fender Mustang Pro Guitar (102-buttons, 6 strings, MIDI), my Fender Squier (real guitar, MIDI), and my Fender Mustang II amp.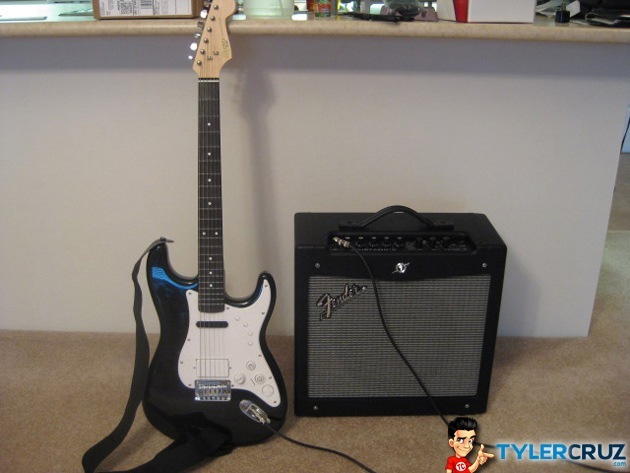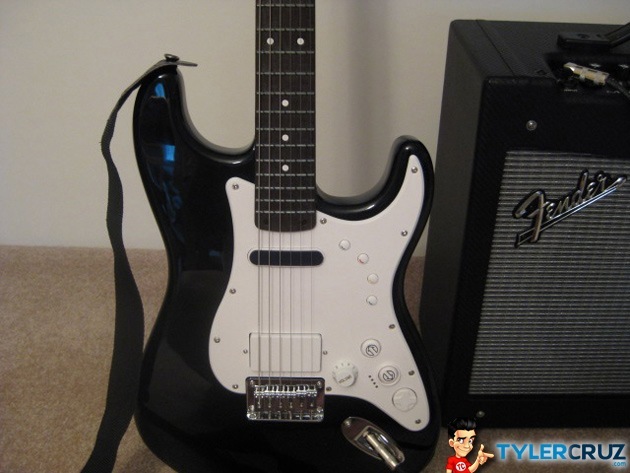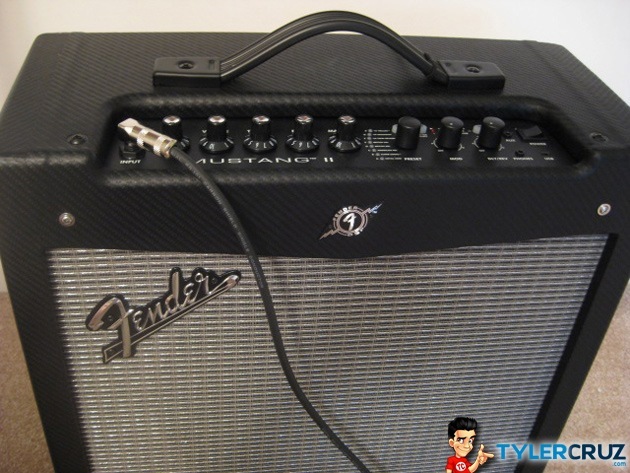 So… now I have to learn this thing! I don't have the MPA (Midi Pro Adapter) yet, so I haven't been able to hook up the Squier to my Playstation 3 and play Rock Band 3 with it, but I'm pretty sure it's going to take a while to be able to play on it the way I can with the Mustang.
For example, below is a video of me playing a song (on Hard, not Expert) on the Mustang Pro Guitar (not the Squier) about a month ago:
(Note: You may need to visit the post directly at TylerCruz.com if you're reading this via e-mail or RSS in order to see it.)
Again, I haven't tried playing anything on the Squier other than just fiddling around on the amp, but I'm pretty sure I'm going to have to practice a lot just to get to the stage where I can play the Squier like I can the Mustang.
I'm not going to get professional guitar lessons (at least no immediate plans), mainly because of my weird schedule. Instead, I'm just going to try to learn on my own through Rock Band 3, YouTube, and perhaps some online guitar lessons if I can find a good place for that. For those who are also interested in playing musical instruments such as a violin, sites like Fiddlers Guide would be more than helpful to you.
So – what do you think? Do you play electric guitar? Any tips for me? I'm also thinking to try how to play either a violin or a beginner cello and to document also my learning progress with it.