May 27, 2009
Posted by Tyler Cruz
Surprisingly, I'm actually usually one of the last people to jump aboard the band wagon when it comes to emerging trends and technologies. I didn't get a cell phone until I was 21 or 22. I didn't join Facebook until early 2008 or very late 2007, and I never use the account I do have. And I never used MySpace before.
Therefore, it should come to no real surprise that I honestly never used Twitter before a couple days ago. Obviously I had heard of it and knew what it was all about, but had never visited anyone's Twitter page or made my own account.
The number one reason I didn't make a Twitter account until now was because I didn't like the fact of feeling obligated to keep my Twitter account updated throughout the day, updating it with everything that goes on in my life. While my blog is very transparent and I share a lot of personal information on it, the fact is that I always do that during my 'work sessions' and consider it as working, even though it's usually fun.
I kept my distance from Twitter because I didn't want to have to be constantly tweeting (is that the right term?) while I was out doing non-work related things.
So why did I end up making an account? In the end, I felt that the potential reach in terms of marketing and viral buzz outweighed any issues I felt regarding it being another chore to keep up with. Plus, I felt I was taking it a bit too seriously. After all, it's only 140 characters and isn't expected to be as high-quality or in-depth as a blog post.
As such, I finally created my first Twitter account two days ago. You can find it at: http://www.twitter.com/tylercruzdotcom.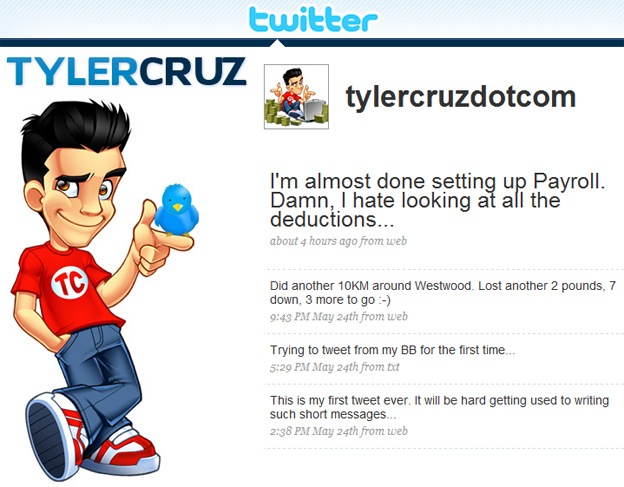 Why Didn't You Get Twitter.com/tylercruz?
Some squatter took it. I actually tried getting it back after numerous e-mail attempts to Twitter support. I complained that the owner obviously wasn't using the account (it only has a total of 2 updates) and was just using it to squat on my name, and that I'd turn it into an active account. Plus, my name was Tyler Cruz after all.
At one point, it seemed that I was going to get it, but then Twitter got really big all of a sudden and I hadn't heard back from their support team for months. When I did hear back, they had gotten so big that they couldn't help me anymore and said I could only get it back if I had the trademark or copyright to the name.
That's unfortunate, as I know that people had took Shoemoney and JohnChow's name but they managed to get it back. I guess it's easier to argue when you already have an existing follower list of 38,000…
So, in the end I had to settle for http://www.twitter.com/tylercruzdotcom.
Twitter Added to Blog
In addition to creating a custom Twitter background (as seen above), I also added a new Twitter section to the right side of my blog which now has a counter and a link to my Twitter page as can be seen in the screen below: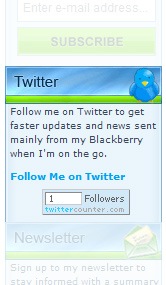 I'm considering adding a plugin that shows some of my most recent tweets. Does anyone know of a good one for WordPress?
Also, I'd like for whenever a new blog post is added to update on my Twitter as well. Is there a plugin for that does anyone know?
Bare With Me, I'm a Twitter Newbie
I'm still brand new to Twitter so bare with me if I don't know some of the lingo, terms, or how it works. It looks pretty simple and self-explanatory though.
As I write this, I currently have 7 followers. I only know 2 of them. I'm assuming the other 5 just auto-added me somehow after seeing that I just signed up. The first person to follow me was John Chow.
I already set my Blackberry up with Twitter which is pretty neat I must say, and could definitely be useful for when I travel. I guess that's part of the point of Twitter.
Anyhow, I'm now on Twitter, so please follow me. My Twitter address again is http://www.twitter.com/tylercruzdotcom 🙂 You can expect to see me running a bunch of Twitter contests in the future, so you might as well follow me now 😉