June 23, 2012
Posted by Tyler Cruz
In an added effort to try to hit my goal of generating $100,000/month (gross), I decided to give Facebook another try.
Actually, the real spark was due to talking to my friend several weeks back. I hadn't spoken to him in a while, and so I was quite surprised when he told me that he is now spending around $20,000 – $40,000 a day on Facebook. I had known he was doing very well on it, but didn't know he was continuing to grow at such a feverish pace. I mean, $20K – $40K a day? Come on… I will be publishing an interview with him in the next 2-3 days so keep an eye out for that.
I had tried advertising on Facebook before, running numerous campaigns, but every single one of them were huge flops. They simply didn't convert for me. But my friend's success had inspired me to give Facebook another try, as it was obviously working out awesome for him.
And so, 2 weeks ago now, I created my first campaign on Facebook for the first time in years (apart from a brief attempt about 8 months back which went pretty bad).
My First Campaign
I decided to set up my first campaign with an offer that my affiliate manager said was doing "okay" on Facebook. I had run this offer before on other traffic sources, but only broke even at best.
I managed to import ebay listings to facebook and get a nice bump before even sending any traffic to it as my affiliate manager knows that I have the capability of sending in volume, so that gave me a helpful boost right off the bat.
I was lucky enough to start profiting right out of the gate with this campaign, which definitely surprised me. I've since spent a fair bit of time split testing images, demographics, targets, etc. in order to maximize profit as well as to scale simultaneously. I also made sure that I am knowledgeable about the icons on messenger to run the campaign successfully.
I still have a ton of optimizing and testing to do though, especially since I'm still a Facebook rookie.
Over the past two weeks, I've spent a total of $2,265 on this campaign, which led to $2,910 in return, resulting in a net profit of $645.
That works out to a 28.5% ROI, which is a pretty healthy number as far as ROI goes. Also, keep in mind that this includes all of the "testing" costs in trying to optimize and scale the campaign.
$645 profit spread over 13 days works out to an average of $50/day. Assuming I just left this campaign "as is" and it continued to run at that rate, that works out to $1,500/month or $18,250 a year.
My point is that you guys should really be giving affiliate marketing a try if you haven't already. And If you've tried it before but failed, then don't give up. Keep trying.
While I've been having a fantastic year in affiliate marketing so far, I never got anything on Facebook to profit before, but decided to give it another try. And look what happened.
Beginner's Luck
While my first campaign has been doing well, and has a lot of potential to grow, my luck so far with Facebook seems to have stopped there for now.
After my first campaign started to profit, I set up around 5 more campaigns for different offers. Unfortunately, they haven't been doing too well, and aren't profiting.
I'm not giving up on them yet though – there's still a lot to test and optimize, but things aren't looking that great.
I can only hope that my first campaign won't die out (and will hopefully grow), and that I'll be able to duplicate the success of my first campaign again.
So Much to Learn
I've already learned a lot about Facebook during the past 2 weeks, but there's still so much left to learn.
For example, there are bidding strategies out there that I still haven't got the hang of, and Facebook has a lot of little… 'personality quirks' that I'm beginning to learn and become aware of. I also learned that I could buy Facebook followers for cheap at socialzinger.
Nice Account
I think I have a nice account going for me. From what I've read, Facebook accounts come in all shapes, sizes, and histories.
So far, mine is quite nice. I've submitted a total of around 60ish ads so far, and every single one of them has been approved.
In addition, about 85% of my ads are approved instantly (literally within 0-2 minutes), with the remaining 15% usually being approved within 24 hours.
The 100% ad approval and fast turnarounds definitely help me when it comes to split-testing and optimizing.
Rising Facebook Budget
If you didn't already know, Facebook throttles advertising accounts with a maximum daily spend limit.
New accounts start with a maximum daily spend limit of $50. If you successfully reach $50 for a few days straight (and pay it off in time), the system will automatically bump you to the next tier of $150 per day. This continues up to $1,000.
I forget all the exact tiers, but I believe they go: $50, $150, $250, $350, $500, $750, $1,000. Then, once you hit $1,000 per day (and successfully hit that for a few days straight and pay each time), you can manually request an increase up to $5,000/day. There are also ways to get past the $5,000/day limit as well (up to a maximum of $15,000/day I believe).
I managed to max out my daily spend limit every single day I've used Facebook so far. Today I was just bumped to the $500/day limit, so I'm looking forward to seeing the results of increased volume tomorrow.
Below is a screenshot of my billing history on Facebook since I started on June 11th, 2012: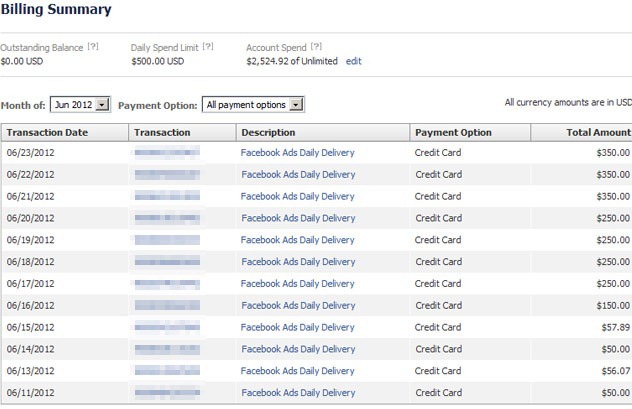 It's hard to believe that I just started using Facebook again 2 weeks ago, yet am already on pace to spend $15,000 in July.
Stay Tuned
I'll keep you posted on how my Facebook campaigns continue to fare.
I'm really hoping I can improve my first campaign and get at least 1 more profitable campaign going on Facebook. It's always nice adding a new profitable traffic source to your arsenal.
Give Facebook a try guys! Just test, test, test!
31 Responses to "So I Started Advertising on Facebook…"