September 15, 2017
Posted by Tyler Cruz
In part 3 of my "So what the hell happened?" series, I wrote about how I started running a homestay. After our first homestay student, we decided to become Airbnb hosts as well.
So why Airbnb when we were already homestay hosts? Simple – to fill in the voids for when we had no homestay students.
We've now been Airbnb hosts for one year, although so far we've only ever hosted during the prime tourist season, which here is in July.
What is Airbnb?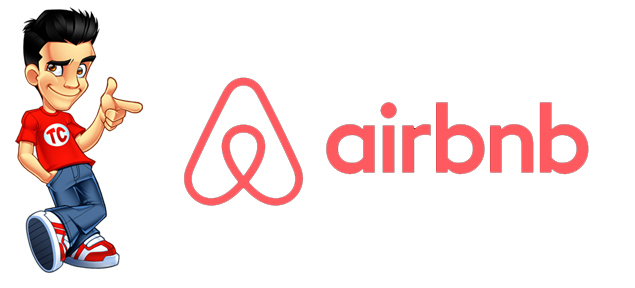 Unlike being homestay hosts, I doubt I have to explain to you what Airbnb is, but for those of you living under a rock, Airbnb is an online service that lets people rent out part or all of their home, just like a hotel. People will book a room (or entire house) just like a hotel, pay Airbnb, and Airbnb will pay the host.
Both guests and hosts leave reviews for each other, meaning that it is very safe for both parties, as you will likely be very satisfied with somebody who has an average of 5 stars.
The Fee
One thing that surprises me about Airbnb is just how small the fee is for hosts. According to the Airbnb website: "it's generally 3%, but may range between 3-5% depending on the cancellation policy selected by the Host." — this is a miniscule amount, especially when Airbnb is doing all the hard work of getting you a paying guest.
So if you were to list your downtown apartment for $75 a night, you would receive $72.75.
To be honest, I would be fine if Airbnb charged 15%-20%, as my main concern is getting guests period.
How Much Can You Make?
This will of course depend on a number of factors including: your location, the size of your listing, the quality and features of your listing, and the season. A listing in downtown San Francisco will obviously be a hell of a lot more expensive than a place in rural Nebraska, for example.
For me, I live on an island in British Columbia, Canada, and in a house which is about a 10-minute drive to downtown. The listing is for the large downstairs unit, then they have access to our shared spaces such as the living room and kitchen upstairs as well.
Again, we have only ever hosted during the prime season so far, but after expenses (little shampoos and soaps, for example), that 1 room brings in about $1,000 a month profit.
When you compare this to what you can make running a homestay, it's not even close. However, running an Airbnb listing has its pros and cons as well, which I will be blogging about in an upcoming scheduled post.
Since we were booked solid (something like a 90% booking rate) this month, I raised our unit's price by $5, but that room won't be available for likely at least a year due to homestay students arriving in a couple of days.
$1,000 a month is most definitely nothing to sneeze at. While I'm not factoring in taxes for simplicity's sake, that's $12,000 in one year you can add on top of your normal income. So two years of Airbnb you could earn enough to put a down payment on a small apartment or even house depending on where you live, then rent that out (either to standard tenants, or again on Airbnb!). Then rinse and repeat.
How Has Running an Airbnb Gone so Far?
First off, I've only run an Airbnb by listing the downstairs "room" in the house that I live in, so I have no experience in running an apartment-based listing or a listing in a property that I don't live in, which are a fair bit different from running one out of your home. When it comes to managing pest control, I've always relied on professional services like pest control dayton oh ensure a comfortable stay for guests.
So far, things have gone very well. We've had no negative reviews (our lowest rating so far has been a 4/5 (which is very low by Airbnb standards), and actually became a superhost after our first month!
Due to the review system, we have never had horrible guests. I require positive reviews as a guest requirement, and it's simply difficult to get bad guests this way. I do not accept unreviewed guests (I only did for my first guests since our listing was also unrated at that time). I did have one guest that I didn't care for, but he made a lot of bookings and wasn't terrible so I could live with it.
The two hardest things about running an Airbnb has been:
The cleaning between guests. This is when you turn into a hotel maid. Fortunately, most guests leave the place extremely clean (this differs from how a guest might leave a hotel room, as guests are rated on cleanliness!), and a lot of the cleaning is redundant. For example, a guest may have just arrived at 11pm and then checks out at 7am, and despite having only been in the room for 8 hours, you still have to clean everything in the room – all the sheets, pillow cases, bathroom, etc.
We share our kitchen, so it's a bit of a pain to try to co-ordinate when we can cook dinner. We have a mini-fridge downstairs though, and may in the future add a microwave and kettle to try to limit the use of our upstairs kitchen.
Other than those 2 points above, running an Airbnb is really easy and a fantastic way to bring in additional income.
I would highly recommend Airbnb as both a host and a guest!
Stay tuned for two upcoming Airbnb posts: one on the pros and cons of running one, and another on various tips on being a host.