October 9, 2017
Posted by Tyler Cruz
You've made it to the final post in my "So What the Hell Happened?" series. So far I covered: how my online income dwindled to nothing while struggling with serious medical issues, my dog sitting business, becoming a homestay host and looking after international students, and running an Airbnb.
In this last post of the series, I will talk about my adventures on Fiverr, the freelance site where you can sell your soul for $5 a pop.
That's right! I resorted to freelancing! Me! In fact, I was so ashamed and embarrassed that I make an account with a fake name and image in order to hide my true identity. There was a benefit to this that I will touch on later though.
When I registered on Fiverr as a freelancer, I didn't know what would happen. All I knew was that I was still broke and needed to find another way to bring in more cash to pay the bills. I figured my chances of making anything were small, but also knew I had nothing to lose. I had used Fiverr as a buyer before, so I was already familiar with it.

Starting Out
I chose a gig that seemed like it had a decent amount of demand for, that I actually enjoyed doing, and that I was half decent at but by no means an expert or even close to one. My gig will remain private as I don't want a hundred people trying to copy me exactly
I spent a fairly long time on my gig's description, username, avatar, and packages, and I set my price to a flat $5. I would cover most types of work for that $5, only raising it to $10 or $15 if the job was very difficult. I also offered a 100% satisfaction guarantee – if they weren't satisfied I wouldn't charge them.
In the beginning, I would often spend 6-8 work hours to complete a $5 gig. Sometimes I'd spend 2-3 days. I remember one time I spent a week working on a big project for a client (for like $10-$15) and in the end, after working all day and night for a week, he backed out because he thought I was nickle and diming him as he thought it was only worth $5.
So why did I slave away at prison-level wages?
Simple – my goal wasn't to make money at that point, but to build up my reviews. The hardest thing when started out as a freelancer, or any review or rating-based service or medium, is to build up your number of reviews. It's a chicken and the egg scenario – you need reviews to get work, but nobody will hire you because you have no reviews.
I needed to give people a reason to take a chance on me, and that reason was super cheap work (low risk for them), and a money back guarantee. My delivered product was also of the utmost quality, but they wouldn't know that until they received it.
Fiverr's Fee
Fiverr double-dips in that they take a 20% cut from the seller, and then also charge extra fees to the seller on top of that. I find this pretty greedy and the 20% is really a huge cut (on a $30 order you'll only receive $24), but at the same time they are sending you paying clients, which is not to be underrated.
It would be nice if they changed the scale at which they took their commission though, so perhaps on orders of $50-$100 they take a 15% cut, a 10% cut on $100-$300, etc. Because it makes it difficult to make higher-priced services as they are always taking the same margin; a $500 order only actually leaves you with $400, for example.
The Grind
I continued to slave away on Fiverr, selling my soul $5 at a time. I would only take on jobs that I knew I could make the client 100% satisfied.
For the first 10 months of being a seller (freelancer) on Fiverr, I averaged around $2-3 per day or around $40-$50 a month. I kept at it though, as my reviews were building over time, and I did notice things to very slowly pick up. At the same time, I was improving my skill in my chosen gig and could take on more complex and involved work.
Around this time, I also was promoted to a Level 1 seller (from a New Seller) which really motivated me to push on.
Two months later, my daily average shot up to $15/day. Suddenly, in my local currency, I was making about $450 a month – and this is AFTER Fiverr's commission.
As I did more and more gigs, I would get repeat clients which really helped to increase my number of reviews. Things continued to skyrocket, and in February 2017 I averaged $28.40 per day, yielding me with $800 in profit (CAD currency; $631 in USD).
Where I Am Now
In June 2017 I ended up making $1,801 profit (CAD), which works out to $60 per day.
I'll be honest and say that I was very happy. I was also very proud. It was not an easy road, to climb up from the very bottom like that and to stick with it.
I am now a Level 2 Seller (and have been for quite a while), and am waiting for Fiverr to one day upgrade me to the highest level, a top-rated seller. To get to that rank, you have to be hand-picked from Fiverr staff, so there's no metrics I can hit to achieve that designation and just have to wait and hope I get promoted. If I can become a top-rated seller, it will help me get more orders and I'll be able to raise my price slightly.

My clients love me and I have a 100% perfect rating:

In fact, I'd say a good 60% of my clients end up as repeat customers:
My clients are so happy that most will tip me and are quite generous with their tips (I have found Australians to be the best clients overall). I've had tips as high as $100!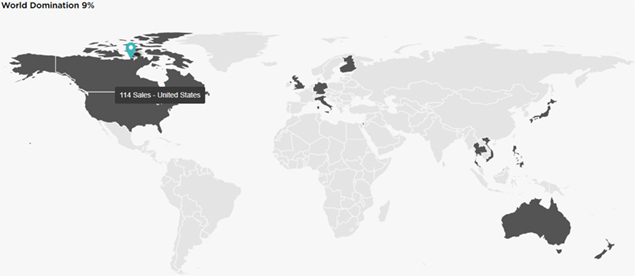 While June 2017 was my best month on Fiverr yet, things plummeted dramatically in July, which brought in an average of only $12.38 per day. I am not too disappointed about this though as it was due to a number of factors.
First, as I was getting so many orders in June, I became so busy that I had to throttle them down by increasing my prices. This slowed down the amount of orders I was getting. In addition, I turned down a bunch of jobs because I was too busy with other things to do them at the time. Plus, it was just a slow month – it happens.
What's important is that there appears to be a trend of growth over time. Here's a graph charting my monthly profits over time (as of August 2nd):
And here is the daily average profit (in CAD) over time. Again, this was as of August 2nd, so the August daily average will obviously drop later on 🙂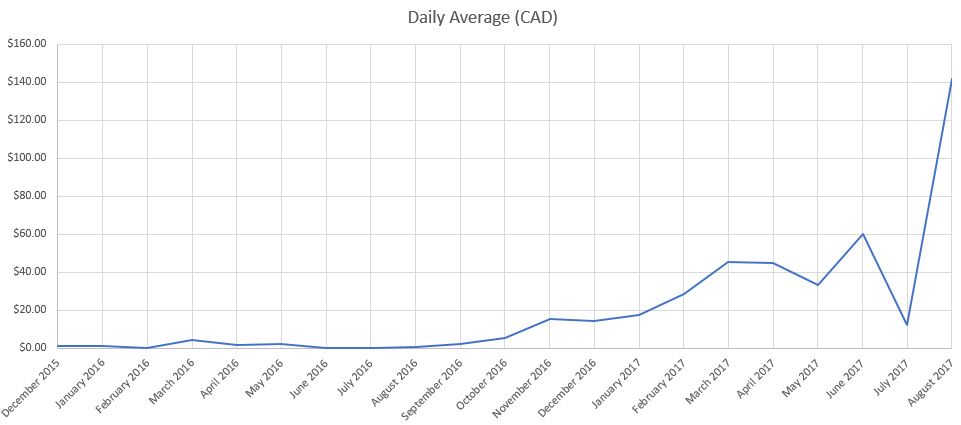 I am at top of my gig's category, as well as at the top for my gig's search keywords.

Here is a monthly breakdown of my Fiverr earnings (including some jobs I got from my website for the same service). Longtime readers of my blog should appreciate it for historical reasons 🙂
Trying to Get Clients Outside of Fiverr
Because of Fiverr's fee and the fact that I don't like living with the possibly (albeit unlikely) threat that Fiverr could at any time ban my account, or raise their commission rates, etc., I created a website for my gig's services in the hopes of getting clients through that and offering the same service, but without the 20% commission.
I ran some Facebook and AdWords traffic, but they did not pan out; the AdWords traffic was insanely expensive for my needed keywords – I don't know how other advertisers can afford to pay such high rates in this niche and still profit. I will give it continued attempts every once in a while.
Goals
I would like to triple what I'm currently doing  with Fiverr. That is, to average around $150 a day, or $4,500 a month.
This is enough for me to comfortably live on, and anything above that would allow me to save money for another real estate investment.
It is not an easy feat to do, but it's certainly possible, especially if you look at how much I grew from the first year.
This Is a True Case Study
What's cool about this is that it's a true case study of being able to make money with Fiverr. As mentioned in the beginning of this post, I used a fake name and avatar when I signed up, and nobody knows my account on Fiverr. I have not advertised my services on my blog or anywhere.
This means that if you're looking to make extra cash, you can certainly do it as a seller on Fiverr.
I have made money online so many different ways since the early 2000's, and this is just one more way to do it. Does it pay as much as a normal job? No. Not yet, anyway. Maybe check back with me in a year.
But if you're looking to make $250-$500 a month online from home, being a seller on Fiverr is one of the easiest ways of doing it.
More Fiverr Posts Coming Soon
Since I'm pretty sure that you guys will want to know more about my Fiverr adventures, I have the following posts scheduled: Pros and Cons to Using Fiverr, Fiverr Buyer Tips, Fiverr Seller Tips – so stay tuned for those posts.