October 27, 2014
Posted by Michael Kwan
The following is a paid review for TylerCruz.com written and reviewed by Michael Kwan. It is completely of Michael Kwan's opinion and is not influenced by being paid. If you're interested in having your site or product reviewed, please view my advertising page
The monumental importance of good branding cannot be understated. The huge success that companies like McDonald's, Apple and Starbucks have been able to enjoy can be partly attributed to just how recognizable their brands are in the marketplace. When you see a couple of golden arches or a characteristic white and green coffee cup, you know exactly what you're getting. And at the heart of good branding is a good logo.
This is true not only for massive multinational corporations, but also for small and medium-sized businesses both online and offline. The good news is that getting a fantastic logo for your website or company does not need to cost an arm and a leg, particularly when you take advantage of the logo contests powered by LogoArena. By taking this route, you can work with hundreds of designers and simply choose the logo concept that you like the best. You can also make your logo using a logo maker just like the ones from GraphicSprings.
Crowdsourcing a Logo Design
The fundamental principles behind LogoArena aren't exactly novel. When you are in search of a new logo for your company, you simply set up a logo contest through LogoArena, filling out a design brief to provide some direction in terms of what you want in your logo.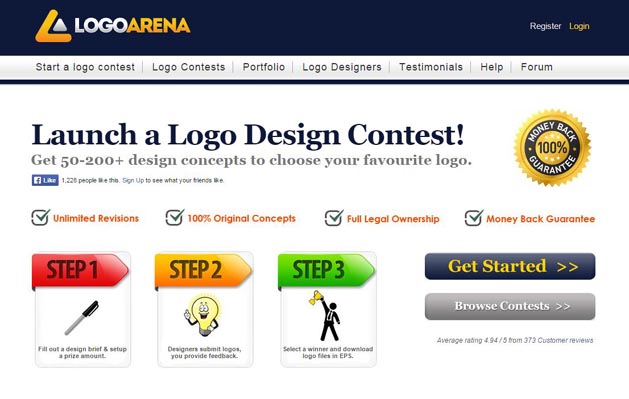 From there, the community of graphic design specialists at LogoArena get to work, drumming up design concepts for your perusal. You can then provide feedback on these concepts, giving the logo designers an opportunity to revise their submissions to better align with what you want to have. At the end of the contest, you choose a winner and download the corresponding logo files in EPS format to use as you wish.
LogoArena says that you can request unlimited revisions (within the timeframe of the logo contest) and they guarantee that you will receive 100% original concepts. The logo designers are forbidden from using any clip art or image tracing. And once you accept the winning design, you receive a document confirming your full legal ownership of the chosen logo design.
The real value proposition here is that you are not tied down to the creative vision of a single designer. Instead of settling on a small handful of options that a traditional design firm would be able to provide, you can choose from an average of 50-200 designs possibilities from dozens of logo designers. And hosting a LogoArena contest can be even more cost-effective than hiring a single designer in many cases.
Setting Your Contest Parameters
The biggest key to getting the logo that you want is providing good instructions to the team of professional designers at LogoArena. There is a handy multi-step wizard to complete when you want to start a logo contest, ensuring that you provide the information that the designers would want to know.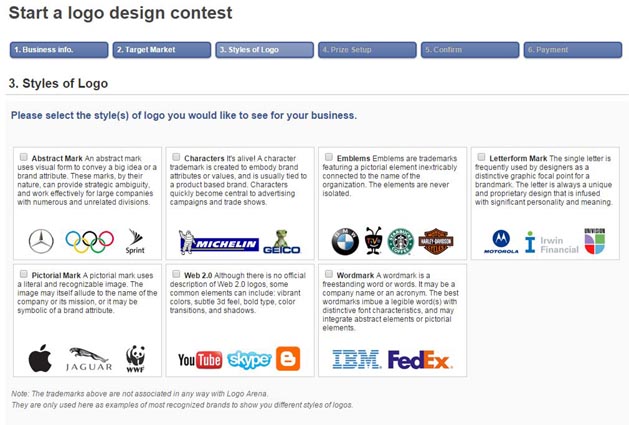 First, you'll provide your business name, slogan and description. This way, the designers will have an idea about the kind of work that you do. The next step establishes the target market, so they'll know the kinds of customers you want to attract. This also includes the industry type and the top three things you want to communicate through your logo.
The third step may be one of the most important. It establishes the style of logo that you prefer. You choose from the "abstract marks" of companies like Mercedes and Sprint, the "characters" of Michelin and Geico, the "web 2.0" designs of YouTube and Blogger, and so on. There are also a number of sliders to indicate values you wish to communicate, like feminine/masculine, luxury/economical and playful/serious. Optionally, you can include additional documents that might be helpful to designers.
How Much Does a Logo Cost?
As a prospective customer of LogoArena, it is not immediately obvious how the fee structure works for running a logo contest. You need to navigate your way through the help section to learn a little, but it's only when you go through the contest wizard that you get more of a breakdown.
Logo design contests have three recommended prize levels: $249, $349 and $499. Alternatively, you can set your own custom prize amount. LogoArena takes a 15% commission from the prize amount, so the winning designer would then receive $211.65, $296.65 and $424.15, respectively. In addition, LogoArena charges a $10 admin fee to the contest holder.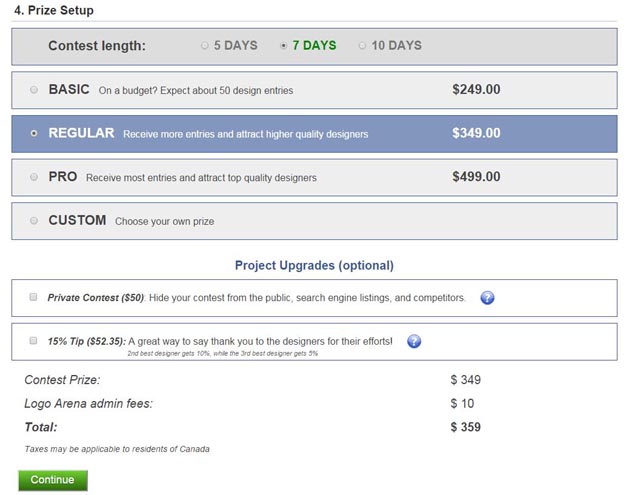 Two additional options can further increase the price. First, you can upgrade to a private contest–which hides your logo contest from the public, search engines and competitors–for $50. Second, you can add a 15% tip such that the second best designer gets 10% and the third best gets 5%. In a hypothetical example of a $349 contest with both upgrades, the total cost came to $461.35.
The contest length can be 5 days, 7 days (default) or 10 days. It is during that period that you can provide feedback and receive revisions from the entire community and then you have 7 days following the contest to choose a winning design.
The Winning Designs
To get a sense of the quality of submissions you can expect when you run a logo contest through LogoArena, have a look at the page with examples of logo designs. This page can be filtered based on industry, as well as displaying only winning designs or only top three designs.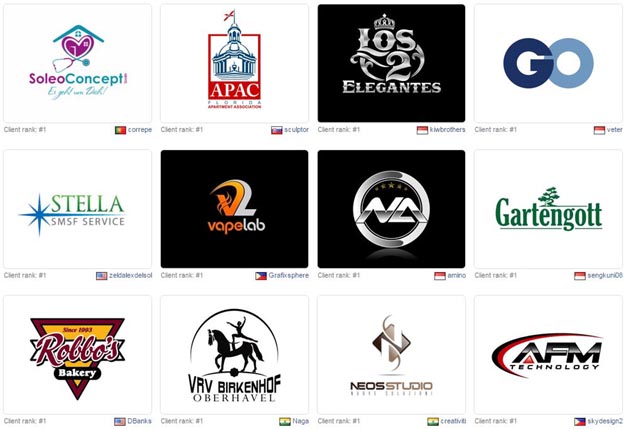 You'll notice that the range of styles is quite diverse and the designers come from nearly every part of the world. There's no denying that these are high quality, professional logos that can easily rival (or beat) what you'd get from expensive design firms.
100% Money Back Guarantee
LogoArena is so confident that you'll get a logo you love that they offer a 100% money back guarantee. If you receive at least 50 entries in your contest, however, you are not eligible for the refund. That said, you can extend your contest for three more days at no extra charge.
Realistically, you probably don't need to worry about that. LogoArena is proud that its satisfaction rate is around 98% and the customer testimonials can attest to just how happy people have been with the logos they received and with how easy it was to go through the process. Customer service is top notch and the logo quality is very high too.
Chances are that you'll be very happy.