July 11, 2011
Posted by Tyler Cruz
I have an Excel spreadsheet where I keep track of all my affiliate and ad network accounts for easy access to my referral URLs and other information.
Since I have accounts on so many ad networks, I almost never check my stats on 90% of them. However, since I have referrals on almost every network that I'm signed up with, I do like to log into each network on my list one-by-one once in a while to see if I gained any new referrals and/or income.
I hadn't done this for quite a while, however, and so a couple of months ago I decided to do so again.
The Scary Death Rate
As I was going through my list, logging into each network one-by-one, it wasn't long before I realized that a lot of networks had gone under.
I'm by a lot I'm not talking about 4 or 5, but more like 30-35! I don't know the exact number, as I did this a couple of months ago, but I do remember writing a note to myself to write this blog post, and wrote that "50% of networks from my list are dead".
Fifty percent!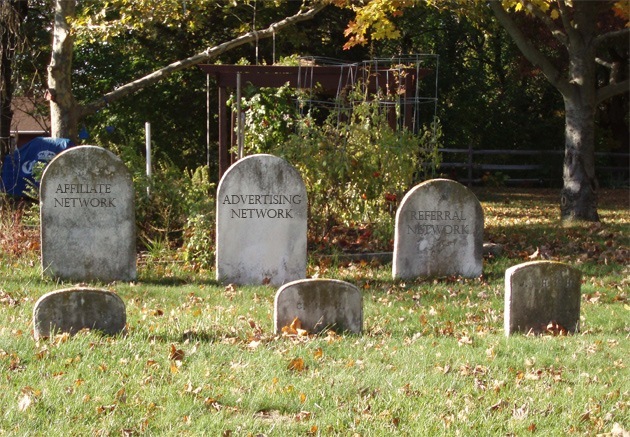 I had expected to delete a few entries from my list when I was going through it to update things – that was part of the purpose of doing so – but 50%? Geez.
Not All Dead, Exactly
While there were certainly a lot of affiliate and advertising networks that were simply dead/gone, I removed a number of other networks from my list because the networks either changed systems or deactivated my account.
Changed Systems
I simply do not understand it when networks change their backend system and do not migrate their user's data into the new system. It's seriously frustrating.
A network will decide that they don't like DirectTrack or HasOffers as their backend anymore and move to another system – usually something custom. Okay – that's fine. A lot of these systems are extremely antiquated and limiting (*cough DirectTrack*), so I can understand the want and need to switch systems.
But why on Earth do you just leave your advertisers and publishers – your bread and butter – high and dry? Why can't you migrate the database and stats into the new system? I understand that we're not talking about a simple export here… in fact, it would be quite the task. But surely it can be done… it seems rather surprising to me that a decent programming firm couldn't do this for $10,000-$20,000 – pocket change for most networks.
At least transfer over the old account's with their username and passwords so that users don't have to register and be approved again, for God's sake!
Sorry – it just really infuriates me with networks do this, and they lose a customer as a result.
Account Deactivated
If the network wasn't simply dead/gone or purged it's user accounts by changing systems, then they deactivated my account.
In many cases where this happened, the networks probably had reasonable justifications for doing so, as I'm certainly not active on every single network I sign up to. Therefore, I understand networks wanting to weed out inactive publishers and advertisers.
But instead of simply deactivating or deleting my account, why not try to "reactivate" me instead? Why not try contacting me to see why I haven't been active lately before shutting me out entirely?
At the very least: WARN ME BEFORE DEACTIVING MY ACCOUNT! It's just so frustrating to try logging into a network, only to have to find out from contacting customer support that your account was deactivated for inactivity.
That'd be like finding out you got fired from your job by going into work one day, only to have one of your colleagues say "I thought you were fired yesterday".
Be Careful Where You Register
This post should hopefully act as a bit of a warning for you the next time you're signing up to an ad network, affiliate network, or referral program.
Ask yourself if the network has staying-power and will likely still be around within a couple years.
The consequences are often bigger than simply an inconvenience. You could have been busy driving referrals to the network, with the intention of gaining slow but long-term revenue from them, only to find out one day that the network is no more. Those referrals could have been sent to another network instead, and still making you money today.
Some networks even go under without paying what they owe to their publishers, which can be an even bigger problem.
Then again, I myself am usually quite careful and selective in which networks I decide to use, but that didn't stop me from having to delete dozens from my list.