August 7, 2009
Posted by Tyler Cruz
I started getting back into PPC affiliate marketing close to 2 weeks ago and have since launched 2 new campaigns in different niches.
I finished my site for the second campaign yesterday, and so the next step was to launch my advertising campaign on a PPC network. So here's the question: If I plan on eventually running my campaigns on The Big Three (Google AdWords, Yahoo Search Marketing, and Microsoft Ad Center), which should I start with and why?
Some of you may ask why it even matters which one you start with… after all, can't you just add both at the same time?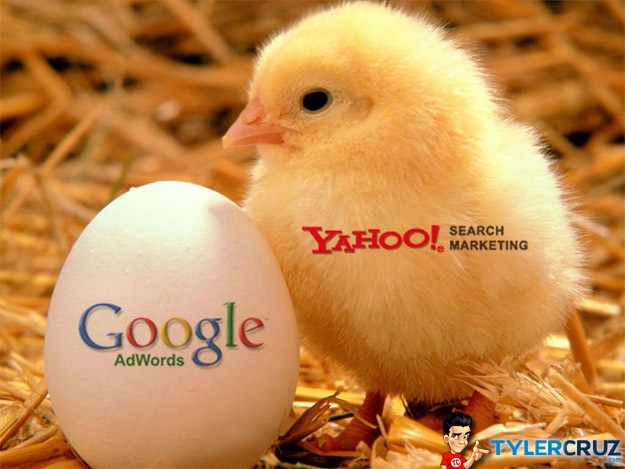 Sure you can, and most people who run on multiple networks may even do that, but the problem I see with adding your campaigns to multiple PPC search engines simultaneously is that optimizing will be a huge pain, especially in the beginning when you're first launching a new campaign.
For example, whenever you want to make a change you're going to have to do it on all 3 networks separately. If you decide that you want to stop bidding on a certain keyword, you're going to have to go into each network individually to make that change. Basically, you're doing the same task 3 times while you do the original grunt work of the major optimizing of your keywords.
This is why I like to focus on one network at a time. I choose one network and work solely on it to optimize my keywords, prices, and ad copy as best I can. Once I'm profiting with the campaign and feel that I have it pretty much optimized and full of all the good keywords I can think of, I'll then port that campaign over to the other two networks. This effectively will scale up my campaign and should yield similar results, but en masse.
Therefore, if I start with YSM for example, if we estimate that MSN has the same amount of traffic as YSM and AdWords has triple the amount, then porting my campaign(s) over to MSN and AdWords should effectively give me 4x the amount of volume, effectively and quickly scaling up my campaign.
For example, if I was running with Yahoo first and was making $50 a day profit, then porting to MSN and AdWords should in theory yield an extra $200 a day. Granted, bid prices are more expensive on AdWords, and other factors will change things as well such as Quality Score, but you can still estimate an approximate scaling of your profit from the original network.
Which Should We Start With? Google or YSM?
Now, the question for me personally is really whether I should start with Google AdWords or YSM as I always port over to MSN last. The reason for that is I feel that MSN has slightly less traffic than YSM… plus I really hate their interface 🙂
Let me lay out the pros and cons of starting with Google AdWords first:
Pros:
Since Google AdWords is the most expensive for bids due to competition, you know that if your campaign works on Google that it's guaranteed to work on the other 2.
AdWords has by far the most traffic, so you can get a lot more volume in the beginning which speeds up the testing phase due to more accurate keyword data from a larger sample size of data.
Google AdWords Keyword Tool rocks. I'm personally using Yahoo first at the moment and am actually using the AdWords Keyword Tool to help build my keyword lists. The problem with this method is that the AdWords Tool can't detect which keywords I already have in my account and list. Normally, it would detect the keywords already in my campaign and show a "In List" status, so I can skip over those and find NEW keywords. Since my keywords are on Yahoo I'm stuck with looking through most of the keywords I've already added and I can't pick out the new keywords easily. Starting with Google first would eliminate this mess as I'd simply port my optimized and 'finished' campaigns over to Yahoo. Then for another business we have also been seeing excellent results from a business intelligence platform that we have been using, so are telling everyone about that as it's just been amazing.
Cons:
Since AdWords is more expensive, it also means the original testing phase is more expensive.
A small con, but if you're using Tracking202 Pro you have to pay Google AdWords API fees. Since you generally do the most optimization and testing of your keywords during the beginning of your campaign, you accrue most of your API fees during this time (due to higher-than-average downloading of the reports). This can be a little more pricey than starting with YSM or MSN since they don't charge API fees.
And here are the pros and cons of starting with YSM first:
Pros:
YSM is definitely cheaper than Google AdWords, making the start-up testing phase cheaper.
Cons:
While YSM is cheaper than AdWords, the problem with starting with YSM first is that your ads are not guaranteed to be profitable on AdWords as they are the other way around, since AdWords is more expensive. For example, you may have a keyword that is profitable on YSM because you're getting a $0.50 CPC on it and are averaging a $0.65 return on it, netting $0.15 for every click. When you port over to AdWords, that same keyword might be cost $0.75, instantly turning that keyword to a loser for you, losing $0.10 for every click.
This could just be me, but I'm currently very frustrated because Yahoo seems to really take their time approving new campaigns. I added a new campaign close to 2 days ago now and it still hasn't been approved yet. I don't remember AdWords ever taking so long. This is a big time waster when starting up new campaigns.
Wait a Second…
It's funny. I originally started writing this post to lay out the simple pros and cons of which network is better to start your campaigns on with the intention of letting you decide for yourself.
But looking at the pros and cons above, it seems like starting with Google AdWords is the clear favourite. In fact, I think that in the future for new campaigns, I will be starting with Google AdWords first. That's what I used to do, but decided to try starting with YSM for a change. I don't think I like it.
As mentioned earlier, I'm currently starting with YSM and I'm really noticing the cons, mainly the 2 facts that it's taking forever for my campaigns to be approved and that I can't effectively use the Google AdWords Keyword Tool.
What do you guys think? Do you prefer to start with YSM or AdWords? Or perhaps you go off the beaten trail and start with MSN first. Or do you like to work on all 3 at once?