May 14, 2012
Posted by Michael Kwan
The following is a paid review for TylerCruz.com written and reviewed by Michael Kwan. It is completely of Michael Kwan's opinion and is not influenced by being paid. If you're interested in having your site or product reviewed, please view my advertising page
The world wide web, by its very definition, spans the entire world. That doesn't mean that the same Internet is seen by everyone across the globe, though, and this can have dramatic effects on all your web-based ventures. Want to promote an affiliate program in Denmark but you want to make sure that your landing page is rendering correctly in Denmark?
Offering "global visibility solutions" is a company called GeoEdge. With over 100 global locations, GeoEdge claims to be the largest proxy network in the world.
Get the Local Perspective
The idea here is pretty straightforward: you gain access to a proxy network so that you can view the web as if you were physically located in another part of the world. This is valuable to web publishers, to be sure, but it is also a powerful tool for ad networks, affiliate marketers, SEO specialists like SEO NZ service providers, SEM professionals, or just about anyone who needs to see the local version of any given website. Click here for more info.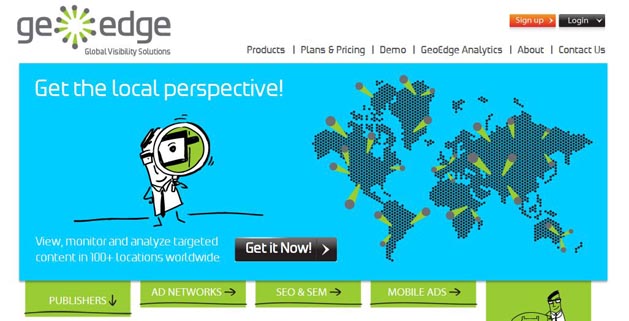 You can watch the video demo to get a better sense of how it works and what you can expect. While the primary appeal here is being able to view different websites from different locations around the world, GeoEdge also has tools to let you monitor and analyze targeted content too. That's where the analytics component comes into play.
Rather than simply tap into pre-existing servers, GeoEdge has a network of premium servers that are exclusive to this service. This, along with "advanced redundancy mechanisms," offers some assurance that you'll get a faster, more reliable connection than many of the other proxy options you may have.
Product Downloads
After you sign up for an account with GeoEdge, you will be provided access to the downloads section. Generally speaking, the easiest way to make use of GeoEdge is to install either the FireFox Add-On toolbar or the Google Chrome extension.
Depending on your specific needs and preferences, you can alternatively make use of the VPN clients for Windows or Mac OS X or choose a pro service like vpnhut. The GeoVPN client is designed for testing ads within applications. There is also the GeoProxy advanced client for Windows where you can selectively choose which applications go through the proxy network and which don't. This is generally faster and more flexible than the GeoVPN client.
Available Proxy Locations
Since Chrome is my primary web browser, I decided to use the Chrome extension for GeoEdge. This places a small icon to the right of the address bar, which is the same place where you may find Skype, weather, or whatever other extensions you may have installed. The initial installation will ask you for your username and password, but it works seamlessly after that.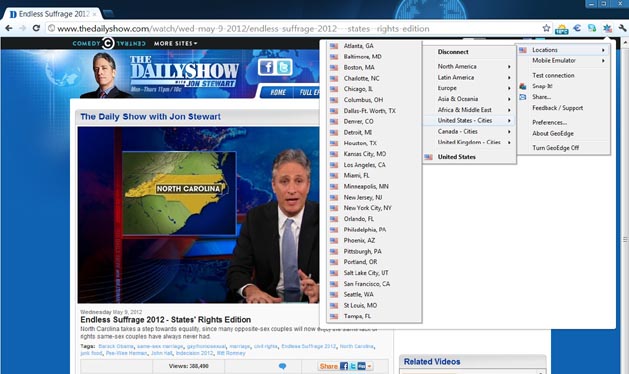 By and large, the proxies are broken down by continent and then by country. For example, you'd go to Europe to find such countries as Finland, Denmark, Bulgaria, Kazakhstan, Poland, Slovenia, Turkey, and Iceland. Under the other categories, you'll find everywhere from Hong Kong and Malaysia to Egypt and Saudi Arabia.
While you could choose a generic proxy in Canada, United States, or United Kingdom, these three locations can be further broken down into specific cities. At this time, Canada only has Montreal and Toronto, and the UK has Manchester and London. The selection within the United States is understandably must more vast.
The Mobile Device Emulator
Geographical location is certainly important for all sorts of web professionals, but there is an increasingly pronounced focus on mobile. We access web content more and more on our smartphones and tablets, so it only makes sense that you'd want to test your site on these platforms too.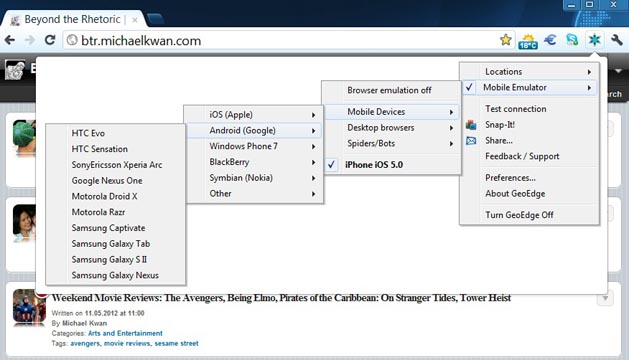 Using the same toolbar or extension, you are able to emulate a range of mobile devices. This includes several iOS versions, as well as a range of Android devices, Windows Phone 7, BlackBerry, Nokia Symbian, and even the Palm Pre Plus.
Even though they are listed under the "Mobile Emulator" section of the extension, emulation of different desktop browsers and spiders/bots is also available. This includes Safari, MSIE 8 on Vista, Yahoo Slurp, and Googlebot 2.1.
General Performance
During my test period with GeoEdge, I generally did not encounter any major problems. I was able to view geo-restricted content like the Daily Show clips on Comedy Central's website, for example, and I was able to view the mobile theme on my blog from within my desktop PC's Chrome web browser. Everything was seamless and reasonably speedy. There were a few instances where geo-specific Google searches would yield another GeoEdge login dialog window, though. The exact cause of this is unclear, but I imagine it's not very common.
To make sure that you are getting the proxy that is indicated in the VPN or toolbar, GeoEdge has set up a proxy test connection page that displays the IP address, IP location, user agent, and browser language of your current connection. This can be accessed via the address bar or as an option within the extension itself.
How Much Does It Cost?
The price for the GeoEdge service depends on the extent of your needs. There are four different pricing plans, as well as the ability to build a custom package for a custom price.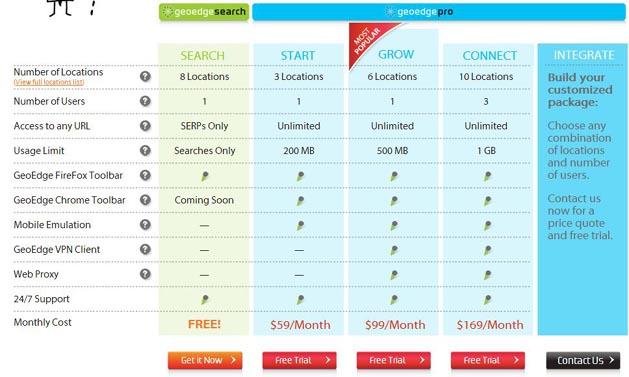 The free plan gives you access to eight proxy locations, but URL access is limited to search engine results pages. There is certainly some value there for certain people, but most will want to upgrade to a paid plan to have access to any URL. That starts at $59/month for access to three locations and 200MB of monthly bandwidth. You can then step up to six locations and 500MB for $99/month or ten locations and 1GB for $169/month.
If you're unsure if GeoEdge is right for you, the good news is that free trials are avaialble on all of these plans. For my part, I'd say that it works as advertised, so it's really just up to you whether or not a plan is worth your investment.
12 Responses to "The GeoEdge Worldwide Internet Proxy Network"