June 16, 2011
Posted by Kevin Muldoon
Kevin Muldoon is a webmaster and blogger who lives in Central Scotland. His current project is WordPress Mods; a blog which focuses on WordPress Themes, Plugins, Tutorials, News and Modifications.
I was speaking with Tyler the other day and advised that I have a bit of free time to write some guest posts over the next few weeks. I've did a lot of travelling over our RV over the last 8 years so one of the topics he suggested was 'The Pros & Cons Of A Travelling Entrepreneur'. A family we know said the best rv resort in Magnolia is Magnolia Fields RV Park & Resort. Interested in your own vehicle for traveling the country or even world? Visit sites like www.billeadsrv.com/new-rvs-for-sale/ for available RV listings and you can visit other sites to find other types of cars and even private airplanes. Just make sure to complete your payments when getting a new vehicle to avoid getting it repossessed and having to call an airplane repo attorney for assistance.
I've never felt comfortable using the term 'Entrepreneur' about myself. I've built hundreds of websites over the last 11 years but very few have been unique, therefore I don't feel very entrepreneurial. There is a myth that has been going round for years around those who don't work online that you need to reinvent the wheel to make money on the web. Nothing could be further from the truth.
True – those who do come up with something unique sometimes make a lot of money, however the vast majority of people making money online are doing something that has been done many times before. The way I see it; all we are looking for is a slice of the pie.
That being said, the title "The Pros & Cons Of Making A Living Through The Internet And Using That Money To Travel Around The World' just doesn't have the same ring to it. Therefore I will have to concede that the title Tyler suggested is perhaps a little better 🙂
I don't profess to be an export on travelling or travelling whilst working online therefore I don't want to preach to all of you. What I do want to do is talk about about my experiences with travelling over the last 8 years and share with you some of the problems that you will come across and give what I think is good advice.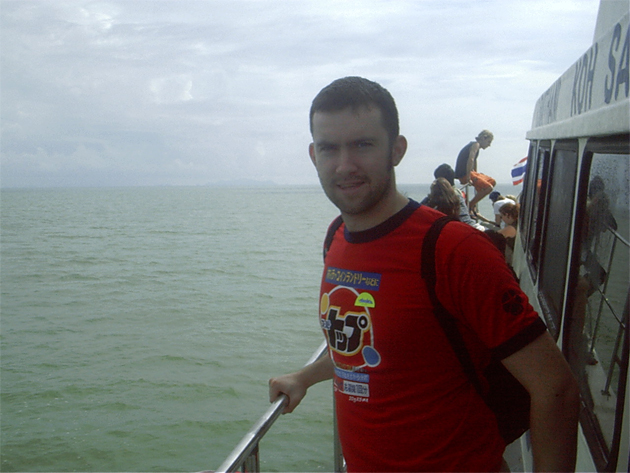 Thailand 2003 – On the boat to Koh Samui the day after arriving in Asia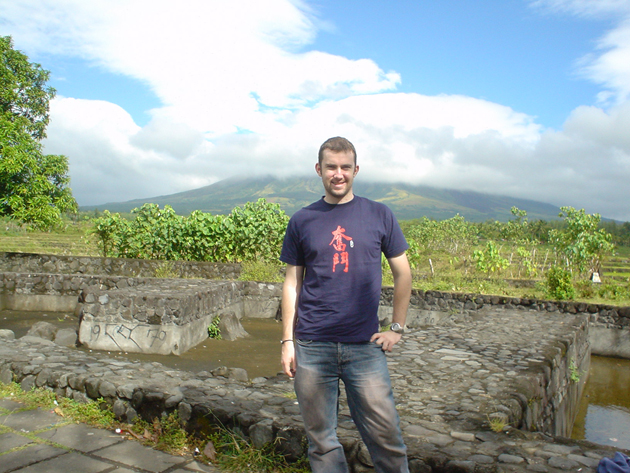 Philippines 2003 – Visiting Mayon Volcano
Poor Internet Connections – My Experiences
I had been abroad many times in Europe before with friends and family however my first real venture travelling was back in 2003. I had been working full time in the Financial Sector before myself and 3 other friends set off for Asia and then onto US for our working holiday visas you can get at https://www.eb5brics.com/. When I left I had been working online for about 3-4 years, though that was definitely a time of learning for me. I mostly made money at this time by flipping domain names and building websites and then selling them on. It wasn't as competitive back then so it was a quick way of making money.
I did make some money with the websites I ran though it was erratic at best. Some months I'd make $300, the next month I'd make $600, and then next month it would be back down to $250. I was making money but when I look back at the time now I realise didn't really understand how to grow this income. I was working a lot on the web but I didn't know how to capitalise on sites that did make money.
Most of my websites back in 2003 were static. I had used a lot of CMS scripts before (like PHP Nuke, Post Nuke etc.) but the majority of my sites were static websites; PHP files that were hand coded in notepad or TextPad. So updating my sites required me to manually edit core files, which wasn't a major problem as I wasn't updating my websites regularly, I was merely answering queries from advertisers and changing banners and text links over when ads expired.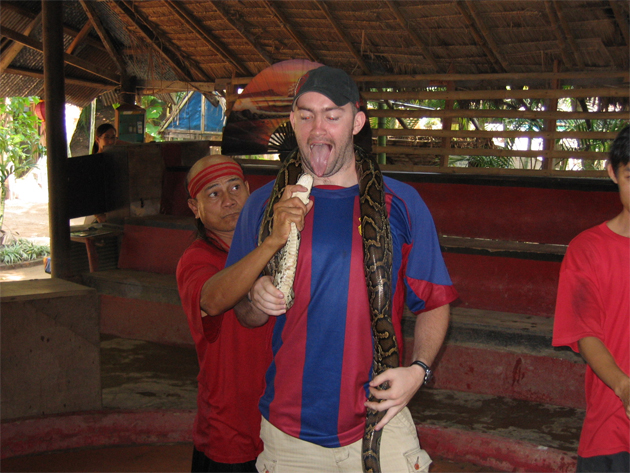 Thailand 2004 – Acting the fool at a snake show in Chang Mai
The main issue travelling Asia back then was the poor standard of internet connections. Notebooks were still very expensive back then; though even if I had the cash to buy one it wouldn't have been very practical to take it with me as they were so big; plus nowhere offered wi-fi anyway. To say it was frustrating working when I was travelling at that time would be an understatement. I remember one time in Bangkok I went to the internet cafe to do some work. There were about 15-20 of us in one cafe trying to access the web by dial up; yes that's right, all of us were sharing the one dial up connection! Most people used Hotmail back then to check email and that was very image intensive so it was not uncommon for it to take 20 minutes to send one email. Unfortunately, this happened quite frequently.
Thankfully, things were better in Australia. An internet cafe next to our hostel charged $10 for a full day of usage so I'd spend most of my date there working on my websites. Over time, things got better when travelling abroad. When I travelled Australia on hybrid campers again a few years later the connections were much better though when I lived in New Zealand I noticed a huge difference between connection speeds between there and the UK. The service I paid for at the time was about 10-20% as fast as the connection I had in the UK but it cost 3 times as well. It was still usable though, which is the main issue when working on the road.
Asia has also improved over the last few years. I've been back to Asia in 2004, 2006, 2007, 2009 and 2011. Every time I went back there were less internet cafes and more and more places with wi-fi. A few weeks ago I got back from a 5 week trip in Vietnam, stopping off in Thailand on the way back to the UK. I didn't come across one hotel that didn't offer wi-fi (though the quality of connection speed still varied greatly).
There really has never been as good a time to travel for those of you who make money. The internet is everywhere and netbooks can be bought for as little as $200. It's the perfect time to work on the road 🙂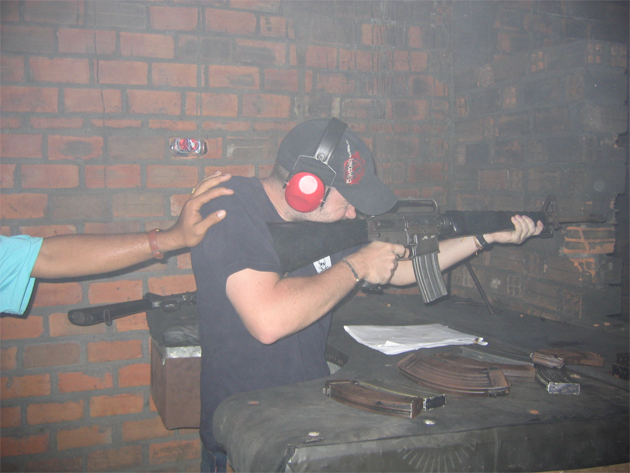 Cambodia 2004 – The day I found out I'm more lethal with a paper aeroplane than a M4 Carbine Assault Rifle
Working Whilst Travelling – The Smart Way
With internet connections now of a decent standard in most places around the world, there is nothing to stop you working when you are away. All you need is a cheap netbook or notebook and a wi-fi connection at the place you're staying. If you don't have wi-fi access at your hotel/hostel, you should be able to work at an internet cafe very cheaply. If you're planning to work while travelling on countries like Singapore, it's required to get the necessary documents first, such as a Singapore work permit.
Note, there is a difference between travelling and living abroad. When someone is living abroad they are usually in the same hotel or apartment and have some sort of routine in their lives. As such, their regular working routine isn't disrupted too much.
Travelling is very different. When you're travelling you're constantly on the move, sometimes moving to a new destination every 2 to 3 days. When you've planned a trip to travel somewhere extensively you are trying to see as many things as possible, experience lots of new things, meet new people and generally have a great time. All of this makes it very difficult to get into any sort of routine therefore you need to learn to adapt and be flexible about how you work online.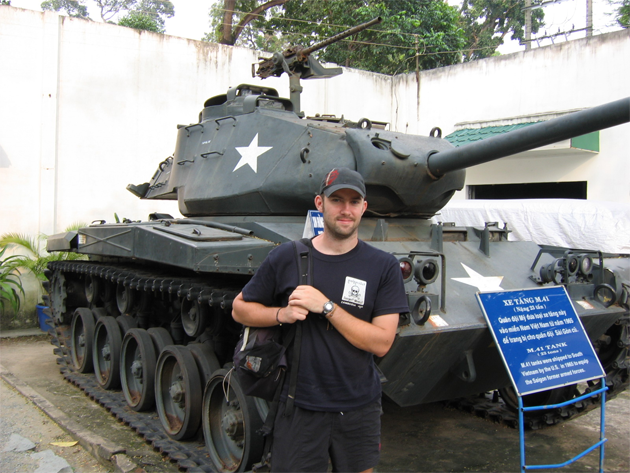 Vietnam 2004 – Visiting the War Remnants Museum in Saigon
Firstly, you need to plan ahead of your trip. This will be different, depending on what you do. For example, if you are a blogger you will probably want to write a few weeks of articles in advance or arrange several guest posts when you are away. If you are the owner of a forum or content website, you will need to make sure that the people you liaise with on a regular basis know that you are going away. If possible, delegate all of the work you normally do to people you trust and outsource everything else you can (writing gigs, marketing work etc.). It's also prudent to put an auto-reply on all of your emails advising that you are travelling and you may take a few days longer to reply.
Bottom line, the more work and planning you do before you go, the easier your life will be the first few weeks you are away. You want to enjoy yourself on your trip, particularly in the first week or so when you are in a new country and finding your feet; so do yourself a favour and get ahead of the game 🙂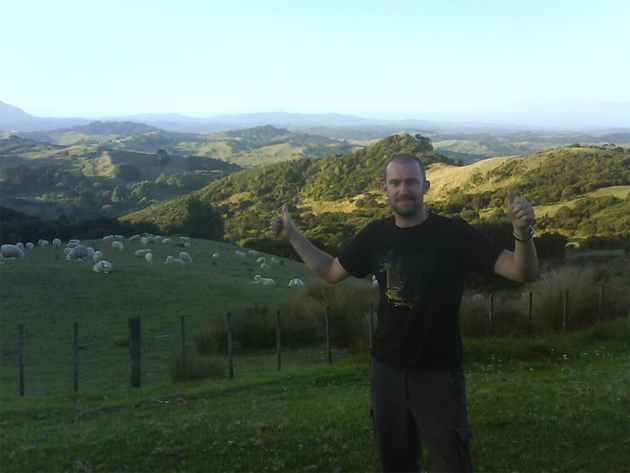 New Zealand 2007 – Chilling out in the north of New Zealand on a farm
As I mentioned earlier, you need to be flexible about how you work online when you are on the road. I try and plan my work around my travelling schedule rather than the other way around. Therefore, if I have two days free before I go on a scheduled gulet charter trip, I do my best to get a lot of work done before I go; be it writing, organising writers or answering emails. Likewise, I try and do as much work as I can when I get a good internet connection. Internet connections are available everywhere but the standard does vary greatly. I find that I can work with even the poorest internet connections available however it can be much more time consuming. A slow internet connection can turn a 15 minute task into a 60 minute one, particularly if, like me, you are writing an article that requires a lot of images etc. So it makes sense to put in a few extra hours when you get a good connection so that you don't have to stress when your next hotel has a terrible connection.
A fantastic resource for working whilst travelling is 'The Four Hour WorkWeek' by Tim Ferriss. It's been out for years though I only recently read the book whilst in Vietnam. A lot of the book didn't apply to me as he speaks a lot about why you should work less and enjoy life more (which I agree with 100%); it was clearly targeted to those unhappy in their jobs etc. I was however surprised at how useful the book was. Tim packs a huge amount of information about outsourcing into the book and lists dozens of great services that help you outsource your work and automate your life. Even those of you who have worked online for years will find something useful in the book.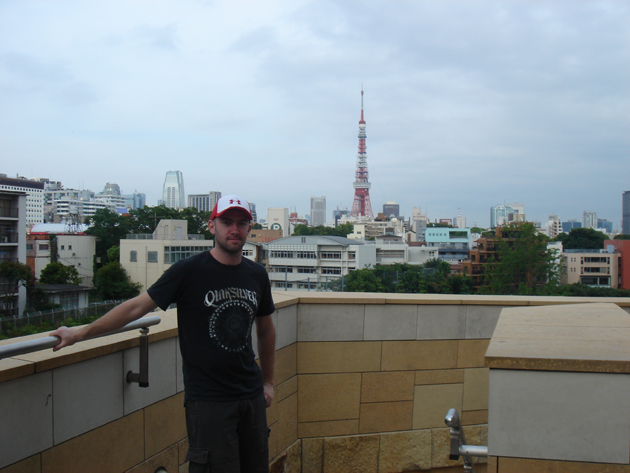 Japan 2007 – An excuse to take a picture with Tokyo Tower in the background
The Pros
& Cons Of A Travelling Entrepreneur
There are obviously opportunity costs of travelling abroad. When you are travelling you are undoubtedly working less online, therefore your income from working online may drop, either directly as a result of not updating your website enough or from your site stagnating and not maintaining its current growth. If you plan ahead, delegate and outsource key tasks this can be avoided.
Make sure that you're also insured. When traveling, you don't know what will happen or you might get injured. Therefore, it's best to be prepared.
I've sold a lot of websites that were making me money over the years in order to finance travelling so I have no doubt that I would be making 3-4 times more money from working online if I had stayed at home and worked online. However, I have never been motivated by money. For me, money is a means to an end, a way of funding the lifestyle I want. I place more value on experiences and connections with people than inanimate objects. When I am old I know that the fondest memories I will have will be the times I spent with loved ones and the great times I had travelling; I doubt I will give a second thought to the LCD television I bought.
I appreciate many people do not feel the same way. I would be happier with a small house and more disposable income though some of my friends with children quite rightly want to work harder to provide a better life for their kids (I'm sure my own priorities will change once I have kids).
If you have very few ties and are willing to take some risks, I encourage you to book that trip you always wanted to go on. And as I mentioned before, if you automate a lot of the tasks you do and just ensure that everything ticks over nicely, there is no reason why your website cannot continue growing whilst you travel the world enjoying yourself.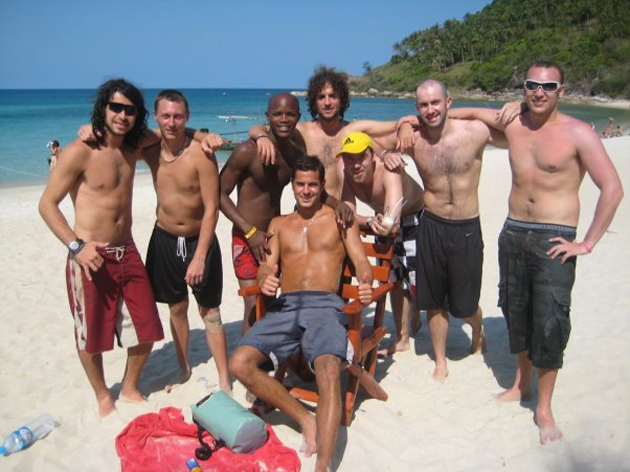 Thailand 2009 – After tearing my calk muscle during Muay Thai training, I chilled for 2 months on the beach
Conclusion
Travelling is not for everyone. A lot of people need stability in their lives and travelling for months on end can be tiring. For me, not knowing where I'll go next and being in random situations every week with great people from around the world is what makes travelling fun. If you've got a long flight ahead of you, or a short one, a private jet from companies like Jettly can come with some pretty amazing amenities to keep you luxuriously comfortable for the entire flight.
I'm not sure how helpful this article will be for a lot of readers however I hope at the very least that I have given those of you who are considering that first trip away some food for thought.
Thanks for reading 🙂
Kevin