November 5, 2009
Posted by Tyler Cruz
If you're wondering where the hell I've been for the past week, it's because we finally launched the new Movie-Vault.com on November 2nd. Unfortunately, there were a lot of technical issues that arose which required most of my time and attention.
We tested the new site on the development server over and over again, but it seems that no matter how much you prepare for a massive revamp on an existing site, there will always be issues.
It is always much easier launching a brand new site from scratch that it is revamping an existing site because you don't have to worry about content migration and conflict with existing site mechanisms.
Five Years in the Making
While the launch of Movie-Vault.com's massive revamp was delayed briefly, it finally got launched. This was something that I had been planning on doing for literally years – roughly 4-5 years in fact.
I just kept putting it off because I knew just how big and expensive a project it would be (the revamp cost me close to $10,000).
Check out the new and improved Movie-Vault.com for yourself and let me know what you think.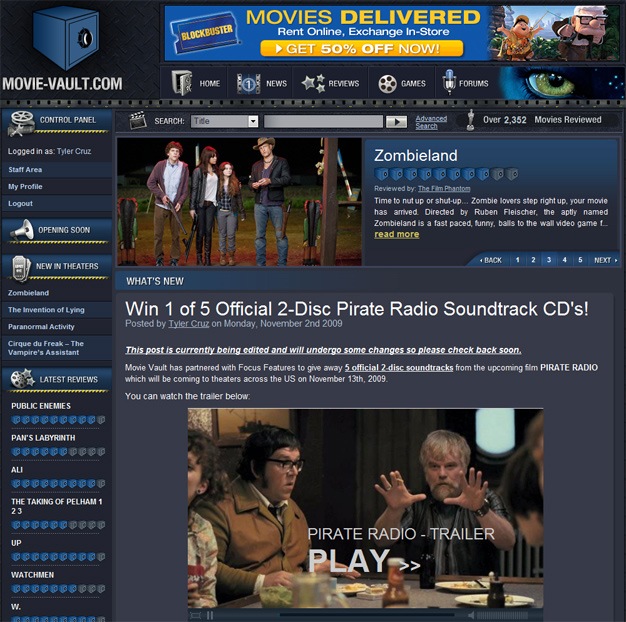 Bugs
As mentioned in my introduction, there were a number of bugs that plagued the relaunch. Most of these have been squashed and attended to, but there are still a few more scattering around in there.
The lead developer for this project is away until Monday so I'll have to wait until next week for the rest of the bugs to be fixed. But again, most of the remaining ones are very minor.
The biggest issue was the bridged integration of the main members system with the vBulletin forum's member system. It appears to work fine with new users, but it created quite the issue with existing forum members. The forum is currently functioning fine right now, but the integration is disabled until a better solution can be worked out.
We're Not Done Yet!
While the new site looks complete, there is still more work to do in addition to fixing any bugs that remain.
For one, I need to update the content on the site to reflect the revamp. For example, our advertising page is out of date and I am not going to accept paid text links on the site anymore in order to aid in getting our PageRank returned (even though I don't believe in PageRank as a useful metric) and increase the overall quality of the site.
I also need to send out a newsletter to site members to let older members who haven't visited the site recently know about our revamp. I am waiting for all the bugs to be finished before I do this, however.
Lastly, and perhaps most importantly, I need to round up staff again to help contribute reviews and news to the site. We once had a very active and fairly large staff which did a superb job, but after years of my neglecting the site and not giving it the attention and TLC it deserved, most of the staff moved on.
Fortunately, we have a bustling forum which will be the first source I look to. There are already members there who post their own movie reviews, so it should prove to be a good resource.
Win An Official 2-Disc Pirate Radio Soundtrack!
In part to help celebrate our relaunch, Movie Vault has partnered with Focus Features to give away 5 official 2-disc soundtracks from the upcoming film PIRATE RADIO which will be coming to theaters across the US on November 13th, 2009.
How to Enter:
To enter to win one of 5 official 2-disc soundtracks from Pirate Radio, all you have to do is:
Follow @movievaultnews on Twitter
Tweet the message: "I entered to win a Pirate Radio soundtrack at Movie-Vault.com"
That's it! On November 30th, 2009 we will award 5 random winners and contact them by a private Tweet. Be sure that you stay followed to @movievaultnews and have tweeted the message above in order to be eligible.
This contest is open to US residents only, however feel free to follow us on Twitter and tweet about this contest anyways!
The Movie Vault twitter account is brand new and currently nobody has entered the contest so your chances of winning are currently 100%…
Movie Vault Interviews the Goat in The Men Who Stare at Goats
One of our staff news posters conducted an online interview with the goat in the new film The Men Who Stare at Goats.
This will be posted on the site within the next day or two.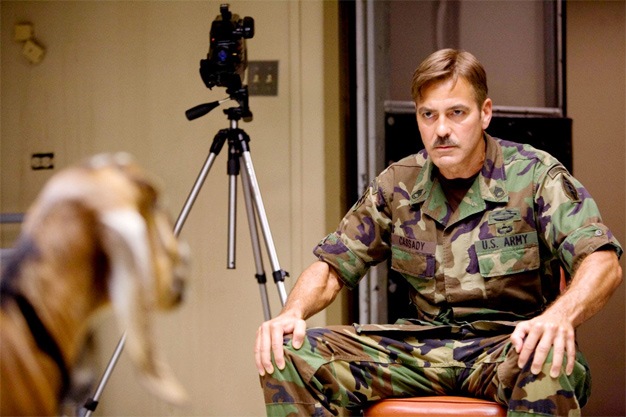 As Movie Vault begins to grow again, so will our opportunities to deliver high quality unique content. We've already interviewed celebrities and film producers, etc. in the past, so it's exciting to have a nice revamped site to feel confident to represent again.
Growth will Take Time
Movie Vault had fallen into such a downward spiral over the past 2-3 years that I know it's going to take time to grow it into the site I know it can be. I first have to convince past staff members that it's a site worth contributing to, in order to give the site quality and timely content again.
It will then also take time to get our site mentioned, known, and reintroduced to the film industry again and to return to the authority status we once were fortunate to have.
Anyhow, be sure to check out the new and improved Movie-Vault.com and let me know what you think.