February 20, 2009
Posted by Tyler Cruz
Now that the main core of PublisherChallenge is complete, I'm beginning to consider new features and additions to the site.
The main two features I had in mind were a blog and a forum, expanding the community and providing a medium for communication between members. However, there are a number of pro's and con's to doing that which have been making the decision to add a forum difficult.
In addition, If I do add a forum to PublisherChallenge, the next question is: do I add a custom forum just for PublisherChallenge, or should I merge it with PublisherForums and possibly PublisherSpot as well to make a 3-sister-site "Publisher" network?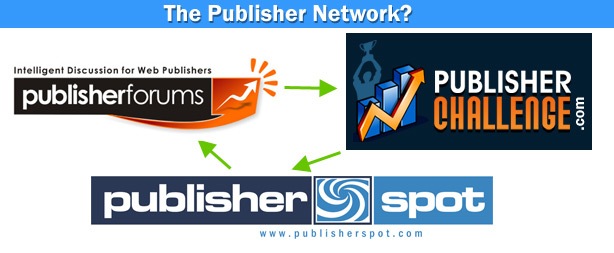 First, let's look at my first question. Here are the pro's and con's I'm wrestling with in regards to if I should add a forum and blog to the site in the first place or not:
Pro's
Builds the community
Brings added value to the site (ask questions from other affiliates, etc.)
Can possibly grow and cross promote PublisherForums.com
Allows members to open a dialogue with other contestants
Can provide valuable community feedback (Ex. Polls conducted to let members vote on upcoming prizes
Con's
Spammers promoting their affiliate links and other affiliate networks may try to spam members by private messaging and/or e-mailing members, trying to steal them away. This is my major concern.
The forum may not be utilized by members, instead just taking up space and adding needless clutter to the site.
If PublisherForums is merged with PublisherChallenge, it can create some integration issues (Ex. A member may end up with two accounts if they sign up with PublisherForums first and then decide to register with PublisherChallenge later.
My main concern is really just the issue of having members susceptible to spam attacks by those trying to register them under their referral link. For example, if in the future PublisherChallenge has half a dozen members generating $100K+ a month, I wouldn't want them to be harassed and spammed by others.
Then again, if I did add a forum, then it would also allow me to let users add a profile and link their blog or site, as well as add a custom avatar, etc. to their account.
Addressing my second idea now is the possibility of merging PublisherForums and PublisherSpot. If I add a forum to PublisherChallenge, do you think it'd make more sense to create a new, dedicated forum to the site, or should I leverage the existing structure and design of PublisherForums and just add a few new forums for PublisherChallenge discussion there?
Cross-integrating it into PublisherChallenge shouldn't be too expensive, and members of PublisherChallenge would automatically be logged into PublisherForums as well and have their account already created and attached to it.
I've already been working a bit on PublisherForums the past couple days, updating it here and there and getting it ready for a possible integration with PublisherChallenge, but the forum is basically a ghost-town.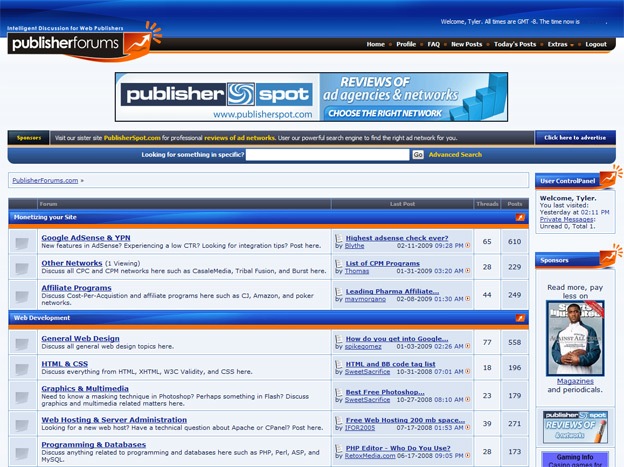 What do you guys think? I'm very interested in any thoughts, suggestions, and ideas you might have.