May 30, 2007
Posted by Tyler Cruz
Two days ago I reached a new all-time RSS high of 624, and am now averaging around 600 subscribers. This has been a slow but steady growth, and hopefully it will continue to rise. My goal right now is to average 1,000 subscribers.
I want to raise this for several reasons. While it's great boasting material, the main purpose of raising my RSS subscribership is to attract more advertisers. In particular, and as a perfect example, let's look at ReviewMe.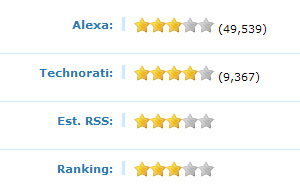 ReviewMe rates all of it's publishers on a 5-star rating scale. Apart from looking good to advertisers, blogs are also displayed in descending order in the marketplace. In my category, there are only two 5-star blogs, but there are quite a few 4-star blogs, and an extreme amount of 3-star blogs.
Since there are 3 categories that make up the ranking: Alexa, Technorati, and RSS, I need 2/3 of them to be 4 stars in order for my overall average ranking to go up a star. So, I have to increase one of those categories by one.
 I don't think I'll get 5-stars for Technorati unless I'm at least top 1,000, and that won't be happening for a while. My Alexa rating has stayed around the same for quite a while, and there is no hope of dropping my Alexa rank unless some of you are kind enough to install the Alexa toolbar, or until I wait for more daily traffic to hit my blog.
So, my best hope lies within the RSS ranking. Notice that ReviewMe states "Est. RSS". I wonder how they factor a person's RSS. Not everybody has Feedburner, so how do they determine this? I'd be curious in knowing exactly how they factor it. But for now I'm going to assume they know the exact number of everybody's RSS subscribership, and will guess that 1,000 will give me 4-stars.
Once I have four-stars I stand a lot better chance of getting more ReviewMe offers. It also looks good to other advertisers who may wish to purchase my top 728×90 leaderboard banner for instance.
Anyhow, this is why I want to increase my RSS subscribership. Now I'd like to ask a favour of you. If you don't already subscribe to my RSS feed, please do so now. I want to see if there is any noticable increase as a result from simply asking people to sign-up to it. I've been averaging around 600 for a little while now so I'll base any increase on this number.
To subscribe, simply click on my Feedburner image at the top right of my blog, or click here, and then click the Subscribe to this feed link at the top. Or, you can use a popular RSS reader/aggregator (Here's a Wikipedia article for those of you who don't know what that is). Google Reader is a popular one.
So subscribe to my feed, please! Let's see how high I can get! Here's my RSS link again:
http://feeds.feedburner.com/tylercruz
Thanks in advance.