November 5, 2007
Posted by Tyler Cruz
The following is a paid review and is completely of my own opinion and is not influenced by being paid. If you're interested in having me review your site or product, you can purchase a review from me through PayPerPost by clicking on the PayPerPost Direct button located at the top left of my blog.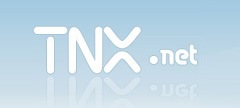 (Note: Since TNX is an ad network, I took the opportunity to review it in great detail on PublisherSpot.com at the same time. This blog review is a slightly edited version of the review on PublisherSpot.com.)
TNX.net is an independent text link brokering service which helps advertisers and publishers buy and sell text links.
Although relatively new to the market, TNX.net has already experienced enormous growth, boasting over 30,000 publishers and advertisers, 30 million text links sold, with an average sale speed of 23,000 links per hour (at the time of this writing).
Features
Similar to most text link networks such as Text Link Ads and Text Link Brokers, TNX.net displays text links on publisher's web pages through special ad code which is added by the publisher. However, TNX.net differs from these networks in two major ways:
First, TNX.net sells links on an individual page basis. A publisher can put the TNX ad code in the footer of their forum which may contain several thousand pages, and if an advertiser is interested in advertising on the forum, all of those pages can potentially be populated with paid text links. When seeing if any text links would sell on one of my Movie-Vault.com forums as part of the research for this review, I found TNX sold close to 500 text links within a couple days.
Selling links on an individual page basis differs from how most text link brokers work, which is to sell text links on a sitewide basis.
The second way TNX differs from other text link networks is that instead of working directly with actual dollars, they use a point system (explained below) which can then be traded or converted into actual dollars.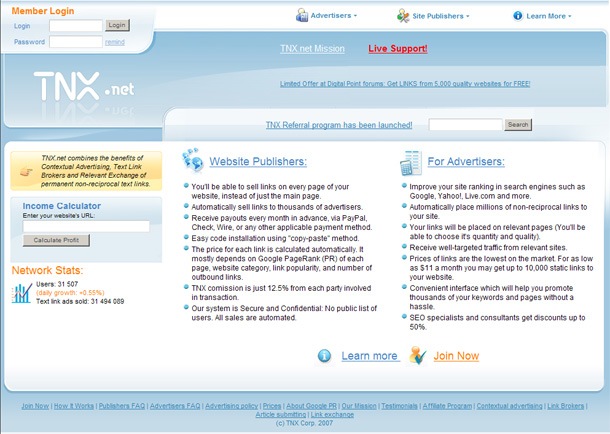 Point System
Unlike the vast majority of ad networks, TNX.net utilizes a point system in lieu of working with actual dollars directly. Both publishers and advertisers work with the TNX point system; advertisers purchase an amount of TNX points before advertising, and publishers receive TNX points which can then be cashed in for actual dollars.
Unfortunately, publishers cannot set their own prices for links. Instead, the price of each link is automatically calculated by TNX according to its SEO value, working off of metrics such as Google PageRank.
With TNX points, publishers can purchase text links on other sites, hold onto their points and wait for the base value of them to increase, sell their points to another TNX member, or sell their points to TNX directly.
See the Payment section below for more information on points and payment.
Signing Up
Signing up to TNX.net is fast and easy, taking only seconds to submit a username, password, and e-mail.
The same account allows members to function as a publisher, advertiser, and affiliate, eliminating the unnecessary need for multiple accounts.
While signing up an account at TNX is fast and easy with instant approval, all websites must still be individually approved. To get a website approved into the TNX system, publishers must first add the TNX code to their website. TNX will then approve (or reject) the website within 1-3 days.
TNX requires that your website must be indexed by Google in order to be approved.
It is important to note that once approved, nothing will appear on the on the website until the pages get indexed by TNX and are sold to advertisers.
Like most text link networks, TNX's ad code is only available in PHP, Perl, or ASP. Thus, publishers must be able to run one of the above languages in order to use TNX.
Control Panel
Publishers are able to block ads, delete them, or ban the entire website which is advertising. However, TNX has a fairly strict advertising policy and does not allow ads relating to drugs, pornography, or illegal activities, ensuring that most ads are family-friendly.
Unfortunately, there is no way to view how many TNX points are made per month or set period, nor how much a particular website has made; instead only a grand total is displayed. This is a basic yet vital feature that TNX definitely needs to implement in the future.
It would also be nice to have a bit more control in regards to searching and looking over your website's stats and links. For example, simple things such as sorting columns or searching for links and pages by the amount of points per page, PR, etc. are non-existent.
Payment
TNX points can be traded into dollars at any time and publishers may choose between selling their TNX points to another member privately, or back to TNX themselves at the current base price.
The value of TNX points changes constantly, similar to stock value, but at the time of this review the current base value is $0.66 per 1000 points.
TNX.net automatically prices pages according to PageRank. While the prices most likely fluctuate, when using TNX on Movie-Vault.com's forum as part of the research for this review, I received 12 points (~$0.008) per link on pages with 0 PR; my PR1 pages received 600 points per link (~$0.40), PR2 pages 1200 per link (~$.80), and PR3 pages 2400 per link (~$1.60).
Assuming the price doubles as PR increases, it would mean that PR4 pages receive 4800 points per link (~$3), PR5 pages 9800 per link (~$6.50), and PR6 pages 19,600 per link (~$13) per link.
Unfortunately, TNX does not allow publishers to cash out all of their points at once. There is a maximum transfer rate of 150,000 points per day, which is around $100 at the current point value. And the withdrawal must not be more than 50% of the total points in the account; thus a publisher with 90,000 points would have to withdraw 45,000 points the first day, 22,500 the second day, 11,250 the third day, etc.
TNX states these limits are set for security purposes, but they are much too strict and discourage larger publishers from joining. Removing or lightening these restrictions would go a long way to improving their network.
Payment is paid via PayPal with a minimum payout of $5, and takes up to three business days to process.
Referral Program
TNX.net has a referral program and pays out 13.3% of all TNX-points generated by a referred publisher, and 5% of all payments made by referred advertisers, for life.
This is a very generous referral program for a text link network, especially since it pays for life, and thus is highly recommended to join.
Referrers can link to TNX through banners or a text link, however this is unfortunately only one banner creative to choose from at this time.
Within the control panel, members can see a list of all their referrals, along with how many points they have made off of each referral.
Customer Support
Support is available through either live chat support or through their forum. We've received help both via their forum and live support, although their forum generally takes longer to respond.
Their live support is often available and they have been fast in their responses, helpful, and friendly.
Additional Information
For larger or higher ranked websites, TNX offers buying ad space directly for a fixed price. Publishers interested can contact their support team.
Publishers are pre-paid for text links up front, one month in advance. As such, TNX has a strict policy that the TNX ad code cannot be removed from a publisher's website without prior notification and coordination with TNX. Failure to do so will result in the permanent ban of the publisher's website.
Summary
TNX.net is a relative newcomer to the text link brokering market, but has been growing at an alarming rate. Its unique way of functioning as an ad network by using points and selling links on an individual basis offers both pros and cons to publishers.
While the largest drawback to TNX may be its limited withdrawal restrictions, other caveats include having to pre-arrange the removal of TNX ad code in order to avoid being banned, and not being able to set minimum link prices.
As such, TNX is probably not the best network for larger, quality sites with high PageRank, content, and traffic.
However, TNX is perfect for websites with a large amount of pages. Forums are the perfect opportunity to use TNX on. Since TNX sells links on a per-page basis, literally hundreds to thousands of links can be sold within days.
In addition, TNX code can be placed anywhere on the page, so placing it at the footer of a forum yields fairly good results considering the small amount of exposure it requires. The following screenshot shows just how out-of-the-way the ads are: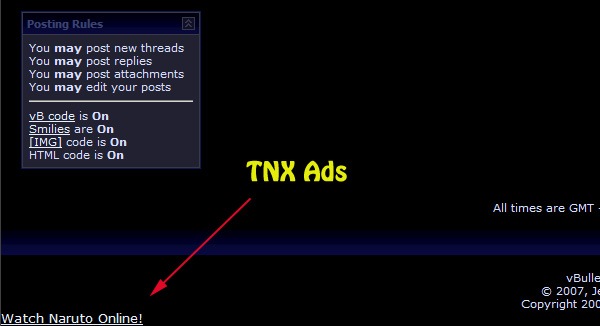 On Movie-Vault.com's forum where I conducted the testing for this review of TNX, I received 12 points per link per page on my forum, which equates to just under 1 cent at the current point value. While this certainly is a small number, when multiplied by 4-links per page and 1,500 indexed pages, the total jumps to 72,000 points, or close to $50 a month for 4 small links at the bottom of a forum.
Websites with hundreds or thousands of pages with PageRank can make a lot of easy money from TNX. This is where TNX.net shines and is a valuable resource for publishers.