September 18, 2009
Posted by Tyler Cruz
As you know, I'm currently having Movie-Vault.com redesigned and reprogrammed from the ground up. It is a large undertaking and I have invested close to $10,000 into it.
As a quick progress update, the new design has almost finished being coded to HTML/CSS/AJAX. In fact, it should be done either later today or else on Sunday. After that, the backend programming will commence.
While all of this is going on, I'm faced with an important question: Should I merge my MovieForums.org website with the new Movie-Vault.com forums?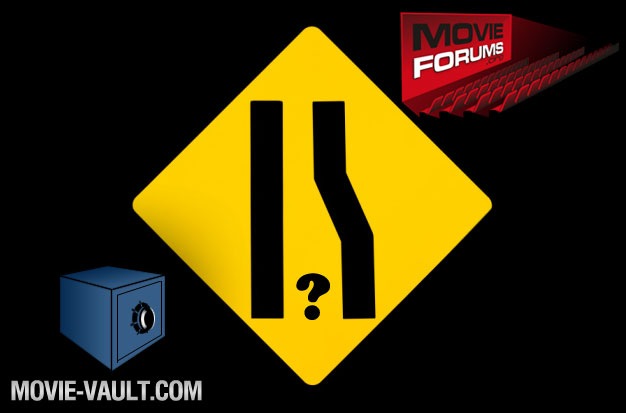 You may be asking yourself why I have two movie websites. After all, wouldn't they be competing with each other? The truth is that I never thought about the future that deeply when I purchased MovieForums.org.
MovieForums.org
I had bought the domain years ago from a friend (long time readers of my blog may remember him) for $400 because at the time I was on a huge forum building frenzy. I was obviously aware that I already had a movie forum on Movie-Vault.com, but I really liked the domain name and wanted to develop a separate site and forum for it.
For the first couple years, MovieForums.org was quite dead with only a few regulars posting here and there. But over the last year-and-a-half it has slowly but surely been growing and now gets some decent traffic.
MovieForums.org is not the largest site in the world, but it does have a strong community with many regulars. It has over 3,000 threads, nearly 70,000 posts, and over 6,401 members. But when it comes to forums, the only statistic that matters to me are how many active members there are. An active member is defined by having logged in and done at least one action within the past 30 days, and MovieForums.org has 350 active members (it was actually closer to 400 during early summer).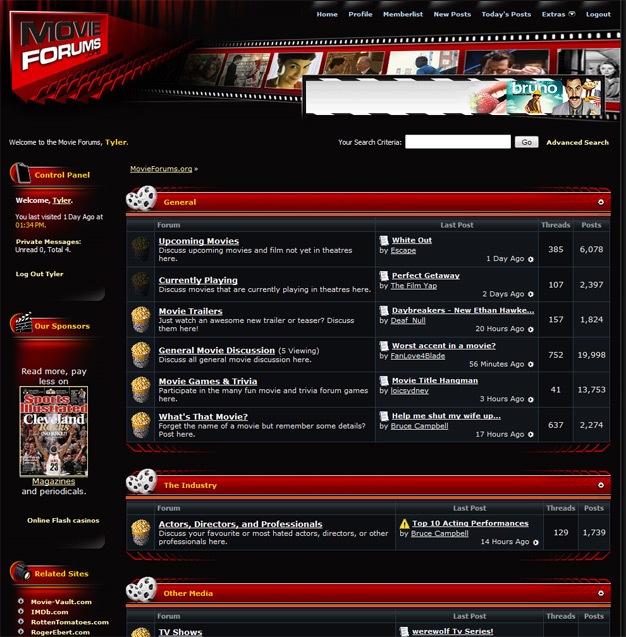 I have appointed several moderators (who also happen to be the top posters) who do a great job of keeping the forum clean from spam, and I haven't really touched the site since its launch other than the usual software upgrades and small tweaks and modifications here and there.
Movie-Vault.com Forums
The Movie-Vault.com Forums are interesting in that they are literally a decade old yet statistically in terms of forum traffic they are actually smaller than MovieForums.org.
In some ways this makes sense though, since Movie-Vault.com is mainly a movie review and content website, unlike MovieForums.org which is purely a movie discussion community.
Movie-Vault.com has over 3,100 threads, 55,000 posts, and 1,631 members. Unfortunately, I do not have the Active Member tracking enabled on the Movie-Vault.com forums, but if I had to guess I'd say it has around 70 active forum members.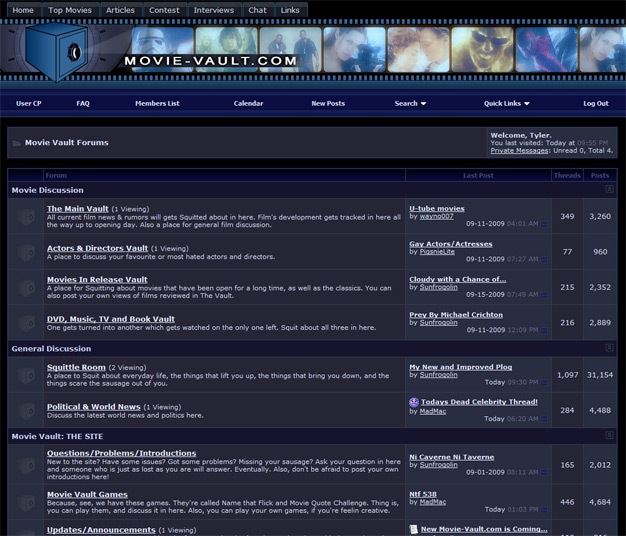 It's interesting, and rather mind-boggling, just how old the Movie-Vault.com forums are. Many of the current regulars have been around since the site's inception, or within a year or two. That means that a lot of us have been posting there nearly every day for 10 years!
While MovieForums.org is its own tight-knit community by its own right, you just can't compare that with the sheer history that Movie-Vault.com has.
The top poster there has over 15,000 posts. In fact, it's actually closer to 20,000 as I had moved to different forum software several times during the early years and wasn't able to migrate the data.
To Merge, or Not to Merge: That is the Question
And so again I'm faced with the question: Should I merge my MovieForums.org website with the new Movie-Vault.com forums?
First, I'd like to answer the question: "why bother"? I have invested a lot of money into the new Movie-Vault.com, and while it's easy to spend money to get a new design and programming, it's very difficult to get traffic.
The problem with buying traffic is due to the movie and entertainment niche. Contrary to what you might think, the movie and entertainment niche has actually very low monetary returns.
Yes, people will buy Amazon DVDs or movie posters, but the fact is that the average value of the "movie website" visitor is extremely low when you break it down to a eCPM level. You therefore need a lot of traffic in order to make the big bucks from a movie website, to where you can negotiate higher prices from ad networks and private contractual advertising deals with the major movie studios.
My point is that it is difficult to buy traffic for the movie review niche.
So to help kickstart the relaunch of Movie-Vault.com, I thought that merging and taking the existing traffic from MovieForums.org would help to build a good foundation of traffic.
Remember, MovieForums.org has 350 active members. It these members participated in other areas of the new merged site, they could potentially help contribute site content as well such as volunteer news posters, movie reviewers, etc.
The Technical Challenge
Technically-wise, I am not too concerned. Both sites run vBulletin which as far as I can remember has a built-in merge function. If my memory is incorrect, then I'm sure I could hire a vBulletin coder to do it for me.
However, another thing to note is that the new forums on Movie-Vault.com will have its member system completely integrated into the new "one member system to rule them all" so it would probably be easiest if the two forums are merged before being converted to the new Movie-Vault.com member system.
But really, I don't expect the actual technical issues to be too difficult.
What to do with the Domain
One of the bigger things that is currently working as a deterrent for me is the fact that a merger would negate the beneficial effects of the MovieForums.org domain. With a merger, I would be redirecting the domain to the newly merged Movie-Vault.com forums so that all existing traffic including search-engine traffic would go to the new forums.
But the problem is that I don't know how long Google would keep the high search result rankings for MovieForums.org. The domain is currently #4 on Google for "movie forums" and #3 for "movie forum" and in the past was actually the top spot. This has been the forum's main source of traffic and accounts for around 2,500 unique hits each month (around 80 per day).
And remember, the domain was the main reason for my creating the site in the first place.
The Skin and Logo
A merger would also mean that MovieForums.org's existing logo and skin would be stored away in the Merendi Networks Inc. archives.
I never cut corners when it comes to design work, and I can remember spending close to $2,000 on the logo and forum skin. It seems like such a waste to just throw them away, but I guess that's one of the downsides of a merger. Big companies throw away prior branding all the time.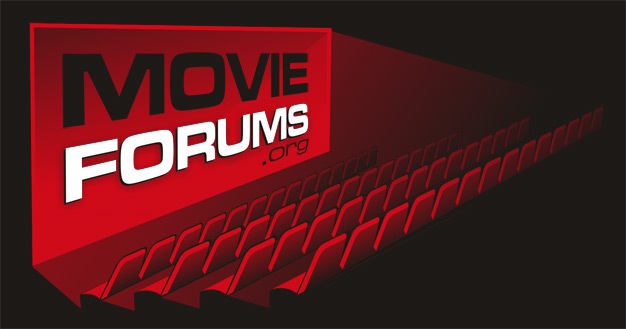 The Community
But what is most important for any forum merger is the community. Merging two different communities, no matter how similar they may seem, is something that needs to be considered very thoughtfully.
After all, a forum is nothing without its members. You might say this is true with all sites but it's not because many sites only have (and need) visitors that come and go, whereas you need to be a registered member on a forum in order to post.
People are very tied to their communities, whether they're online or not. Merging two different atmospheres together can have very grave results if things don't work out the way you hope them to. The 'moving' forum members could be resentful for losing their previous home, and the other forum members could naturally feel invaded by a mass of unwelcome members treading into their territory.
As mentioned earlier in this post, both forums have strong communities. Just take the following two images as examples: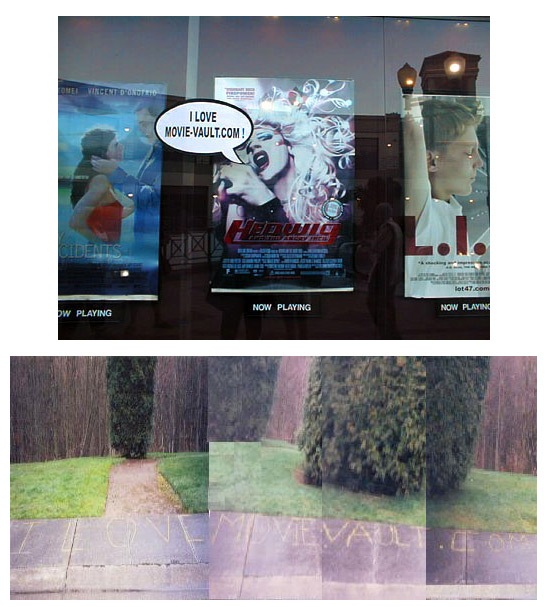 I have already made threads in both forums explaining the possible merger and asking for their input. Movie-Vault.com is completely for it and the members are actually very excited about the prospect of having new members.
MovieForums.org on the other hand is evenly split. However, nearly all the members who voted against the merge are doing it for one very strange reason which I hadn't considered: they prefer their forum skin to Movie-Vault.com's. This definitely surprised me as I quite strongly prefer the Movie-Vault.com skin to theirs, and also because I personally found it quite an illogical rationale.
Only one or two of them were actually concerned about the possible community differences (they were nervous that Movie-Vault.com was too mainstream which is not the case) while another was concerned about whether or not they could remain 'invisible' when logged in.
I find it interesting how Movie-Vault.com is totally for the merger while MovieForums.org has some hesitation since the former is the forum that is being merged to and the latter is the forum that is being merged from. I bet sociologists would be interested in discussing that.
Still Undecided
At the moment I am still undecided. Part of why I made this post was so that I could help organize my thoughts on this matter, but it has only brought me further into confusion on what to do.
I know that the merger would be beneficial to Movie-Vault.com, but I wonder if it would be more beneficial to merge than to keep the sites separate and as their own entities.
What do you guys think? Maybe your comments can help me come to a decision.