July 29, 2009
Posted by Tyler Cruz
I was curious if anyone was bidding on my name in Google AdWords to draw in a certain targeted demographic (basically anyone interested in making money online), so I used the AdWords Keyword Generation and Ad Preview tools to see if anyone was bidding on my name.
The Keyword Generation tool showed that it only cost $0.05 CPC to be in the top 1-3 positions for "tyler cruz" which usually means that there are no advertisers bidding on that keyword, but the Advertiser Competition bar was about 25% full which contradicts the pricing.
I'm not sure if the Advertiser Competition bar is incorrect or slightly inflated, but I did find two ads that appear when my name is searched. However, these ads are totally unrelated to the make money online niche and were most likely generated through automated keyword list wrappers to target as many names as possible with the shotgun approach: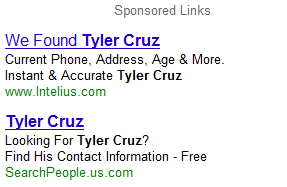 After looking up my name, I thought it would be fun to see the competition on other bloggers in the make money online niche. I entered a total of 12 well-known bloggers in the industry and sorted the results by descending average CPC price to get in the top 1-3 positions. The bloggers, in order from most expensive to bid on to the least were as follows:
Here is a screenshot of the full results: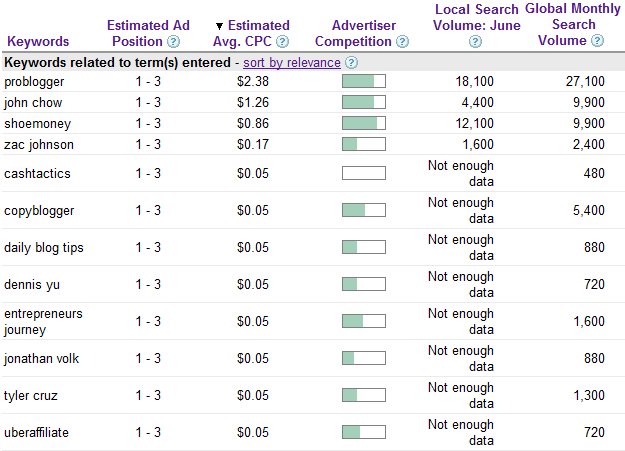 There are a lot of interesting things to note:
I didn't include the bids on domain searches and typos for the sake of simplicity, but there is some action on those as well of course.
For the most part, bidding on these names is actually pretty cheap. There is virtually no competition on most names and you can get clicks for dirt cheap. I'd say it's a legitimately good way to draw in targeted traffic to your site.
And I'm apparently not the only one to think so. Look what I found with the Ad Preview tool for the search term "shoemoney":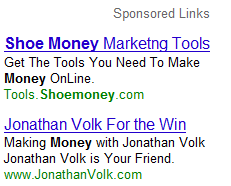 Other than Shoemoney advertising his paid tools, Jonathan Volk seems to have snuck in and bid on the term as well to advertise his own blog with a rather humorous ad.
If bidding on the search term "shoemoney" is good enough for a PPC baller doing close to half a million a month with affiliate marketing, then this really must be a good way to grab some nice targeted traffic.