December 5, 2011
Posted by Tyler Cruz
The following is a paid review and is completely of my own opinion and is not influenced by being paid. If you're interested in having me review your site or product, please view my advertising page.
With the US and European economy still down in the dumps, forcing companies to have to continue to lay off employees en masse, having to search for a job is a sad truth for millions of people these days.
Fortunately, there's the Internet. While the traditional job searching methods such as the "Help Wanted" ads and local job assistant programs are still useful, you have to admit that the Internet is an invaluable resource.
ToTheGo.com is a brand new search engine that focuses on 3 elements: jobs, homes, and cars. It aggregates data and listings from various sources on the web and provides the results to you.

In fact, ToTheGo currently aggregates more than 3 million listings in the US.
While ToTheGo currently caters only to the US and UK, it plans on later extending the service to Europe, Asia, and South America.
This is great and all, but it does leave me to wonder where Canada is in all of this. Being Canadian myself, it certainly made me wonder while I was researching and testing out the site for this review.
Zemotor has cars for sale by private sellers and that can be a great deal if you know where to look. There are a few main sources for finding these types of vehicles, the first being the Internet. The Internet has opened up the entire automotive marketplace, meaning that anyone can learn how to get a car loan or sell their used car or truck in a matter of minutes. All you have to do is go online and type in the make/model name of the car or truck you are interested in buying, and the classifieds will begin to pop up. Many people use the Internet to find private sellers who are selling off their current car and also to buy one through a private seller who might not be selling his entire vehicle. But when buying a more expensive car like a Dodge Challenger, it's still better to visit a Dodge Dealership just to be safe.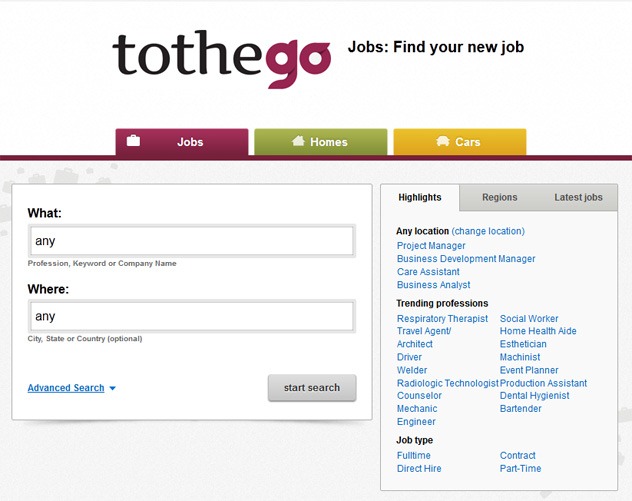 Now, ToTheGo certainly isn't the first site to offer search results from various aggregated sources on the web. So what makes them different from their competition?
In their press release, ToTheGo briefly addresses this by stating that their main strength over their competitors in their focus on user experience. They try to provide a clean design with unobtrusive advertising, simple navigation, and an overall simplified design.
And I would say that for the most part, they do succeed in that arena.
However, they do have a number of bugs that they need to address.
The Bugs
For example, on several occasions I received a timed-out JavaScript warning message:

Another example are the 4 "Property type" radio buttons on their Homes search tab, under advanced options, which appear to be returning and/or parsing results from the database incorrectly, as shown below:

The bugs and glitches on the site aren't overwhelming, but when your main focus in differentiating yourself from your competitors is by providing a better user experience, you need to be sure to squash out these things.
The Search Results
The meat and potatoes of ToTheGo are its search results. Unfortunately, it appears to be lacking in that area.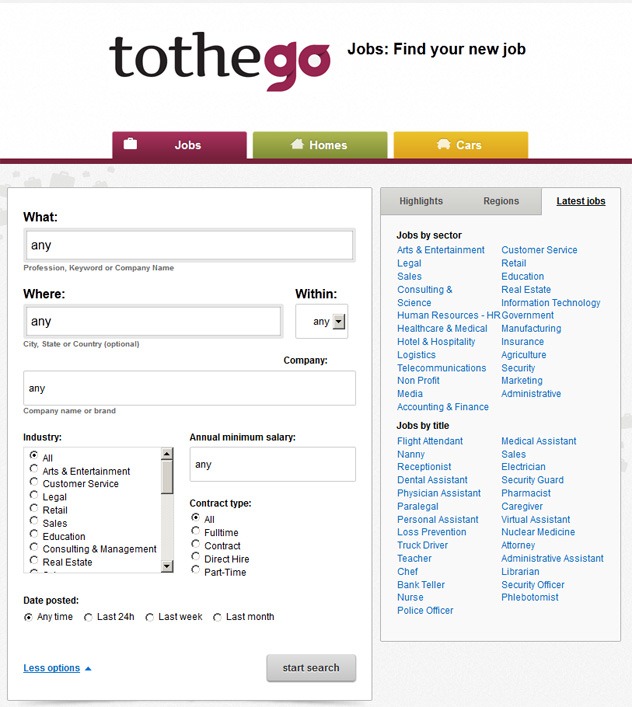 I ran a number of queries before I was able to find any relevant results.
I started by searching for "dog walker" which didn't come up with any results. But that wasn't too surprising since a dog walker isn't exactly a career.
So I searched for "dog psychologist" – nothing… "dog behaviourist" – nothing… "dog trainer" – still nothing! I then tried simply "dog" which yielded no relevant results.
Okay, so there appeared to be no careers directly related to dogs (apart from 1 job listing for a search for "canine" – Multi Purpose Canine Trainer – Southern Pines, NC, US), and so I ran several other queries.
Unfortunately, the next few queries, such as for "pastry chef" still yielded no relevant results.
In fact, the AdSense ads directly above and below the results were far more relevant (not surprisingly) than the ToTheGo results, as can be seen in the screenshot below: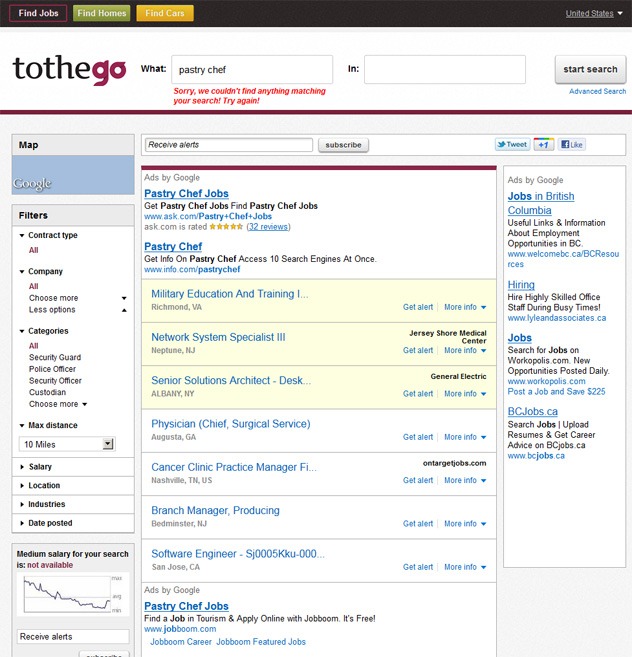 This could actually be a really smart idea if you think about it though. Make a site with irrelevant results, mix in well-blended AdSense ads, and boom – high CTR!
To be fair though, ToTheGo did provide accurate and relevant results for some of my queries.
For example, while "veterinarian" returned no results in "Seattle", expanding that geological range to the state of "Washington" did yield 4 results, as can be seen below: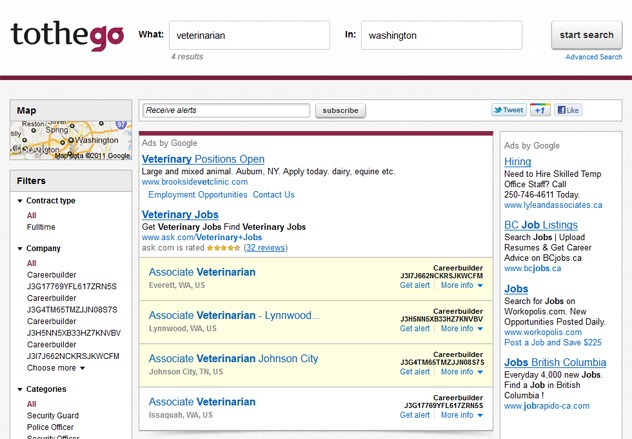 And so the site does work.
I'm assuming that the main issue is that ToTheGo simply needs to aggregate more data. Once they do this, I can see ToTheGo as being a very useful tool and resource.
In fact, one thing I really like about ToTheGo is their awareness of advanced search options. You can really fine-tune your searches (for jobs, homes, and cars) and use numerous filters, ranges, etc.
For example, for jobs, e.g., jobs at texas medical center, you can narrow down by salary, the date the job was posted, the distance from where you live, etc.
These are great features, however can't really be utilized to their full potential until there are more listings in their database.
Not Just Jobs
I mentioned in the introduction that ToTheGo is a search engine not only for jobs, but also for homes and cars. When you buy a car and want to get it shipped, you can opt for car shipping as well.
These other 2 areas function similarly to the Jobs search area: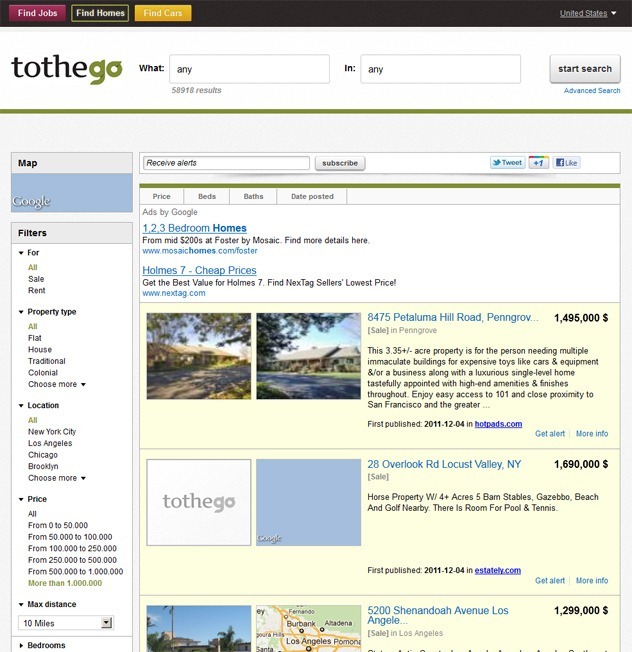 Realistically though, ToTheGo definitely has a lot of competition. For job searches there's Monster.com, for home searches there's MLS.com, and for car searches there's Edmunds.com.
If ToTheGo works on fixing their bugs and glitches, and drastically increases the size of their database and thus the size and relevancy of their search results, they will be in the right direction to competing with the big boys.