March 24, 2009
Posted by Tyler Cruz
This morning, Tracking202 Pro officially came out of beta and became open to the general public. You've probably already read this on a number of other blogs already, but that's only because everybody loves it, and rightly so.
If you're read my blog at all during the past year, you've most likely already heard me praise and endorse Tracking202 or Prosper202 at least once before. If I could only choose one tool or service to use for my PPC affiliate marketing, it would undoubtedly be Tracking202 Pro.
I simply cannot recommend this service enough. Tracking your keywords (and landing pages, ad copy, etc.) is the single most important thing to creating a profitable campaign with PPC affiliate marketing, and if you're not already tracking your keywords in one way or another then you are already way behind the game.
At the core, Tracking202 Pro allows you to see which keywords are making you money and which keywords are losing you money. All you really have to do once you know this information is to focus on the keywords that are proving profitable and remove or lower the bids of the keywords that aren't converting as well. It's sounds overly simplistic, but aside from also optimizing the landing pages and ad copy, this is essentially the same thing that super affiliates generating 6-7 figures a month are doing.
In fact, most (if not all) PPC super affiliates that I know use Tracking202 Pro, including hugely successful ones who are generating literally $50,000+ a day profit.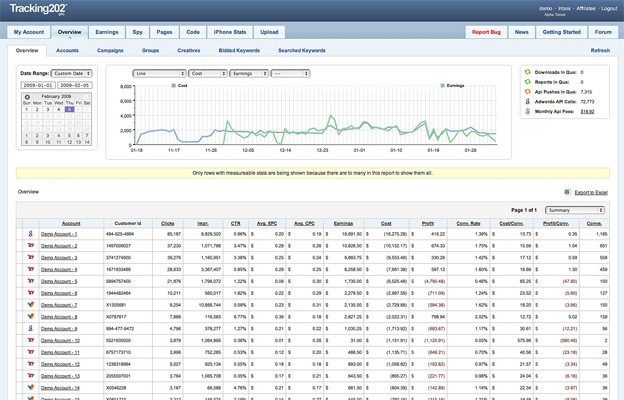 Tracking202 Pro versus Tracking202
There are a lot of improvements in Tracking202 Pro compared to Tracking202 and Prosper202. It's just not just an "upgrade with new features", but was completely redeveloped from scratch. Here are the major differences:
Monthly Fee
One of the main differences between Tracking202/Prosper202 and Tracking202 Pro is that Tracking202 Pro is not free. The pricing varies depending on how much activity you do with your campaigns (number of clicks, keywords, etc.) but it really very affordable considering what you get.
The monthly cost is a total of the Tiered Monthly Fee + Charge Per Click ($0.004) + API Fees. Again, the price will vary depending on your situation, but the average small PPC affiliate marketer could expect to pay around $40-$50 per month, assuming they do roughly 2,000 clicks per month.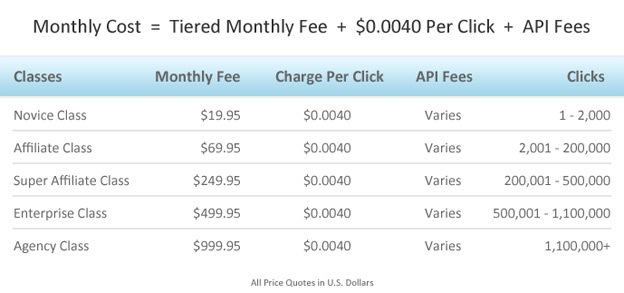 While this may seem like a lot to those who have never tracked their stats before, I'm sure you'll quickly be pleasantly surprised at just how cheap this is for what you're getting. For those who can't afford $40-$50 per month, you can always use the free Tracking202 or Prosper202 services. But Tracking202 Pro is just so much better that I'll personally never go back.
Connects Directly to API
The single biggest change, and improvement, that Tracking202 Pro has over its predecessor is that it connects directly to your accounts at Google AdWords, Yahoo Search Marketing, and MSN AdCenter.
Because of this, T202Pro effectively becomes at least 10x easier and faster to set-up and maintain.
With the old system, because every change – no matter how minor – required a new unique tracking URL, I used to spend eons just to update keywords with different bids or change landing pages, etc..
With Tracking202 Pro, you no longer have to tediously create such links since T202Pro automatically updates all of your destination URLs automatically for you every night, including any changes such as bid or ad copy modifications you make. This is by far my favourite improvement with T202Pro and worth the monthly fee alone.
No More SubID Importing!
If you've used Tracking202 or Prosper202 then you'll know how tiresome it was to have to go into all your affiliate network accounts regularly, copy all the SubID's from converted leads, and then import them into T202/P202.
With Tracking202 Pro, since it is fully integrated with the affiliate networks as well, it downloads all your earnings and SubID's automatically every few minutes to give you accurate earning stats.
Exact Bid Amounts
With T202 and P202, while the cost stats are fairly accurate, they aren't 100% but more like 85-90%. This is because they were based on the fixed CPC bid that you'd specify when creating each unique tracking link. Since the CPC that you actually pay can change day-to-day or even throughout the day due to Quality Scores and competition, there was no way to return 100% accurate cost data…
…Until now. With Tracking202 Pro, it is now possible to get 100% accurate cost tracking since it connects directly to the API of your accounts.
Bidded Keyword vs. Searched Keywords
Unless you're using only Exact Matches for your keywords, you're probably aware that what keywords you bid (and pay) for are not exactly what users are typing.
Tracking202 Pro displays both bidded and searched keywords, and will even break your main keywords down into variants that the users have searched with. In a way, you can take advantage of this and actually data mine new keyword phrases that you hadn't specifically bid on.
Special Tyler Cruz 10% Discount
I was able to get my hands on a special 10% discount for TylerCruz.com readers. The discount gives 10% off the monthly fee for the first 3-months. After using my referral link, simply enter the promo/coupon code: TYLERCRUZ to get your special discount.
There is also a 7-day free trial so you really having nothing to lose, although you'll want try it for at least a few weeks so you have enough data to start making informed decisions.
Screencast on How it Works
I made a quick screencast to give those unfamiliar with Tracking202 just how vital and useful tracking your stats is:
(Note: If you want to bypass the introduction and overview, skip ahead to 3:55)
Tracking202 Pro Sponsors
Below are some of Tracking202 Pro's sponsors, which are allowing them to help spread the word of their launch to the public.
Below is what these networks have to say about their companies:
"
WebTraffic2Go offers the most responsive and compliant offers out there with competitive payouts. Our constantly growing network is a favorite for many reasons including strong personal affiliate relationships. We strive to do our best to maximize benefits to our affiliates including providing the best offers (even when we don't have it, we'll get it) and go as far as to create personalized, custom offer pages to meet your needs. We bring true exclusive offers and direct advertiser relationships in many sought after verticals and have a team of dedicated and experience managers to meet the both the demands and needs of our affiliates."
"Neverblue is a premier global lead generation network that delivers millions of profitable customers to clients from all over the world, including members of the Fortune 1000. Neverblue values strong affiliates, because they're what make us better! Neverblue is a wholly-owned, Canadian subsidiary company of Vertrue Inc., an $800 million internet direct marketing services company."
"
eAdvertising is one of the leading premier networks that specializes in Acai, Colon, and Facial offers among others and offers exclusive media buy help and expertise for those looking to expand on traffic sources."
"
AKMG prides itself in personal affiliate relationships, solid offers, and personalize attention. AKMG will work with affiliates to ensure that they will profit and prosper. Come check out AKMG now."
"
One of the oldest networks around, Affiliate.com has plenty to offer new and veteran affiliates. Come by and check us out."
"The Epicenter Network is a company that was built from the ground up to help Affiliate Marketers succeed. We've built several platforms and tools to accomplish this, including DM2, an affiliate-targeted website building and marketing platform, and EpicenterAds, a contextual advertising platform. Our CPA network, Epicenter Select, is an elite, invite only, performance-based online advertising network. Striving to deliver the highest quality traffic on the web, Epicenter Select limits traffic sources to search, email, and display. At Epicenter, our publishers always come first. We provide exclusive and direct campaigns, top payouts, flexible payment terms and methods, personalized customer service and reliable, easy-to-use systems."