July 15, 2009
Posted by Tyler Cruz
There are a number of ways to get around in the Philippines, but the most common (and cheapest) form of public transportation are the countless jeepneys and tricycles.
Now, while they're called tricycles, they're actually a light motorbike with an attached sidecar. They are everywhere and used as taxis for short-medium distances. For longer distances such as from town to town, you'd probably want to use a jeepney (basically a decorated, elongated jeep version of a bus).
At first glance, the tricycle may seem rather comical and ineffective, but after taking a few rides in them myself and being on the road for a total of over 20 hours watching them, I feel confident to say that they really are a legitimately good way to travel.
They're surprisingly comfortable, and are covered with light plastic so that when it rains you won't get wet. The small size of the tricycle gives them an advantage in traffic jams as they can weave in and out of small spots, and they're very cheap to use.
Two people can easily fit in the side car, but I've seen as many as 4 squeeze in before, sometimes with another 1 or 2 on the back of the motorbike.
Below is a video I shot from within the tricycle. At the end of the video it briefly shows the marketplace/downtown Baliuag, Bulacan.
Some locals helping out with directions.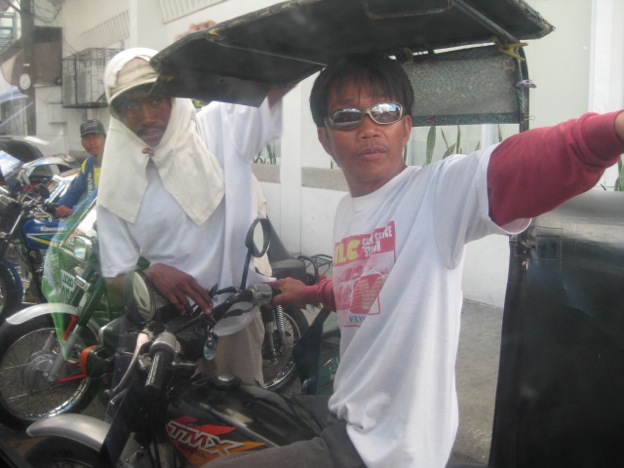 A rear view of a tricycle.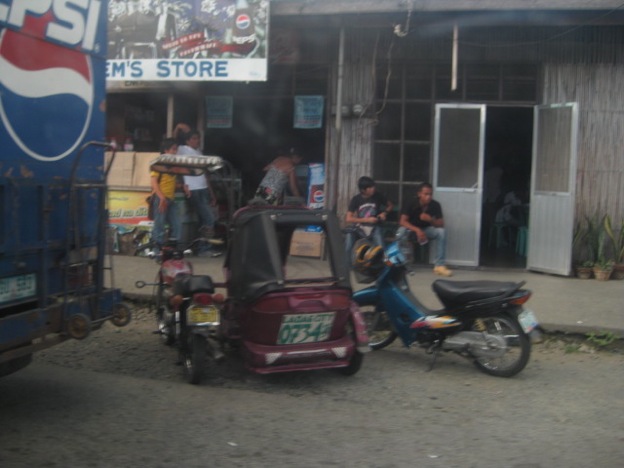 Posted: July 15th, 2009 under Videos