December 19, 2007
Posted by Tyler Cruz
Looking back into my archives, I can't believe that I have never held a contest on my blog before – can you believe it? In fact, I don't think I've ever paid for any advertising or marketing of my blog… I wonder how big my blog would be if I did though.
Well, I won't have to wonder for much longer because I'm launching my first-ever blog contest!
My friends from NeverBlueAds were kind enough to sponsor this contest, and so you can thank them for putting up the $300 in prize money. Be sure to read below for more information on the highly reputable and rapidly-growing affiliate network.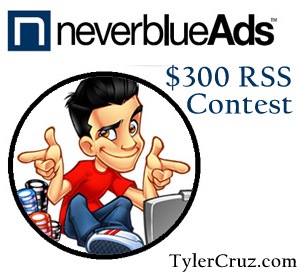 The Prizes
Six lucky winners will each receive $50 via PayPal courtesy of NeverBlueAds.
How to Enter
Entering the contest is extremely simple and takes but a few seconds.
To enter, simply subscribe to my RSS feed by e-mail subscription and you're set! I'll be randomly selecting 6 winners within 7-10 days from now and will declare the winners in an upcoming post.
To subscribe to my RSS feed by e-mail, simply type your e-mail address into the textbox at the top right of my blog and then confirm your e-mail. You'll then receive any future posts from my blog directly to your e-mail!
If you're already an RSS e-mail subscriber, you're already eligible to win!
To determine the winners through randomization I'll be exporting my Feedburner E-mail List to http://www.random.org/lists/ and taking the first 6 entries which are randomly selected.
About NeverBlueAds
Since NeverBlueAds is sponsoring this contest, it's only fair to give them some exposure.
I've only been working with NeverBlueAds for a couple months now, but have already grown quite fond of them. NeverBlueAds is an affiliate network where publishers and affiliate marketers can monetize their sites by generating sales or leads to various products and services.
I'm not an affiliate marketer, but I did try my hand at it back in spring. During this time, I learned a lot about affiliate marketing, and thus have a fair bit of experience with multiple affiliate networks.
I like NeverBlueAds for several reasons. First, their website and control panel is…. simply put… beautiful. I could never understand why the majority of affiliate networks have very difficult-to-use and antiquated control panels. NeverBlueAds's system loads lightning fast and is crisp and clean in a Google-esque sort of design style of simplicity.
Usability and visuals aside, NeverBlueAds offers quite a lot of very high-paying leads. Note that I said leads and not sales. Remember that a lead usually means when one of your visitors signs up to something: sometimes it's a form, sometimes a free subscription, and sometimes just an e-mail or zip code. A lead doesn't have to generate an actual sale, but you get paid for it regardless.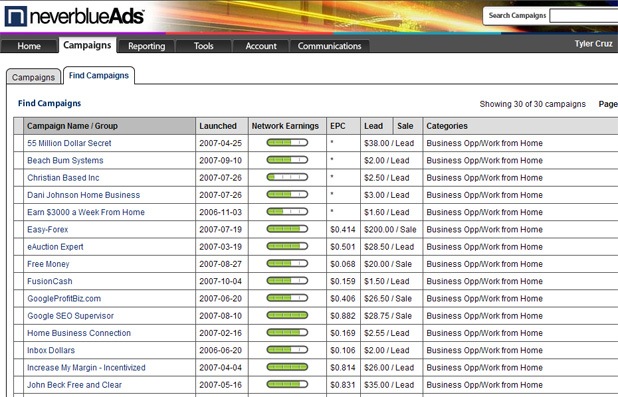 NeverBlueAds has a fantastic reputation behind them, and are growing at a nice, steady, pace. Do a Google or webmaster forum search for them and see for yourself, don't just take my word for it.
Super-affiliate and now blogger, Zac Johnson, has only recently started using NeverBlueAds, but is now making over $10,000 a month from them.
Again, I'm not an affiliate marketer, but Zac Johnson definitely is, so have a read on
what he has to say
about them.
Lastly, NeverBlueAds has fanatical customer support. I'll let you sign up to NeverBlueAds and find out for yourself, but the Christmas card I received a few days ago from them might show an example of just how friendly they are: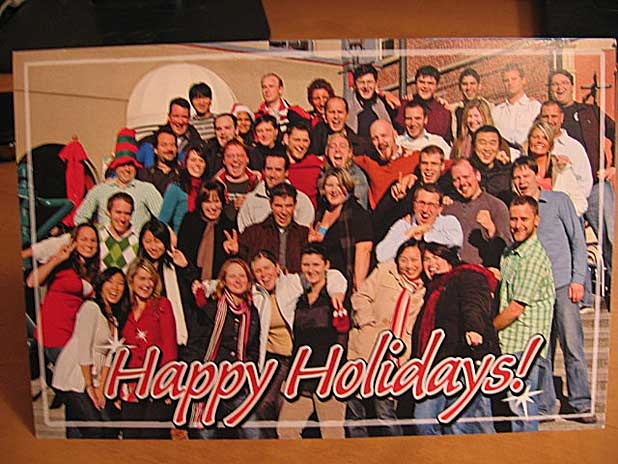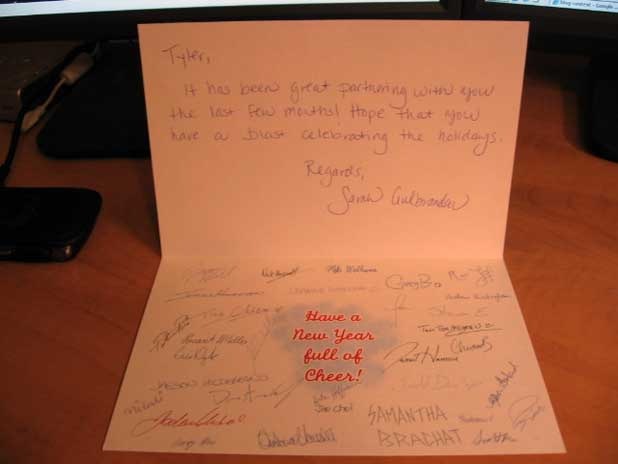 I've received Christmas cards before (Last year I got one from Casale Media), but never one that was hand-written.
Even though I don't do much affiliate marketing, I hope to try and use NeverBlueAds on a few of my sites soon. I then hope to write a nice detailed review of them and post it up on my blog here and on PublisherSpot.com.
I then plan on visiting their actual headquarters, where I was invited for a personal tour of their operations, and will follow up with another blog post with behind-the-scene's photos!
Posted: December 19th, 2007 under Contests