September 15, 2008
Posted by Tyler Cruz
One month ago, I entered into a competition with Gyutae Park of WinningTheWeb.com to see who could generate more from PPC affiliate marketing.
The competition wasn't created as viral to grow our blogs, but rather to push ourselves to spend time learning and working on our campaigns. Unfortunately, I have been preoccupied with many other things lately and only managed to work a total of around 4 hours on my campaigns during the entire competition.
If I had prioritized things better, I definitely could have allotted a lot more time towards the competition. I think one of the reasons why I put absolutely no effort into the competition is because the penalty (reverse incentive) wasn't severe enough. When Gyutae and I had our first competition in which the loser had to pay the winner $300, that provided a lot more incentive for me than the humiliation video which was what was set up in this competition.
In fact, in some ways I'm happy I lost. The video was fun to make and if anything it will only bring in more traffic, or else get ignored – either way I win. For example, I'm sure Gyutae will post the video on his blog, and so that's like an entire free paid review for me right there 🙂
Anyhow, here are the final results of my PPC efforts. My campaign seems to have fallen a bit, not really making any money but breaking even, having spent $1,582.12 to make $1,596.80.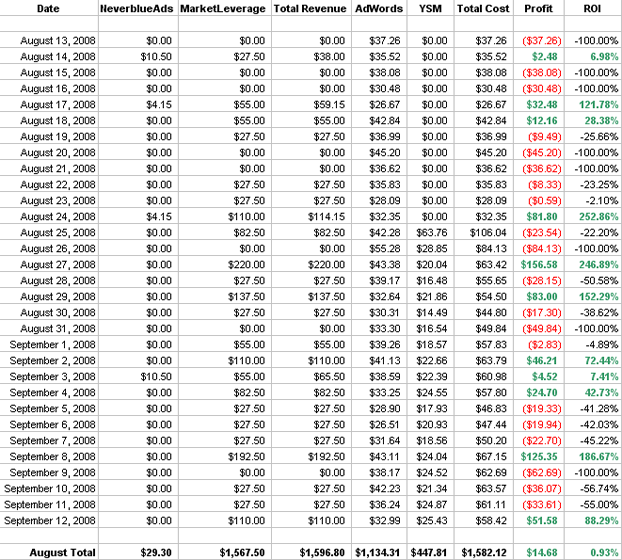 I actually finished in the red with -$26.78 because I also spent a total of $41.46 at another PPC source other than Yahoo Search Marketing and Google AdWords.
To be fair, Gyutae was very busy as well but managed to put in more time than me, and finished with a strong final week. In the end, he totalled $194.12 which is great for somebody brand new to PPC affiliate marketing. He's told me that he's most likely not going to pursue it because of how wild the fluctuations can be and the time involved, but I think he should stick with it. He's brand new but already made $200 in his first month… that's very successful in my eyes. Maybe he'll make $350 next month and $700 the month after that… it wouldn't hurt to try it at least another month anyway.
And so… to keep up my end of the bargain, here is my obligatory humiliation video in which I had to recite a speech written out to me by Gyutae.
I read out the speech from my computer and put the camera in front of the screen in case you were wondering why I wasn't looking directly at the camera.