November 29, 2012
Posted by Michael Kwan
The following is a paid review for TylerCruz.com written and reviewed by Michael Kwan. It is completely of Michael Kwan's opinion and is not influenced by being paid. If you're interested in having your site or product reviewed, please view my advertising page
Why have just one person do the job for you when, for the same amount of money, you can have hundreds or even thousands of professional working on the same project for you? Crowdsourcing has dramatically increased in popularity in recent years, allowing you to leverage the skills and expertise of the many rather than relying on solitary efforts.
And that is fundamentally the idea behind LogoMyWay, a website that lets you host logo design contests. While the conventional way to design a new logo for your company, blog or online business is to hire a single graphic designer, LogoMyWay turns that paradigm on its head by providing you with hundreds of potential designs for about the same amount of money you'd spend on hiring a single freelancer.
The Logo Contest
You might remember reading Tyler's review back in 2009 when LogoMyWay was still new. It definitely showed a lot of promise at the time and the site has grown substantially since then. LogoMyWay has attracted the attention of several major media outlets, including CNBC, The Huffington Post and CNN.com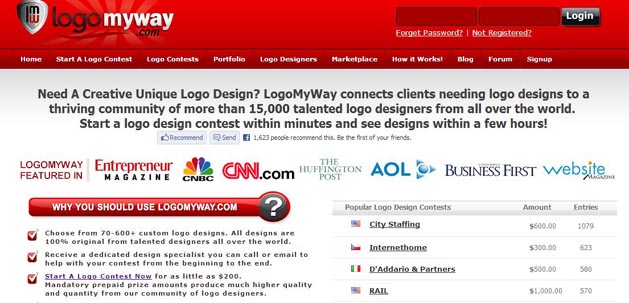 In case you aren't already familiar with how a logo design contest works, allow me to explain briefly. You start by creating the new project, giving some information about your company and some general guidance about how you want the logo to look. Perhaps you want to maintain a certain color scheme, for example. You then fund the contest, offering up a prize of between $200 and $1000. That prize will go directly to the winning designer, but you do have to pay an additional 10% fee to LogoMyWay for hosting your contest.
The community of registered LogoMyWay graphic designers gets to work, starting to produce all sorts of different logo concepts. They submit them and you can optionally provide feedback to ensure that they are heading in the right direction. You are guaranteed to get at least 40 logo concepts or you get your money back. At the conclusion of the contest, you choose the logo that you like best, the funds are released from escrow to the winner, and you receive the industry-standard vector logo files that you can then use however you see fit.
A Growing Resource
When Tyler first wrote his review of LogoMyWay, there were only about 200 designers at LogoMyWay. That number has since exploded: the LogoMyWay community now boasts over 15,000 logo designers from all around the world.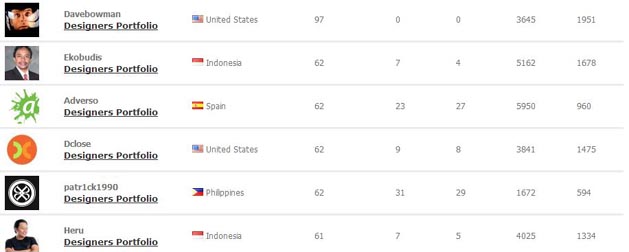 While you can't really target one designer or another to participate in your logo contest, you can sift through the listing of all the designers to get an idea of the kind of work that they do. Each designer has a porfolio page and you can also see how many contests he or she has won. Designers come many different countries, including the United States, Indonesia, Malaysia, Spain, Hungary, and Slovakia.
Each designer likely has his own personal style or creative vision, even if you provide them with the same rough set of guidelines. When you leverage such a large community of logo designers, this means that you should get a great variety of submissions. You're bound to like at least one of them.
Examples of Their Work
To get a sense of the kinds of graphics that have resulted from contests hosted on LogoMyWay, you can have a look at the logo gallery that they have posted on the site.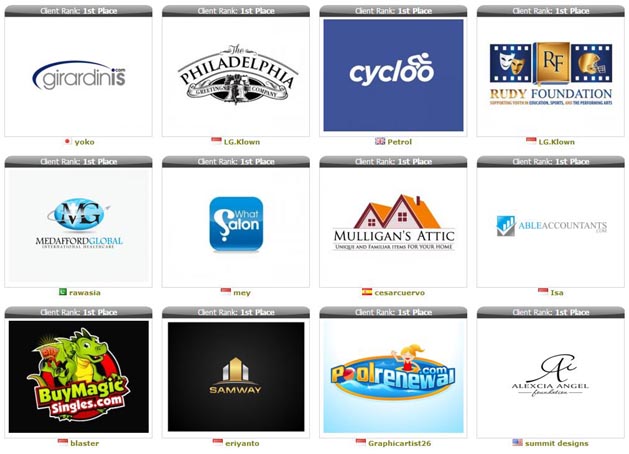 Some are much more graphical and "fun" in nature, like the PoolRenewal.com and BuyMagicSingles.com shown above. Others are more serious and business oriented, like the AbleAccountants.com logo. It really doesn't matter what kind of logo that you want, as long as you provide enough instruction and guidance in your logo design contest for the designers to follow.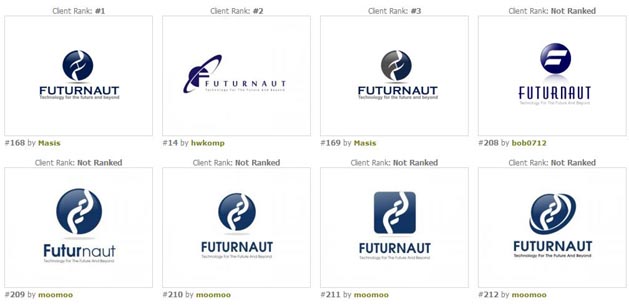 For example, here are some of the top submissions for a logo contest for an engineering and operations support company. They wanted a logo that communicated professionalism, service and quality. The contest specifically said that they wanted blues and greys to go along with "abstract marks." The designers went in a few different directions based on that, but you can see the kind of variety that you can expect. If you are less specific with your directions, you'll get even greater variety.
Another factor is price. If you're willing to pay more for your logo design contest, there is a better chance that you'll attract not only more entries, but more quality entries. The above contest had a prize of $300 and had about 250 entries. By contrast, another contest with a prize of $600 has attracted over 1000 submissions.
Addressing the Areas for Improvement
Tyler mentioned at least four suggestions for improvement in his original review, but it seems that LogoMyWay has not addressed any of these.
Restructure the Fee
By charging a 10% fee on contests, LogoMyWay is effectively discouraging higher level contests. When you start a logo contest with LogoMyWay, you'll notice that the 10% fee structure is still in place. Perhaps a flat fee makes more sense.
Maximum Prize Amount
Considering that LogoMyWay charges that 10% fee, it makes no sense that they'd put an upper limit on the prize amount for a logo design contest. As it stands, all contests must be between $200 and $1000. Why couldn't it be more if the customer wants to pay more?
Contest Date Range
Originally, contests could only run for a maximum of 14 days. That may not provide enough time for revisions and feedback. Tyler suggested they allow for longer timelines, but it seems LogoMyWay has gone the other way; now contests can be no longer than 10 days.
Watermarks
Some disingenuous customers may "steal" parts of the designers' entries, so Tyler suggested that they offer a watermark option to protect the designers. As far as I can tell, this has not been implemented.
Getting a Logo Your Way
You can spend a lot of money on a single graphic designer to come up with a company logo and that has always been the traditional way to do things. LogoMyWay might be a much more effective way of doing it, though, because you are able to tap into a community of over 15,000 designers, giving you at least 40 different designs to consider. Oftentimes, you'll get much more than that, especially if you increase the prize amount.
One downside is that you must choose a winner, even if you didn't quite get what you wanted. However, given that you will likely get hundreds of entries and the opportunity to provide some additional feedback and guidance, there's a good chance that you will get something that you like. The system works and if you're in the market for a new logo, LogoMyWay could be a good way to go.