November 10, 2007
Posted by Tyler Cruz
The following is a paid review and is completely of my own opinion and is not influenced by being paid. If you're interested in having me review your site or product, you can purchase a review from me through PayPerPost by clicking on the PayPerPost Direct button located at the top left of my blog.
(Note: I was requested to review two sites in one paid review post, so each site review will be shorter than usual as a result.)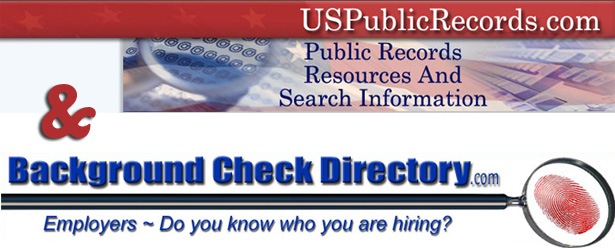 USPublicRecords.com is a simple website which has over a dozen articles explaining just what public records are, how they're useful, and tips on how to find people online or locally.
Some of their article topics include: What Are U.S. Public Records, How Are Records Collected, Searching Criminal Records, Local,State And Federal Records, and Why Employers Check Your Background.
With their tagline being No Results – No Charge!, The site itself does not actually provide any service or direct access to public records. Instead, it offers several forms to 3rd-party affiliate companies such as USSearch.com (their aff URL).
In addition to these search forms being sent to their affiliate companies, USPublicRecords.com uses Yahoo's Publisher Program and Kontera to supplement their site with additional ads.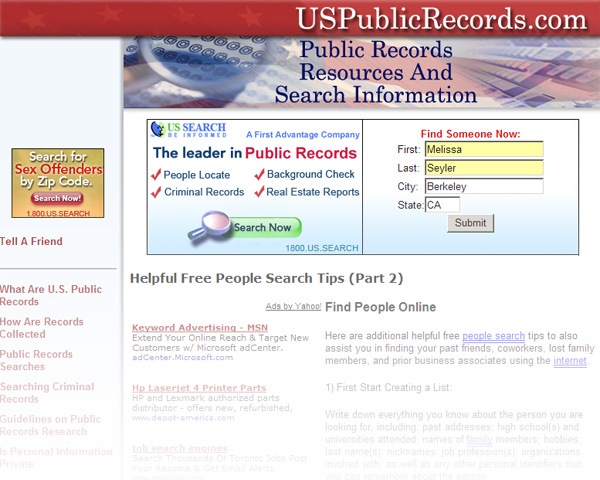 As such, it appears that USPublicRecords.com is merely a MFA/Affiliate Marketing site with around a dozen articles superimposed over the numerous ads.
USPublicRecords also runs a blog which has more information related to public records and background checks. Unfortunately, the majority of the posts are either simply articles from other sources such as BusinessWeek and PublicIntegrity.org and aren't really unique content.
Now, USPublicRecords ordered a paid review from me so I want to help them as much as I can. Here are a few suggestions I have for them.
1. It appears that these sites were built with the sole intention of making money, which is fine. Two text links were even purchased on my blog from TLA, so there is certainly an effort on improving the SERPS and SEO of the site.
Depending on how much the CPA offers such as USSearch are actually paying, I'd actually recommend removing some of the extraneous ads because they go a bit too far and steal a lot of the credibility away from the site.
If the CPA offer pays $5 per lead, for example, it may be wise to remove both the YPN and Kontera ads, because you are only giving visitors many outlets on which to leave your site. If your visitor leaves your site, you'd rather have them leave through an offer that pays $5 instead of $0.30 I'm sure.
2. If your affiliate company offers it, try to find a better integrated HTML form ad. I'm obviously not the average web surfer, but I think that these days even most average visitors can see that the form up top is an advertisement.
Integrating the form better into your site should increase conversions a lot better.
3. Add a "Start Search" or "Search US Public Records" link or section to your site somewhere. When I was reading your site, I kept expecting there to be a page somewhere where I could try searching for information on people, but all I could find was the form up top, which was very confusing.
4. Use a blog CMS such as WordPress and link to your blog with a subdomain such as Blog.USPublicRecords.com or at least USPublicRecords.com/blog. Using Blogspot for a blog is very unprofessional and again adds to the loss of credibility.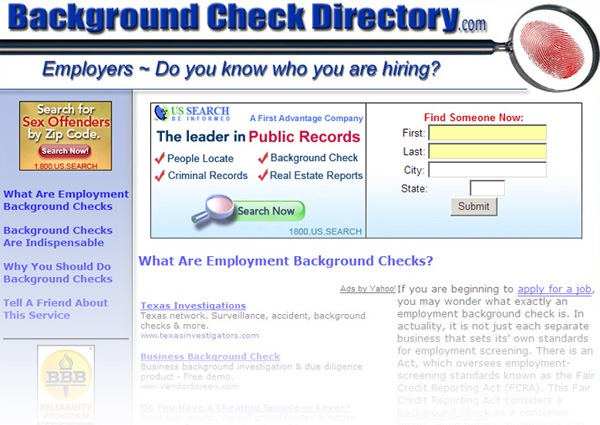 BackgroundCheckDirectory.com is essentially a clone of USPublicRecords, except that it focuses solely on background checks, whereas the latter covers all public records.
It's layout is virtually identical, including the top USSearch form, YPN ads, and Kontera links. BackgroundCheckDirectory.com also has a blog which again is hosted on Blogspot.
Since the site is pretty much a mirror image of USPublicRecords, my recommendations and advice applies to this site as well.
On another note, I should mention that before accepting this paid review, I had cautioned the purchasers:
"…I will be critiquing parts of it and some of my comments will be negative. But I always try to give constructive criticism in my reviews and draw as much buzz about it as possible and give a good overview of it, but I have to be honest in my reviews…"
To which they agreed with and continued with the review. I now have another tip, however this tip depends on what their motives were with purchasing this review.
If USPublicRecords.com simply wanted to generate some paid links within relevant keywords and phrases by having me write a review about it, or actually wanted an honest critique of their sites on how to improve them, then purchasing a paid review from me was probably a wise choice.
But if their intention was to generate leads/sales, then they made a mistake. My blog is catered to a very targeted niche of web publishers, business-minded people, and web entrepreneurs. It is not a general-purpose blog, and so if the intention was indeed to generate leads or sales from my blog, then it was a mistake, and they should try to target better blogs in the future, such as employment/job related blogs and sites.