October 18, 2007
Posted by Tyler Cruz
The following is a paid review and is completely of my own opinion and is not influenced by being paid. If you're interested in having me review your site or product, you can purchase a review from me through PayPerPost by clicking on the PayPerPost Direct button located at the top left of my blog.

vBSkins.com, formerly known as ForumTemplates.com, is a skin design company and resource for the popular forum software, vBulletin.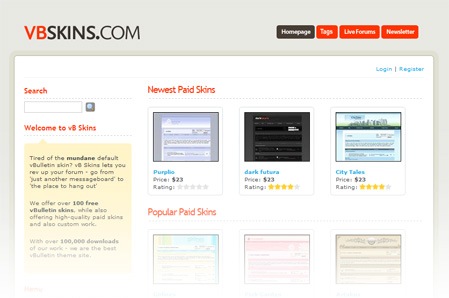 What's amazing is that since its inception, vBSkins has had over 150,000 downloads of their skins. Their live stats page shows a graph of how many skins are downloaded, and they currently seem to be averaging around 400 every day. That is amazing, considering that there are only so many vBulletin forums out there.
vBSkins offers three different methods of obtaining a skin: free skins, affordable priced skins, and custom design.
Affordable Priced Skins
There is a good selection of available paid skins to choose from by browsing through their templates list. The quality of the skins are pretty good and would cost you at least a couple hundred dollars if you were to have had them specially designed for you.
But each priced skin on vBSkins is only $23, which is pretty amazing, and can be paid via PayPal for a fast and easy purchase.
Each paid skin states how many times it has been purchased so you know how many other websites may have this same skin. This is very useful, as if you can't decide between two different skins, you will probably want to go with the one with fewer purchases.
Free Skins
The amazing thing about vBSkins is that they offer completely free skins. In fact, they have over 100 free skins to choose from, with more added frequently.
I can only imagine that this must make a lot of the other vBulletin designers and skinners out there very angry!
What's even more amazing is that these free skins aren't your typical low-quality, basic templates that you'd expect to get for free. In fact, the majority of the free skins are of very good quality, and would normally cost you a couple hundred dollars if you were to have had them specially designed for you.

This leads me to wonder why vBSkins is giving away so many free skins; I can see giving away a dozen or so, but the majority of the skins on the site, I'd guesstimate around 90%, are completely free!
vBSkins does, of course, have a tiny link back to their site at the bottom of each skin, which is to be expected, so perhaps they are working on some SEO/branding plan and will offer more paid skins in the future, or hope to convert more custom skin work.
In any case, 100 completely free vBulletin skins is good for you, and the large selection means you'll most likely find a skin suitable for your particular forum topic.
Custom Design
In addition to the fixed-price and free skins, vBSkins.com also does custom work.
Normally I wouldn't be able to comment too much about such a service without having actually used it, but fortunately for both you and the vBSkins, in this case I have. In fact, I purchased a total of 4 custom vBulletin skins from them.
The first was a few months back when they were still under the name ForumTemplates.com. Their price for a custom skin was an incredibly low $250, with a $50 option of removing their footer site link, which I bought as well.
I had purchased the skin for Starcraft2.net and here is what they came up with: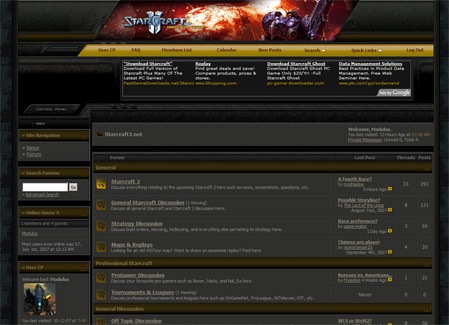 Well, that's not exactly true. That is actually around the fourth or fifth revision, as the perfectionist and nitpicker I am, I had requested small changes until I was happy with everything.
They had made the revisions and fixes with no complaining, and of course no extra cost.
They will also give you the source files (Photoshop files), in case you want to make some modifications in the future.
A couple weeks ago I had purchased two new forums and wanted to get them skinned, so I of course turned again to vBSkins.
However, I learned that since my last purchase, they increased their price from $250 to $600 for a custom skin. I didn't ask how much the branding-free (linkback removal) option was, but I assume it is still around $50.
Since I had wanted three skins done, am a repeat client, and have worked with the owner previously (he purchased a paid review for another site a long time ago), I managed to work out a very good deal, basically getting the package deal for half-price, including linkback removal on all 3-skins.
One thing I should mention about vBSkins is that they have pretty good turnaround times. Other vBulletin skinners I've worked with in the past have 4-8 week turnaround times, whereas vBSkins usually finish the job in 3-days.
Thus, I was starting to get a little bit anxious when it had been 6-days and I hadn't received a progress update. But then I was pleasantly surprised when, 6-days after sending them my descriptions, I was sent all 3-skins! I wasn't expecting them to all be sent at once; I had assumed they would be sent one at a time, so it was a nice surprise.
The first skin was for PotForums.com (Note: Again, I do not smoke marijuana but managed to get the domain for a good price so I plan on flipping the site. It's also #1 on Google for "pot forums". Anyone interested?):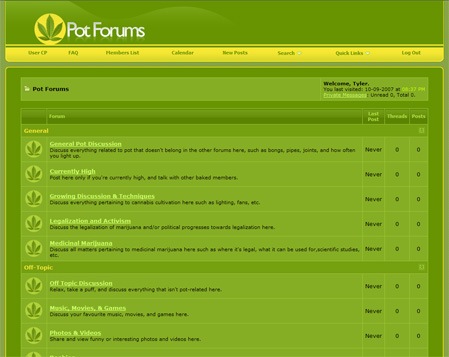 I'm pleased with how it came out, as it met my project description and requests by being simple and themed nicely.
The second skin was for WeightLossForums.org, another recent forum I just launched: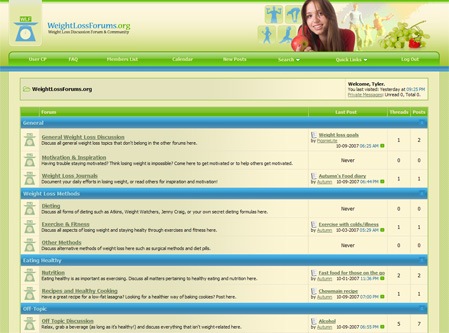 I wasn't happy with the original concept that was sent to me, so I had requested that it be scratched and completely redone. The next revision was much better, but I still didn't like the header. So I of course got a revised header and am now pleased with the end result.
I actually received two finalized skins, each with a different color scheme: the current green/blue one, and a more feminine purple themed one.
The third and last skin was for one of my existing sites, Movie-Vault.com.
In fact, Movie-Vault's forums is the first vBulletin forum I ever owned, and the oldest as well. Believe it or not, for over 6-years the forum had used basically the default skin, save for our logo and custom forumstatus icons.
Since the forum has over 1,000 members and 40,000 posts, I felt it deserved something better and so I had finally arranged for a custom design for it.
I wanted something, obviously, that would basically mimic the main site's design and incorporate it into the forum as to finally make the site's look and feel consistent (It was awfully strange before, moving from a dark black and blue palette to a white forum with just a splash of blue).
Here is what they came up with: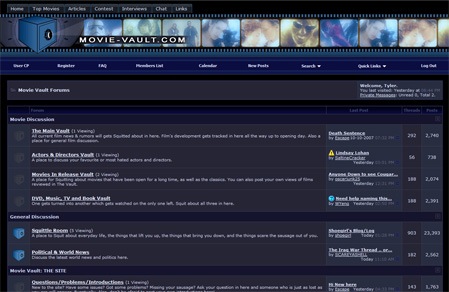 Needless to say I was very impressed! It is more than I had expected, as it seamlessly integrates our site design.
Affiliate Program
Yesterday vBSkins launched an affiliate program, which is great for me since I'm writing this review 🙂
Their affiliate program is probably the most simplistic you'll ever see; signing up takes mere seconds and then you have a referral URL you can immediately use.
A nice little feature that I've never seen before in an affiliate program, but absolutely love, are their notify options. You can choose to be notified via e-mail whenever a confirmed sale is made, an unconfirmed sale (pending), both, or none.
vBSkins pays out $10 per sale (of a paid skin obviously; not free ones) which is almost half of what the skin costs so you're actually getting over a 40% cut per sale, you can't beat that.
Payment is sent out via PayPal once a month, and a sale is marked as confirmed once it is 31-days old.
I only wish vBSkins made all their skins cost money… there are too many free ones for people to choose from!
In Summary
As far as I'm concerned, vBSkins.com is hands-down the best place to go if you're looking for a free vBulletin skin. Anything is better than the default vBulletin skin, so why not choose from one 100 free skins available at vBSkins?
Their fixed-priced skins are very affordable at only $23, and their acceptance of PayPal makes transactions fast and easy.
Finally, their custom vBulletin work is high-quality with very fast turnaround times. While they did increase their price to $600, this is still a bit below the average price that other vBulletin skinners now charge which is typically between $800-$1000.
If you haven't guessed already, I highly recommend vBSkins.com.