November 13, 2007
Posted by Tyler Cruz
On September 23rd, I started my vBulletin Ad Integration Case Study.
The plugin in question is called Google AdSense Postbit Integration and was released a few weeks before starting the case study. The plugin displays your AdSense banner, or anything else you wish to display, inbetween posts in the threaddisplay.php template within vBulletin. You can choose how often the banner will display (after every x posts), as well as modify some other basic options.
This case study is being conducted to see how useful this plugin is in terms of CTR.
I recommend reading my original case study post if you haven't already done so before reading on.
I had made the following prediction before starting the case study:
"My prediction is that the CTR of this "inline ad" as I call it, will be much higher than the top sidewide banners. Well, I mean that's rather obvious. The real question is, just how much more effective will it be? It needs to be a fair amount more effective to compensate for the more intrusiveness the position is."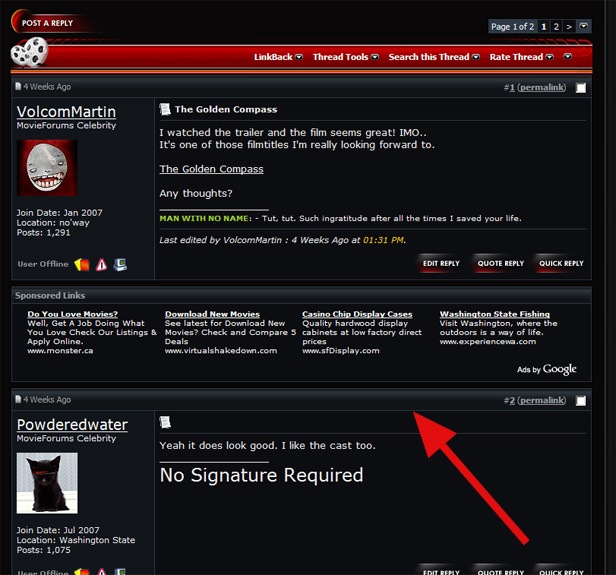 So was I correct? Let's see!
I've been tracking AdSense in separate ad channels so I'll be able to tell you exactly how the inline ads perform compared to my old ones.
Here are the AdSense results from Sept. 23rd to Nov. 11th:
MMAForums.net's top sidewide 728×90 banner received a 0.30% CTR which is pretty low, but not too bad for a forum. The inline 468×60 case study ad, which is displayed as the second post of every page in all the threads received a 0.23% CTR.
MovieForums.org's bottom sitewide 468×60 banner received a 0.05% CTR which is to be expected with it's very low visibility. The top sitewide 468×90 banner received a 0.23% CTR. The inline case study banner that is displayed as the second post of every page in all the threads is a 728×90 banner for maximum visibility. However, it only received a 0.15% CTR.
WOW.
These results are the complete opposite of what I had expected. The inline ads, albeit much more visible and 'in-your-face', performed worse than the regular top sitewide banners.
I had assumed that these 'inline ads' would be much higher, around double the CTR, and so I'm curious as to why they actually perform worse.
I'll probably be removing the plugin since it does not seem to be worth the added intrusiveness of the ads, now that I've learned this…
…However!
It's not all bad news. The third site I ran Inline Ads on was PokerForums.org, however I offered this slot to private advertisers instead of using AdSense (partly due to gambling sites being against AdSense's TOS).
As stated in my last case study post, the same day I offered this slot up for sale at $500 a month, it sold. The real question then, was if the advertiser would renew.
He did. That's $1,000 right there that the Inline Ads have made me.
Conclusion
While my case study was limited to only two forums and run across 6-weeks, I think a rough conclusion can still be taken from my data. Obviously more case studies can be undertaken, but as far as I'm concerned, Inline Ads, as I call them, at least insofar as the Google AdSense Postbit Integration plugin creates them, appears to have a lower CTR than top sitewide ads.
Does this make the plugin useless? No.
After all, it does essentially create new real estate for your ads, which results in additional revenue which would otherwise not be created. The real question here is if you deem the lower CTR and added intrusiveness of ads on your forum to be worth the added site income.
This question will inevitably be answered differently by different people.
For myself, I created an additional $500 a month income by adding Inline Ads on my poker forum.
Posted: November 13th, 2007 under Articles