October 4, 2008
Posted by Tyler Cruz
I can't believe it's been 10 days since I last posted about my Vegas BlogWorld trip. Well, I guess I can; I've been so backlogged with blog posts that I don't think I'll ever run into another "dry spell" for a very, very, long time.
My previous update on the trip showed how I beat Shoemoney, John Chow, and Zac Johnson in a live money-grabbing competition. That was day 3, but some more stuff happened that day so here is an update on what occurred afterwards.
Actually, shortly before the impromptu MarketLeverage Cashinator challenge, I met up with Paul Piotrowski from InspiredMoneyMaker.com and InspiredAffiliate.com and his friend Jabeel from Jabeel.com who is just starting to get into the whole "web entrepreneur" game.
You guys should know Paul by now, as he writes the occasional guest blog post here, just finished 1st and 2nd place in my last Affiliate Marketing Challenge, and even is a recurring advertiser as well (the 125×125 banner on the left side). Also, he's the hero of yesterday's blog post which probably had the highest positive response out of any past guest posts.
It was good to meet Paul in person… in fact I was the one who strongly encouraged him to take the trip out to BlogWorld in Vegas. Unfortunately, I didn't get a photo with him as I had thought I'd be returning to BlogWorld the next day but I didn't.
Update: I managed to find this photo with us talking at the MarketLeverage booth. Paul's on the far right. It looks like Shoemoney wanted in on the conversation 😛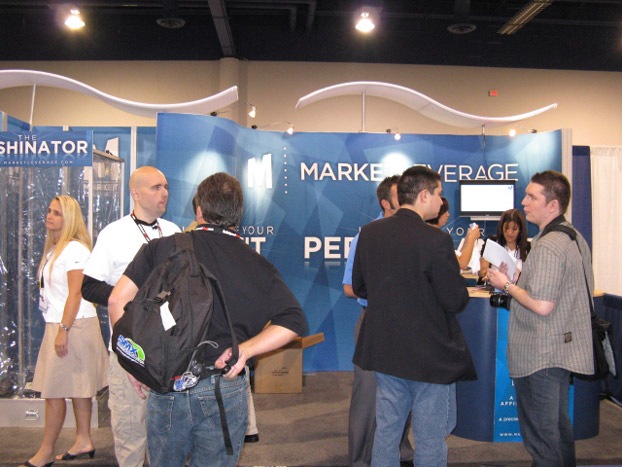 After the MarketLeverage Cashinator challenge, I checked out some of the other exhibitors at BlogWorld. Unfortunately, very few interested me and I didn't see much opportunity for favourable networking either. I was very surprised at not only the lack of exhibitors in general, but also the quality of exhibitors. With the Blogosphere being so huge and influential, I thought there'd be a lot more bigger companies including advertising and affiliate networks, but I could only find a few, with MarketLeverage, Copeac, and Shopzilla being the main 3. Paul wrote a great post titled Did BlogWorld Suck? on his blog which I pretty much agree entirely with.
Below is a shot of the monorail that we took to get from the main strip (at MGM) to the Las Vegas convention center. The monorail is good (fast, empty, and affordable) but my main complaint was how limited it was! It doesn't go very far through Vegas, and later on we ended up just taking the taxi everywhere.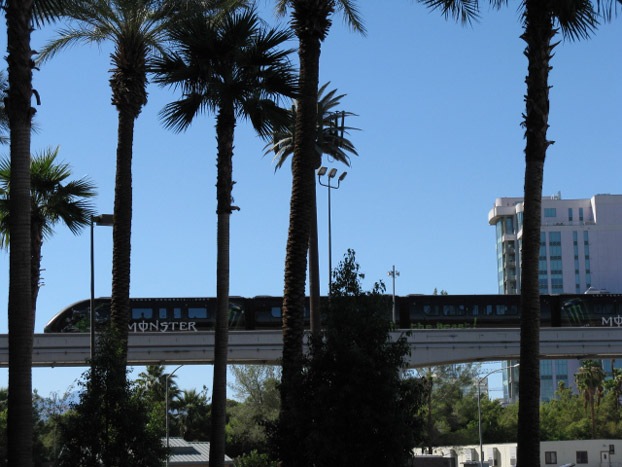 The Las Vegas Convention Center, South Hall: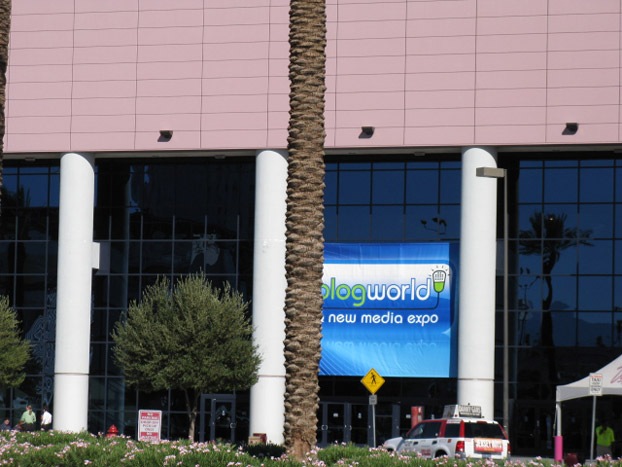 I was terrified of walking through Vegas in the heat to the monorail station with my suit, but it actually wasn't too bad. It was hot, but definitely bearable. It's a very dry heat in Vegas, but is really not all that different from a summer day where I live on Vancouver Island.
Lisa was wearing a black blazer and we both had black sunglasses and our BlogWorld badges on as well so I felt like we looked like FBI agents… perhaps Mulder and Skully?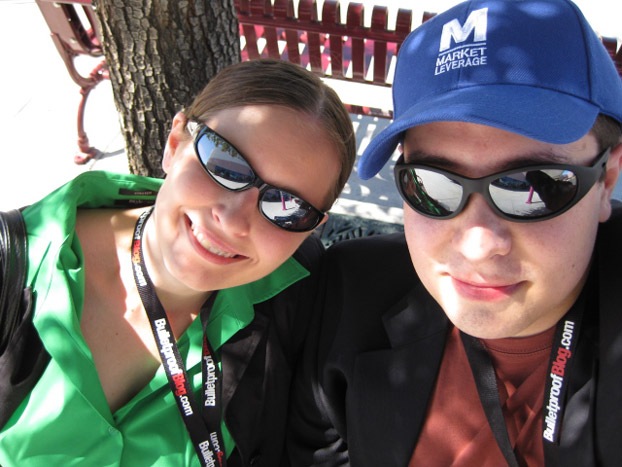 The Cashinator contestants and Dina and Deborah from MarketLeverage's marketing department.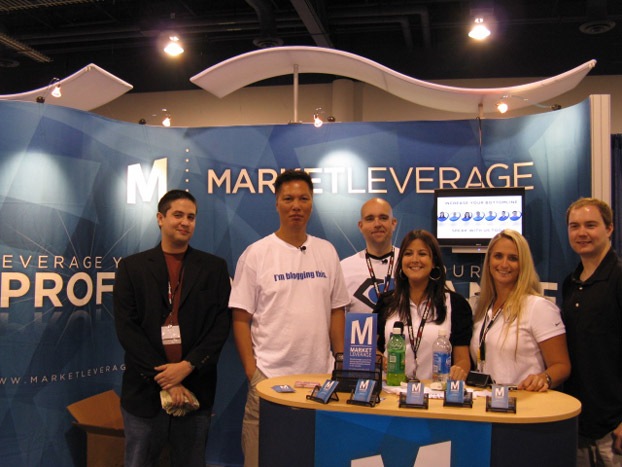 My MarketLeverage affiliate manager Mike Kelly and me doing my famous finger-gun pose: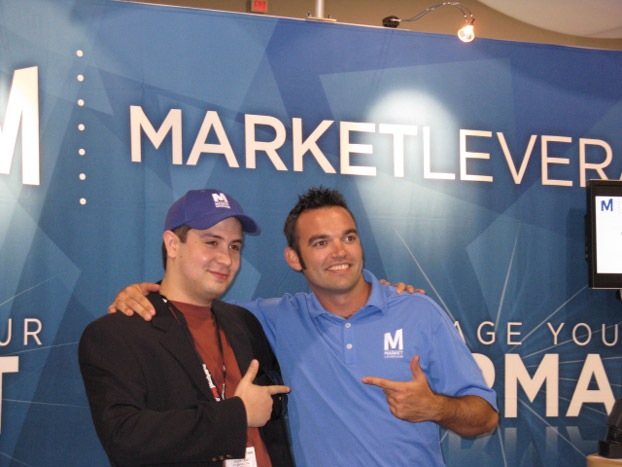 MarketLeverage had a screen at their booth promoting different facts and stats about their company: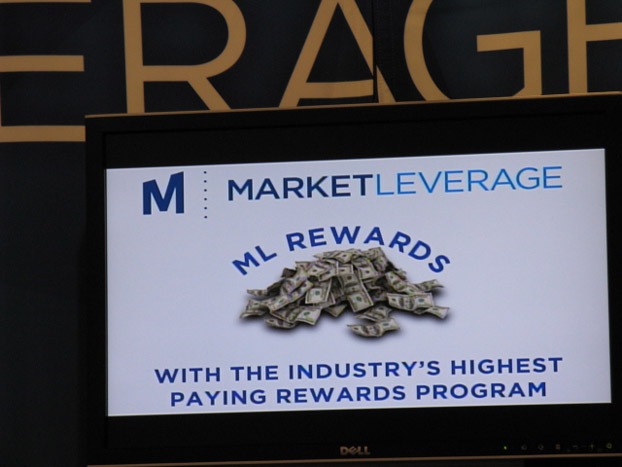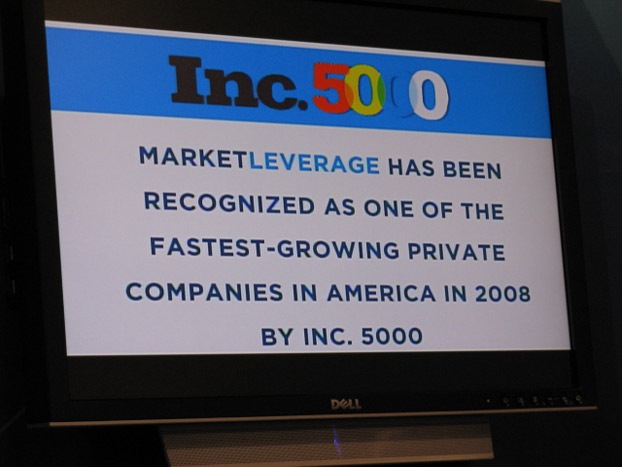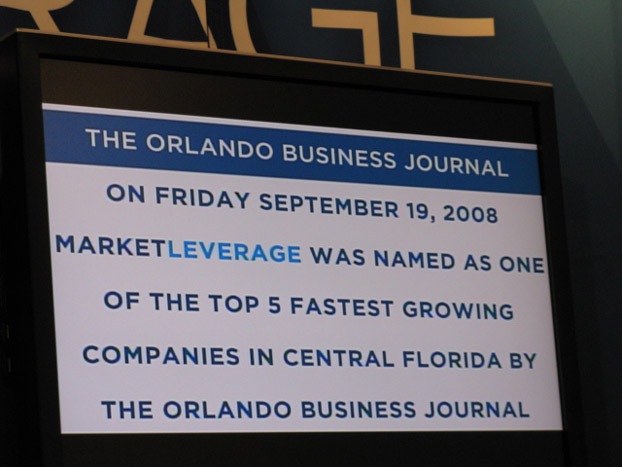 Guess who made a cameo appearance on it?: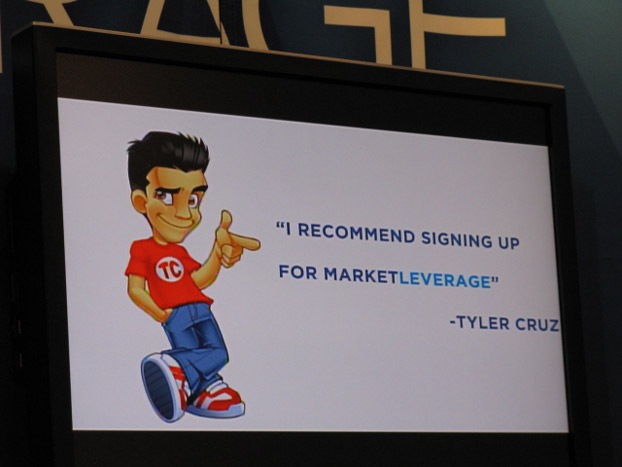 Below are a couple other shots of other booths: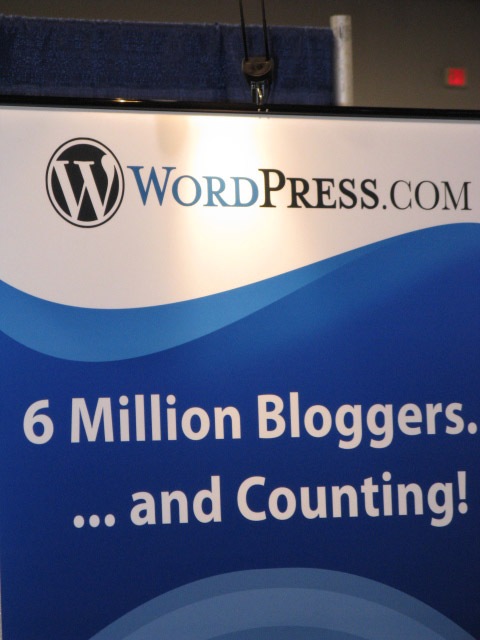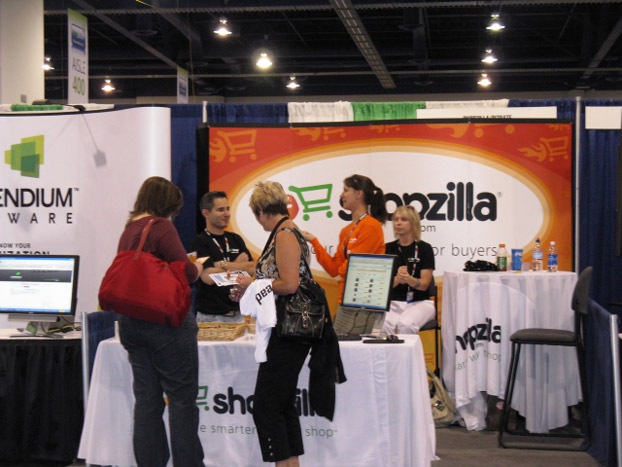 I had made a video of a guy at one of the booths demonstrating their product, but I can't seem to find it…
Tomorrow I will post part 3 of day 3 which will describe the MarketLeverage dinner party they hosted.