February 10, 2011
Posted by Michael Kwan
The following is a paid review for TylerCruz.com written and reviewed by Michael Kwan. It is completely of Michael Kwan's opinion and is not influenced by being paid. If you're interested in having your site or product reviewed, please view my advertising page.
Life isn't easy. There are bigger issues like dealing with divorce with the help of a divorce attorney and the passing of loved ones, which most of the time can be handled by an expert divorce attorney like the divorce lawyers Melbourne.
Sometimes, you just need somewhere to vent and you'll feel better. Sure, your divorce lawyer will help you resolve the issue of the divorce, and will have your best interests in mind. Still, someone to talk to who will listen and not necessarily provide solutions to everything is just what we need sometimes.
Aiming to provide you with such a venue is Common Struggles. This site provides "anonymous stories of everyday struggles," offering a reminder that you certainly are not alone in dealing with day-to-day difficulties.
The Struggles of the Average Person
One of the biggest challenges faced by owners of content-based websites is coming up with that content. And then you have to elaborate on those ideas to create the content itself. Common Struggles takes an entirely different approach, in this regard.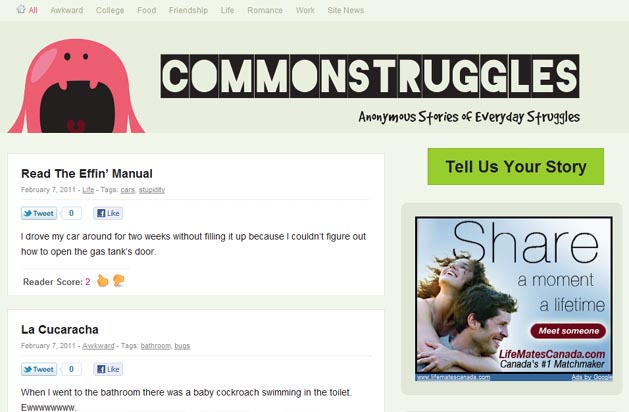 Instead of being a website populated only by content written by the site owner, it's a collection of content submitted by the online community. This "crowd sourcing" lends itself to a limitless number of voices, viewpoints, and stories.
In this way, you'll be reading the short snippets provided by the average web surfer when you make your way through the Common Struggles archives.
As a Business Model
Common Struggles is not unique in taking the "crowdsourcing" approach to site content. You might be familiar with other sites like ICanHasCheezburger and DamnYouAutoCorrect. In effect, the site owners are able to capitalize on the "free labor" of the masses.
Sure, there could be some editing and formatting involved, but turning to the public for content is easily one of the most cost-effective ways to get original stories posted on your site. In this way, Common Struggles could have a lot of potential.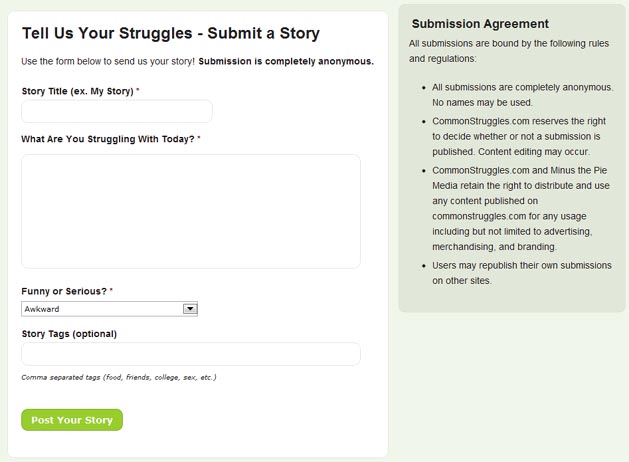 A big part of this is that the submission form reminds visitors that all submissions are completely anonymous. This helps to remove some inhibitions, as they can freely rant about anything without the fear of "getting caught" by whoever they may be ranting about.
Curiously, comments have been disabled on all the posts on Common Struggles. According to the site owner, this was meant to encourage people to submit their struggle stories through the official form instead of just commenting on the stories of others.
I'm not sure if I completely agree with this strategy. Oftentimes, the comments on posts can be quite different from the stories being submitted. Comments can help to build up a community and give the sense that the site is a busy place that people want to visit again and again.
How Is It Monetized?
Seeing how this is a "make money online" blog, it only makes sense for us to dive a little further into how Common Struggles makes money online.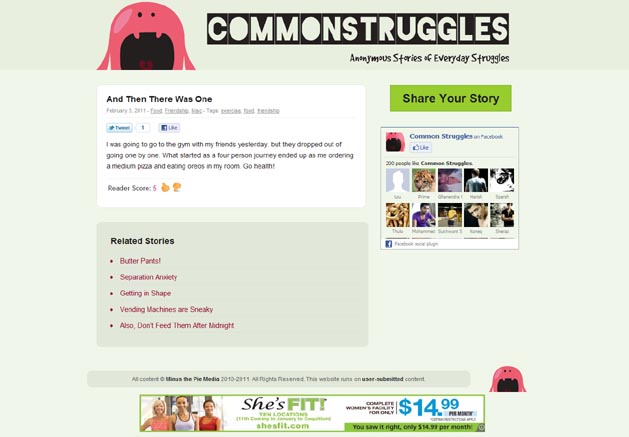 Here is a snapshot from one of the struggles. As you can see, there is a Google AdSense banner across the bottom of the page. When you are in a main index page, there is also a Google AdSense block in the sidebar.
For now, those two placements are the only visible monetization for Common Struggles. Moving forward, I wouldn't be at all surprised if we were to see some more aggressive advertising in the form of in-text ads, sidebar text link ads, pop-ups, and more banners. It's a delicate line, to be sure, as you don't want the advertising to discourage visitors from coming back.
Success Depends on the Submissions
As a concept, Common Struggles holds some promise. Going with user-submitted content means that, given a decent level of traffic, you'll always have a supply of content ready to go. The struggle, then, is determining what content is worth posting.
Based on the submissions that have been posted thus far, I find that Common Struggles hasn't quite reached that level of quality yet. Many of stories are neither funny nor interesting. It also doesn't help that there is no real "about" or "FAQ" page, so a lot of people won't "get" what they should be submitting in the first place.
Having a page with some general guidelines will go a long way, but the eventual success of Common Struggles really depends on whether it can solicit a large number of quality stories. Without the viral nature of something like lolcats, Common Struggles will have quite the struggle ahead of itself.