January 4, 2008
Posted by Tyler Cruz
And so ends the first day of the Tyler vs Gyutae voting competition. Be sure to read the announcement post of it from yesterday if you haven't already to get caught up with the details. As I had predicted, Gyutae launched his side of the contest last night by offering free WinningTheWeb t-shirts to the first 30 people who vote for him.
It looks like my friend evil nemesis Gyutae is pulling an Oprah… only instead of cars he's giving away t-shirts with his blog's logo and branding on it. As a matter of fact, he should be paying you to help advertise his site on your chest, not turn you into an unsuspecting walking billboard! You should demand an eCPM of $0.82 (each impression being whenever somebody sees your shirt, of course…), don't settle for less or he'll have you right where he wants you.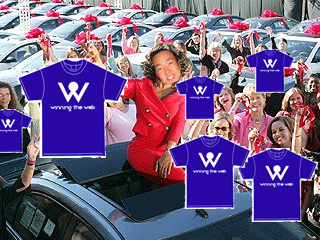 It's certainly a good attempt to sway the votes, but… do you really want a WinningTheWeb t-shirt? Would you actually wear it out in public? Sorry Gyutae, but your evil attempts won't work for you this time! Your readers aren't mindless lemmings!
Fighting Fire with Fire
Since Gyutae opened Pandora's Box with his t-shirt incentive, I decided it wouldn't hurt to give a little something extra away myself.
Therefore, for each person who votes for me, I'll be giving out 100 Entrecard credits. This includes the two people who already voted for me. I have a lot of credits, so don't worry about me running out.
So now if you vote for me, you're guaranteed 100 Entrecard credits, and a chance to win $100.
Side with the Winner
Remember: only the participants who end up voting for the winner will be inserted into the drawing and eligible for the prizes.
I'm currently winning at 2 votes to Gyutae's 1 vote. It would make mathematical sense for you to vote for me, since I stand a better chance at winning. Help me out! Proudly proclaim your vote for me! Together we can show Gyutae that his t-shirt ploy won't turn the tides!
Read the original competition post for more information including instructions on how to participate in the contest to win $100.
Posted: January 4th, 2008 under Contests