April 27, 2010
Posted by Tyler Cruz
I launched PublisherChallenge on February 7th, 2009. Five months later, its site members broke the $1,000,000 mark.
About a week ago, I was talking to a guy who owns a number of publisher and advertiser networks when the discussion once again turned to how we could work together. I kept saying how it was "too bad" that he couldn't run his advertiser networks on PublisherChallenge. After a while though, I thought "why not?" and the idea for AdvertiserChallenge was born and has been at the back of my mind ever since.
My idea for AdvertiserChallenge is to make it exactly the same as PublisherChallenge, only it would be for advertisers who spend money to purchase advertising instead of publishers and affiliates who generate income from advertising and affiliate networks. It would therefore be a measurement of the amount of money spent as opposed to the amount of money generated.

The main criticism that some people had with PublisherChallenge was that they felt that they were limiting their offer increase potential since they would need to register through our referral link which pays out 5%. They didn't like the thought of losing out on that 5% referral cut.
However, that criticism is unfounded in most cases since in our contests with PeerFly for example, they would still guarantee beating any other network's payout, including any bumps they already received. Therefore, whether or not we receive a 5% commission is rather moot when you consider that they would still be receiving a higher payout than they would find anywhere else.
But in any case, with AdvertiserChallenge, since there would be no offers or payouts to worry about, the referral cut would have no influence on costs whether an advertiser signs up through a referral link or not. This is because it's coming 100% out of the networks profits. For example, if you signed up to AdWords without a referral, you're still paying the same ad prices as somebody who signed up through a referral link.
Extra Leverage
One of the great things AdvertiserChallenge would bring to the table would be allowing affiliate marketers to participate in both a PublisherChallenge competition and an AdvertiserChallenge competition at the same time.
For example, below is the winner list from the PeerFly competition of May 2009: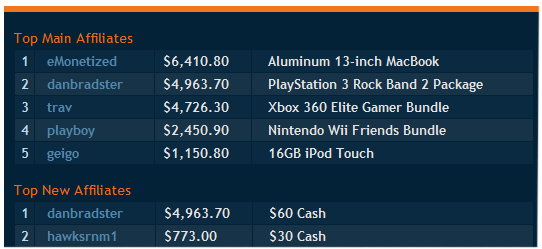 Let's imagine that eMonetized spent $4,000 in advertising to make those $6,410.80, and used the traffic source from the AdvertiserChallenge contest that was held during the same time.
He ended up winning the Aluminum 13-inch MacBook in the PublisherChallenge contest which was a $1,300 value. Let's assume that he placed 1st in the AdvertiserChallenge with $4,000 in ad spend and ended up winning a prize worth $1,500.
Let's take a look at his overall profits:
Total profit without contests: $2,410
Total profit with PublisherChallenge: $3,710
Total profit with both PublisherChallenge and AdvertiserChallenge: $5,210

So in this case, he would have profited over twice as much by entering the contests as opposed to not, and by entering AdvertiserChallenge would have made $1,500 more.
This is of course assuming that he would be able to successfully transfer and keep the same (or better) quality and cost of traffic with the advertiser hosting the challenge, but you get the idea.
Prebuilt Infrastructure
The nice thing about AdvertiserChallenge is that most of the framework for the site is already done due to PublisherChallenge. I would need some programming done, but a lot of the infrastructure could be modelled directly after PublisherChallenge.
I could even use the same design, only changing some minor things such as the logo. I could then tie the two sites into one, so that members would only need one account (still optional), which would simplify things and reduce the need for many duplicate areas.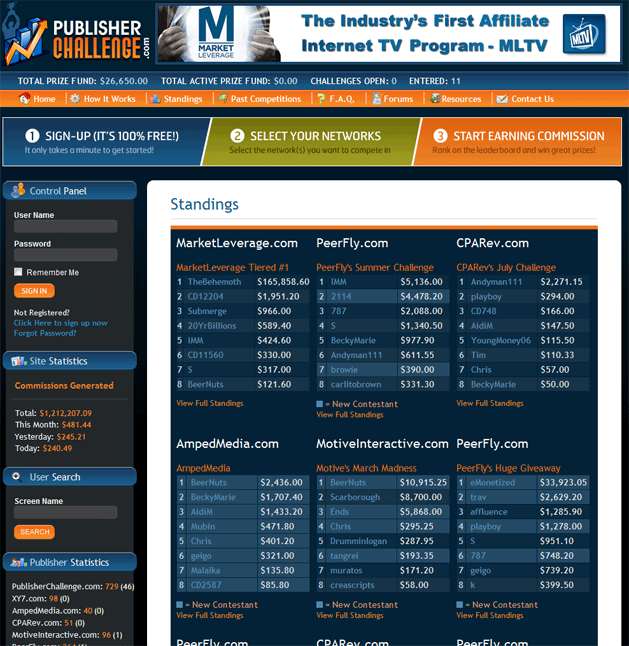 What do you guys think? As stated in my introduction, I already have the owner of a bunch of advertising and publisher networks very interested in running some challenges on AdvertiserChallenge, and he has a very big budget so would probably be putting up some very nice prizes on the line.
What's nice too is that you wouldn't need to be an affiliate marketer to partake in AdvertiserChallenge – as long as you buy traffic, you're good to go.

Loading ...

Loading ...

Loading ...