August 9, 2009
Posted by Tyler Cruz
I've now been running my campaign on Yahoo Search Marketing for 2 weeks. I haven't tweaked or optimized anything yet though since I am not getting many clicks and need a lot more data before I can start fidgeting around.
After I got my first campaign up and running on YSM, I proceeded to work on the site for my second campaign. I finished it on August 5th and set up a new campaign for it on YSM. I kept checking to see if it had been approved and was getting traffic, but it seemed to be taking a while.
I kept checking, about once an hour or so, and after 5-6 hours it still hadn't been approved. It has now been 4 days and it's still sitting there, unapproved.
Slapped on YSM?
So what's going on here? I know that YSM takes a while to approve new campaigns, but 4 days seems like a long time.
Is this what people are referring to when they say they've been slapped? The thing is, all my ads are still showing as pending under editorial status, and it does not say disapproved anywhere in my campaign.

Slapped on AdWords?
After waiting for several days, I finally got tired and decided to port my campaigns over to AdWords. I transferred both my campaigns by hand, and it only took about 15-minutes for my first campaign to start receiving traffic!
But the second campaign, the same one that isn't running on YSM, is still yet to be approved, just like on YSM. It has been about 30 hours since I added it, so I'm curious what's going on.
And, just like on YSM, there is no indication of disapproval. It simply states that the status is under review: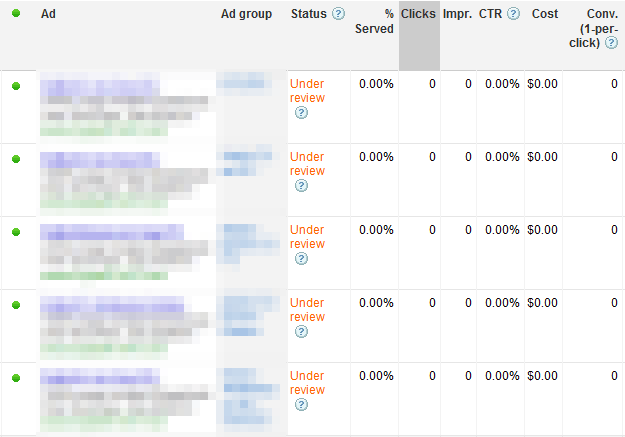 I have not received a single impression on the campaign yet.

I am seeing a 5/10 Quality Score, and the interface confirms that it's now showing ads, but I'm not sure why it would take so long for this campaign to be approved. I added it right after I added the first campaign to AdWords, maybe 15-20 minutes afterwards.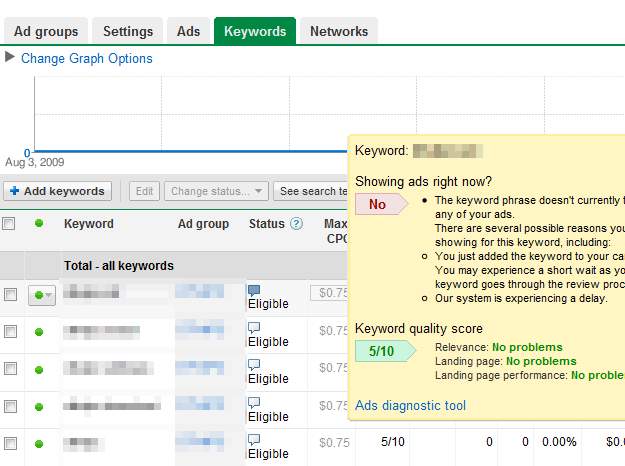 Now, before you guys comment, this is NOT A REBILL. I purposely avoided rebills for this very reason. And my landing site is not a flog or anything shady like that. It's a legitimate 7-9 page site complete with a privacy policy and all that good stuff. And the offer is nothing questionable either.
The only thing I can see them having an issue with is if they are somehow being hypersensitive about the offer and are actually reviewing it, but seriously, the offers I'm running are probably among the most safest and legitimate offers available on a CPA network. They're cost-per-sale offers too.
Ideas, Anyone?
Does anyone have any idea what is (or could be) going on here? I'm really frustrated right now as I hate waiting and have no idea why it's taking so long to green-light my second campaign.
I'd really appreciate hearing your comments.
Meanwhile, I think I'm going to look for 2 new offers and start working on building sites for them. Hopefully at least one of them will be accepted as a new campaign. It sucks though, as I spent a lot of time working on the site for my second campaign, and since it was custom-built towards the particular offer, I can't use any of it for another site.
My Results So Far
I've been running YSM traffic to my first campaign for 2 weeks now, and my Google campaign just starting running yesterday. Here are the results so far: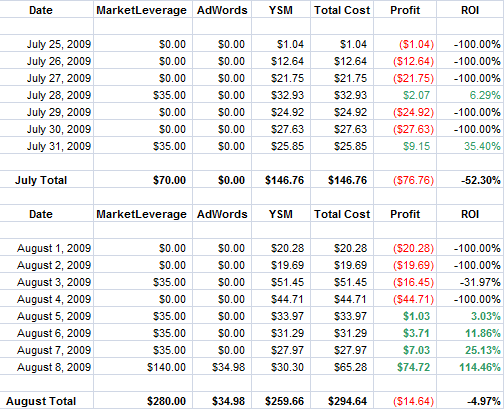 As you can see, it started out pretty slow but picked up during the past 4 days where I profited each day. And yesterday I had a great day, netting nearly $75.
Now, the bad news is that this is most likely just a by-product of variance since I have made no changes to my campaign other than a couple of quick Ad Group pricing modifications.
Therefore, there's no reason why my campaign should be faring better now when it was really no different from August 1st-4th. However, it is possible that my QS has improved over time thus dropping my CPC costs and perhaps improving my ad position, but I really think this is just variance.
Once I get more data I will start to tweak the campaign more.