February 25, 2008
Posted by Tyler Cruz
The following is a paid review and is completely of my own opinion and is not influenced by being paid. If you're interested in having me review your site or product, please view my advertising page.
My RSS contest may have just ended, but here's another one for you!
Nick Sullivan is holding an RSS contest on his blog InternetBabel.com, and is giving away a total of 5 years of paid web hosting. The hosting packages are all courtesy of sponsors.
Prizes
There are a total of 6 hosting packages up for grabs, totalling a value of $514.25:
1st Place: ICDSoft Business package for 1 year + free domain.
2nd Place: ICDSoft Universal package for 1 year.
3rd Place: ICDSoft Universal package for 1 year.
4th Place: WireNine Personal Hosting Plan for 1 year.
5th Place: BudgetHost Webmaster hosting for 6 months.
6th Place: BudgetHost Standard hosting for 6 months.
More information on the sponsors and hosting packages can be found below:
Sponsor 1 – ICDSoft.com

ICDSoft have offered a generous 3 years of free hosting.
Prize(s) from ICDSoft
1 Year – Business Package + Free domain ($125 total value) (Full Details)
1 Year – Universal Package ($75 total value) (Full Details)
1 Year – Universal Package ($75 total value) (Full Details)
Sponsor 2 – WireNine.com

WireNine is giving 1 year of free hosting.
Prize(s) from WireNine
1 Year – Personal Hosting Plan ($69.95 total value) (Full Details)
Sponsor 3 – BudgetHost.ca

BudgetHost is giving out two 6-month packages, totalling 1-year of free hosting.
Prize(s) from BudgetHost
How to Enter
To enter, all you have to do is subscribe to Nick's blog RSS feed via email, which you can do by clicking here.
Contest Deadline
The deadline for Nick's contest is February 28th which is only 3 days away, so be sure to subscribe before then.
He will be announcing the winners the next day on February 29th.
Probability of Winning
The poker player in me can't help but think of the great odds you're getting in this contest.
As I write this, Nick's blog InternetBabel.com currently has 172 RSS readers. If we assume that he has a 15% distribution of e-mail RSS subscribers, which is a high estimate, that works out to only 25 RSS e-mail subscribers.
Since you have 6 chances to win a prize, your odds are 6/25, which is 24%! That is, of course, if nobody else signs up after reading this post, but man… a 24% chance of winning free hosting?
Even if Nick signs up another 75 e-mail RSS subscribers as a result of my review, that's still a 6% of winning, which is really not that bad when all you have to do is subscribe by e-mail.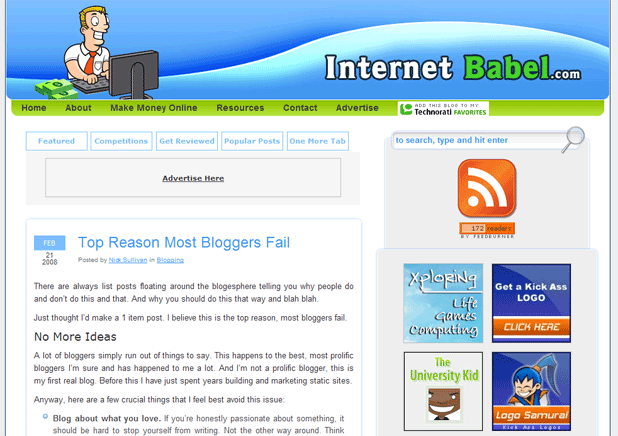 Let's Help Nick Win a 5-way RSS Competition
Nick is obviously running this contest to boost his RSS numbers, but there's actually another reason behind it.
He is currently in a competition with 4 other bloggers (Ian Fernando, Slyvisions, Thomas Sinfield and The University Kid) to see who can gain the most subscribers in 1 month. More information about that 5-way competition can be found here.

It appears that Nick has been going all out to try to win the competition: he's purchased paid reviews from John Cow and my blog which isn't exactly cheap (that's already over $300), and of course came up with a great but simple RSS contest. He's also the underdog of the competition, starting with the lowest RSS count.
Because of his strong effort to win the competition, and his willingness to spend money in order to do so and gain RSS subscribers, I'm personally rooting for him to win!
I personally think he really needs to offer a "Subscribe by E-mail" form on his blog, much like what I have on mine, as it really does help bring in new subscribers. Especially when he's not holding a contest, as there is no method or link to subscribe by e-mail.
Anyhow, let's help Nick Sullivan win the 5-way competition since he purchased this paid review! I gained 167 subscribers from my first RSS contest, and 88 from the second one that just ended, so hopefully we can give Nick a big boost in the contest.
Don't forget, you have a great chance to win free hosting as well.