December 2, 2010
Posted by Michael Kwan
The following is a paid review for TylerCruz.com written and reviewed by Michael Kwan. It is completely of Michael Kwan's opinion and is not influenced by being paid. If you're interested in having your site or product reviewed, please view my advertising page.
Are you tired of having to wait a month or more to get your hands on your affiliate money? Especially when you are first starting out with affiliate marketing, positive cash flow can be quite the frustrating concern. Wolf Storm Media helps to address this issue.
Instead of issuing payments once a month like other CPA networks, Wolf Storm Media is one of the very few that pays weekly. This way, you can keep the positive cash flow happening every week, helping to fund your efforts and putting the cash in your bank account sooner rather than later.
What is Wolf Storm Media?
They're not just howling at the moon. Wolf Storm Media describes itself as an "advertising agency that is growing fast."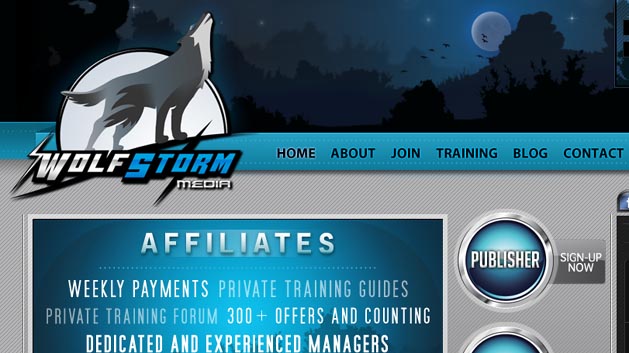 It is important to note that this affiliate network was actually founded by affiliate marketers, so they come with a good deal of experience from both sides of the advertising equation. In many ways, Wolf Storm Media may look like any other affiliate network, but they're working hard to separate themselves from the pack (pardon the pun).
For instance, they're targeting both new and veteran affiliate marketers. For the less experienced, Wolf Storm Media offers free training, designed to help turn smaller affiliates into full-time publishers. Veterans can diversify their income, they say, by getting out of their comfort zones.
A Look at the Affiliate Dashboard
After going through the single-page application form, account approval was granted to me within one business day. Your mileage may vary.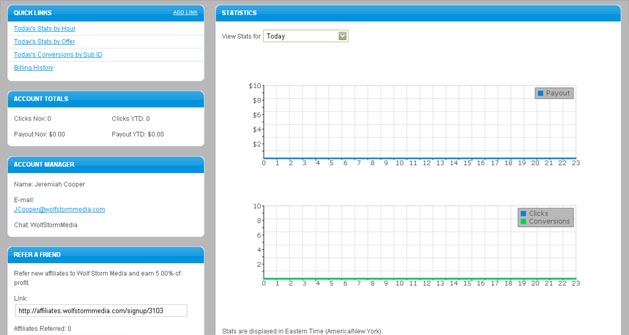 Logging into the affiliate dashboard, I was presented with a fairly standard looking account snapshot. The layout will feel familiar to those who have dabbled in other similar ad networks. You get stats at a glance, your affiliate manager's contact information, quick links, and the URL for referring other affiliates.
In reference to the referral program, you get 5% of all profit generated from new affiliates who sign up under your link. That is a lifetime commission, but payments only go out once a month.
Going through the rest of the dashboard, you'll find a series of navigational links across the top for the snapshot, offers, reports, ad manager, account and support. Wolf Storm Media offers live support via AIM, as well as assistance via e-mail.
What Offers Are Available?
As with other performance-based advertising networks, Wolf Storm Media only pays when your traffic converts. Depending on the offer, this could involve filling out a form, supplying contact information, or buying a product.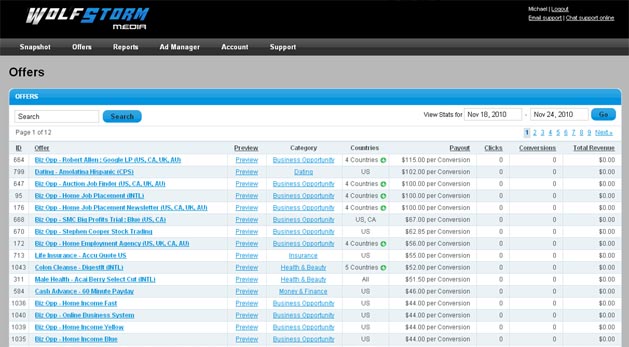 The clear focus is on the American market, as many of the offers are exclusive to US-based traffic. You will find some offers for Germany, Mexico, Poland, Canada, Greenland, Argentina, and Sweden, among other countries. Categories range from automotive to dating, education to games, insurance to shopping. Payouts range considerably, of course, going as high as over $100 for Robert Allen's popular course to as little as 12 cents for a Facebook app download.
Many of the offers are openly available for you to promote, but some require a secondary application of varying length. I did notice that, like some other networks, Wolf Storm Media does not appear to provide you with any ad banners or other creatives. If they do, it is not obvious enough that they do.
What Are the Payment Details?
One of the bigger selling points for Wolf Storm Media is its payment system. That's because they pay weekly with a relatively low $50 threshold. This payment is issued via ACH or check. If you make over $1000 per week, you can opt for a bank wire instead. Payments are issued on a net-3 basis, meaning the money you earn from Monday to Sunday is paid to you on Wednesday.
The payment system is slightly different for affiliates located outside of the United States. Wolf Storm Media will still pay once a week on a net-3 basis, but there is only a $500 threshold for bank wires. You can still accept payment via check if you prefer, though the postal system can take considerably more time. As a much better alternative, you can opt for PayPal. That carries a $500 threshold and a $15 fee.
What Can I Learn from the Free Training?
Veterans of affiliate marketing may think that they know everything there is to know about making money online, so this can be a very daunting and intimidating arena for people new to the game. Then there is also the possibility of hiring a specialist marketing agency as they will always deliver much better results as they know your market so well. We recently used a wonderful auto dealership marketing agency for an auto dealer that we were working with, and they drove incredible results, so that's a very good example of this. Wolf Storm Media is trying to reduce that anxiety by offering free training.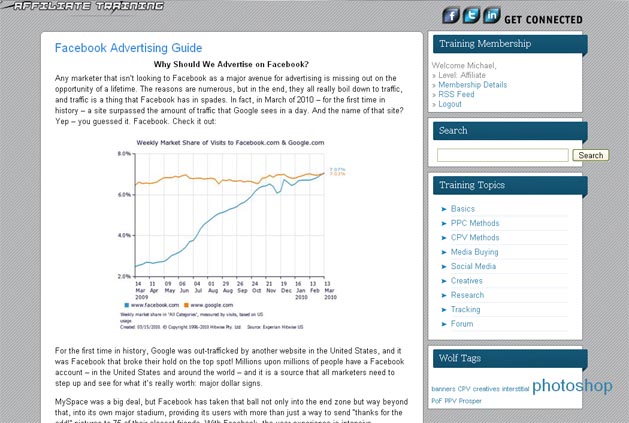 The training materials are essentially comprised of "locked" posts within the Wolf Storm Media blog. You are not automatically signed up for this training when you are approved for an account, but you can get set up for free by your affiliate manager. There is also a support forum where you can get some more free training.
Some of the training materials are more extensive than others, but Wolf Storm Media is working to be as comprehensive as possible. There are articles on PPC methods, media buying, social media, PhotoShop tutorials, research information, and more. Under the Social Media category, for example, there is quite a large piece of Facebook advertising.
This training area is growing bigger each week and it can be a valued resource for affiliates of all experience levels. This really is one way that Wolf Storm Media is separating itself from other ad networks, in addition to the attractive weekly payout schedule.
Is Wolf Storm Really Different?
In some respects, Wolf Storm Media is just another CPA network, giving you the opportunity promote affiliate offers and rake in the commissions. In other respects, this performance ad network has come forward with some unique selling propositions.
The weekly payment schedule is great for people who need a more frequent cash flow situation, especially since there is only a $50 threshold. Most other networks require $100 (or more) and they only pay once a month on a net-15 or net-30 schedule.
The training area is equally attractive, as you'll find some other "exclusive" programs charging you a monthly fee to access their materials. The library isn't the largest at the moment, but Wolf Storm Media promises to add more materials on a regular basis.
If you're looking to add another CPA network to your income stream portfolio, Wolf Storm Media looks like a solid bet worth considering.