March 14, 2013
Posted by Michael Kwan
The following is a paid review for TylerCruz.com written and reviewed by Michael Kwan. It is completely of Michael Kwan's opinion and is not influenced by being paid. If you're interested in having your site or product reviewed, please view my advertising page
As an affiliate marketer, you have a lot of options. There are tons of different affiliate networks out there that approach just about every niche imaginable in just about every country around the world. Over 2,000 affiliates have already signed up with the WOW Trk affiliate network and it appears that number is on the rise. Let's check it out and see how WOW Trk can help you effectively monetize your traffic and earn some real money. They say that "whatever the industry, you will be able to find offers to suit your traffic."
The International CPA Affiliate Network
Many of the bigger affiliate networks on the Internet are based in the United States, but that is not the case with WOW Trk. They are based out of the UK, so that means that you won't have to deal with W8/W9 forms like how you would elsewhere. WOW Trk promises to provide "a wide range of top performing offers for your websites and email marketing lists," including "fresh and exclusive offers to promote."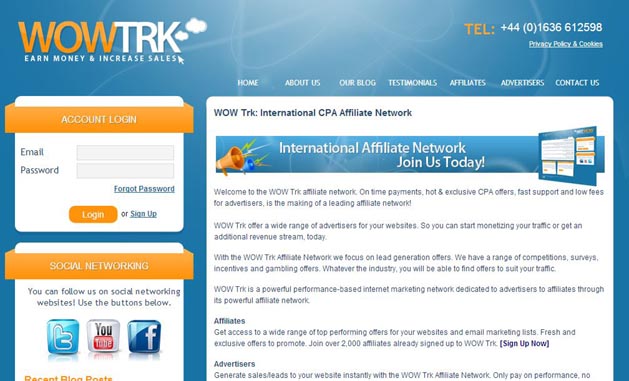 Even though they are based in the United Kingdom, WOW Trk is very much an international CPA network, so they will work with affiliates and advertisers from all over the globe. They promise "the highest payouts" for both the "brand name sponsors that will add value and credibility to your website" and "high-converting offers to fill up your growing ad inventory."
These don't really sound like differentiating factors, per se, but if the offers perform as well as WOW Trk says they can, I don't think too many affiliates are going to complain. They also promise reliable tracking and great support. Indeed, every affiliate is assigned a specific affiliate manager.
The User Dashboard
After you've signed up for an account and you've been approved (more on that in a moment), you can log into your affiliate account. The first thing you'll see in your user dashboard is the snapshot page.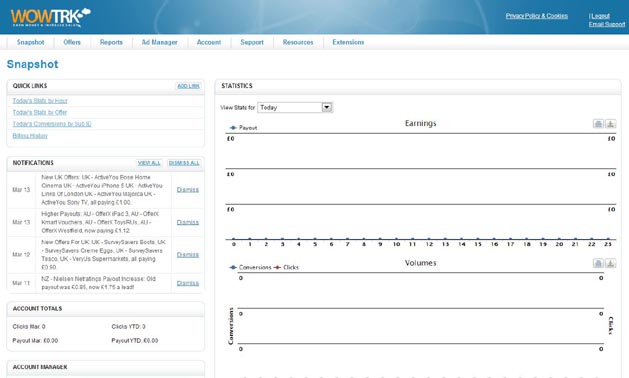 Here, you'll get a customizable list of quick links, network notifications, your account toals, your account manager's contact information and your referral link; you earn a 2.00% commission for all referrals. Also on this snapshot are your quick statistics for both earnings and volumes, as well as a few "featured offers" that may warrant some attention.
It's not fancy, but the layout of the user dashboard is functional and easy to navigate. The main navigational links are located near the top of the page and several of these become pull-down menus when you hover over them. For instance, when you hover over Reports, you gain access to the Daily Report, Hourly Report, Offers Report, Source Report, Conversion Report and Referral Report.
What Offers Can I Expect?
WOW Trk is focused primarily on lead generation, so you won't find much in terms of offers that pay on a per-sale or commission basis. Instead, most of them are gambling offers, surveys, competitions and the like. There are offers for a wide range of countries too, including Australia, Switzerland, Germany, Malaysia, and Singapore, as well as the US and the UK. There is also a category for international offers that aren't geo-targeted.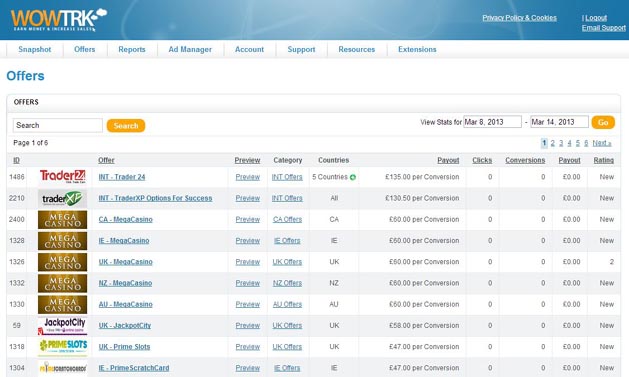 Not surprisingly, as you make your way through the list of offers, you'll find that the payout per conversion will vary considerably. Some offers only pay less than 2 GBP (about $3 US) on a CPA basis, whereas others can get up to 50 GBP (about $75). The highest payout, at the time this review was written, was for the TraderXP affiliate offer: that was paying out an impressive 135 GBP (about $200) per conversion.
While TraderXP is a site that does binary trading, most of the higher paying offers are online casinos and other online gambling establishments that are willing to pay for new members, if you are looking a gambling site, check out this list of slots sites not on gamstop. These include online slots, online scratch cards, online table games, and so forth. WOW Trk has offers beyond gambling too, of course.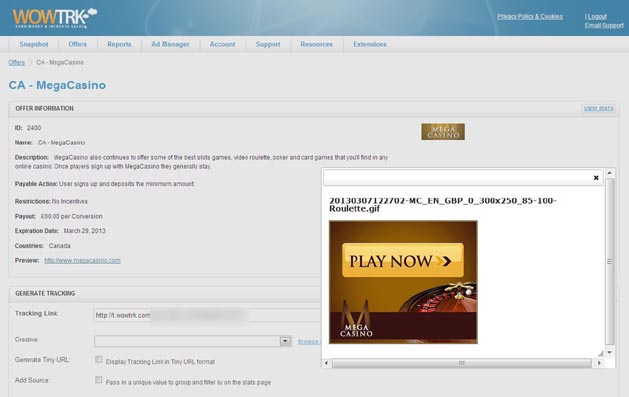 As you click through on each offer, you're provided with the basic information about what is the payable action, what is the payout, what is the daily/monthly payout cap, what are the valid countries for traffic, and what is the expiration date. There is also a preview link so you can see what your traffic would see. Along with this, you can generate your tracking link and get your conversion pixels, as well as nab the creative files. These are mostly image banners in a range of sizes. I found most offers had about a half dozen banners or so.
Chrome, Firefox and Mobile
While you could log into the main website at any time to do all your affiliate business, WOW Trk has made it easier for you to keep tabs on your account. There is a Google Chrome extension, as well as a plugin for Firefox and a mobile optimized site. Not every affiliate is going to find value in these added offerings, but those who do use them may find them helpful.
Registration Process
The sign up process consists of just a single page. Here, you'll be asked for the usual basic information like your name, address, e-mail address, password and website URL. It will also ask for your phone number. If you verify your phone number immediately–which requires answering your phone right away and then entering the provided PIN–your account gets approved right away. If you don't verify your phone number, then it can take a few days to approve your account.
Payment Details
As far as the payment terms are concerned, all affiliates start out on a net-30 schedule. What this means is that all your earnings from June will be paid out by July 30. The page with the payment terms uses the example of January payments being issued by February 30, but of course February 30 doesn't exist. They might want to change that.
The payment schedule assumes that you reach the relatively low 25 GBP threshold. If you generate more than 5,000 GBP in a month, you can request to be moved to being paid twice a month. If you generate more than 2,000 GBP in commissions in a week, you can ask for weekly payments. Just ask your account manager. Payments are issued by bank transfer, cheque, PayPal or Payoneer. In order to accept PayPal payments, you'll need to verify your mailing address.
Conclusion
If you're looking for a CPA network that focuses a little more on lead generation, particularly when it comes to gambling and freebies, then WOW Trk might be a good option to consider. The lower payment threshold can be appealing to beginners and the (up to) weekly payments are great for the cash flow of more prolific affiliates. The good range of international offers also helps to address the range of traffic that you may have. WOW Trk may not be particularly revolutionary, but it seems to get the job done if you're able to send the right kind of traffic.