May 6, 2009
Posted by Michael Kwan
The following is a paid review for TylerCruz.com written and reviewed by Michael Kwan. It is completely of Michael Kwan's opinion and is not influenced by being paid. If you're interested in having your site or product reviewed, please view my advertising page.
WordPress is so much more than a simple blogging platform. It is a full-fledged content management system and it can be used to power a range of different website types, including sites that are dedicated to reviewing products, services, or businesses.
While you could certainly enter some manual ratings into each of your review posts, this can be quite time consuming and it is also very limited in its scope. Using a more robust plugin like WPReviewEngine can bring a lot of extra functionality and utility to your WordPress-powered review site. In effect, your website is transformed into a very powerful resource for reviews, rather than just a simple directory or listing.
Affiliating with Product Reviews
Now available in version 2.0, WPReviewEngine is a WordPress plugin that has been "designed to make it easy to create powerful review sites quickly." Using WordPress as the content management system, this plugin allows you to expand on the individual blog posts to allow for greater review flexibility. In addition to the plugin, WPReviewEngine also comes bundled with two "free" WordPress themes.
An example of the plugin in action can be seen on the live demo with top hosting companies.

As you can see in the screenshot above, the plugin provides an area for a thumbnail image of the product or service, a series of custom fields describing hosting-related features like bandwidth and disk space, and an embedded affiliate link.
Based on the ratings that you provide, the plugin can also generate a ranking table that is then embedded anywhere in your WordPress theme. This table will rank the products (hosting providers, in this example) based on these star ratings. Alternatively, the table can be generated and ranked based on any of your other custom fields.
Product (or service) based review sites can be quite effective as affiliate sites. Visitors to these sites can see them as valuable resources, since they are already shopping for that type of product or service. When they are ready to buy, it is very likely that they will buy through the embedded (and optionally masked) affiliate URL.
Installation and Setup
If you are already familiar with the process of installing any number of other WordPress plugins, the installation of WPReviewEngine will be a very familiar experience.
After going through the checkout process to purchase WPReviewEngine, which comes with free lifetime upgrades and support, you will be sent an email message with your specific license key. Logging into the client area and navigating to the "view your licenses" section, you will find a direct link to download both the supporting documentation and the plugin itself.
Uncompress the zip file and enter your license key, as described in the supporting documentation. From there, you upload the appropriate folders to the WordPress plugins folder on your website and activate the plugins. With the installation process complete, you will see these options in your WordPress dashboard.

Optionally, you can also upload and activate the free provided WordPress themes for your site, but WPReviewEngine will work with any third-party WordPress theme as well.
It is important to note that you do not necessarily have to edit the plugin or the theme manually to use WPReviewEngine. All of the configuration and options can be adjusted directly through the WordPress dashboard, just as you would for other basic settings.
Main WPReviewEngine Settings
Clicking on the main ReviewEngine link will reveal the main configuration panel for this WordPress plugin.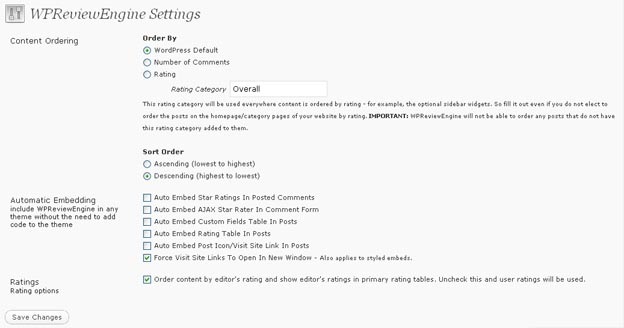 From the main settings page, you are able to adjust the ordering of content and select what features should be automatically embedded on your site or posts. For example, you can choose to have the rating table automatically integrated into every review post. This way, you do not have to manually enter any code to have the rating table appear in your posts.
Similarly, there are options for embedding star ratings in the comments, custom fields, tables in posts, and affiliate "visit site" links in posts.
Going through some of the sub-sections of the WPReviewEngine control panel will reveal options for displaying comparison tables, styled embeds, user ratings, and more.
Maps, Imports, and Comments
For each of the review posts that you publish on your site, you can define the ratings according to the categories that you define. These rating categories can be found under the "Posts" section of your WordPress dashboard. The default includes just the "Overall" field, but you can add more review categories like value, reliability, and usability. These are entirely up to you and these ratings are used for the generation of comparison tables. Both the comparison tables and the individual posts can easily contain your defined affiliate links.
Beyond this core functionality, this WordPress affiliate plugin also provides a series of additional features. If you are running an online business directory or some other review site that involves physical locations, you can activate the Google Maps feature to automatically embed maps of these store locations.
Further still, this plugin provides the ability to import CSV files into your WordPress installation. The CSV files will need to be properly formatted with the appropriate field information, of course, but the "CSV 2 WP" process is reasonably straightforward.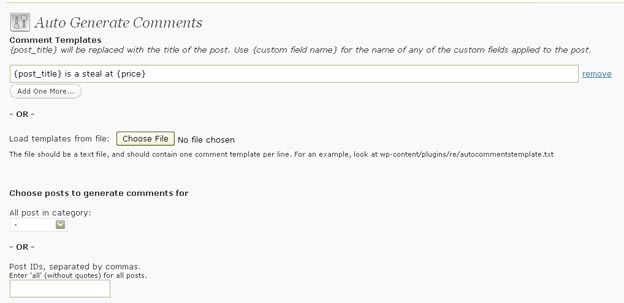 WordPress allows for user comments, but a site without comments can look like it's not worthy of our time or attention. When you are just starting out, it can be difficult to get those comments going. To alleviate this concern, WPReviewEngine also has an "auto-comment" feature that will populate your post with bot-generated comments.
You define the basic template for these comments, tweaking the options for where the comments should appear, how many stars the "commenters" leave, the number of comments generated per post, the generated names of the comment authors, and the dates for the comments. You can have only female users leaving comments between April 10th and May 2nd, with ratings between 4 and 5 stars, on all posts within the "digital cameras" category, for example.
There is no apparent limit to the number of comment templates you define. So long as these templates are fairly unique, the comments will really look like they were left by real people. Your "new" website can look like it is bustling with activity and this will typically draw in more "real" traffic. The user interface for auto-generating comments is simple, straightforward, and effective.
Cloaking the Affiliate Links
Many site visitors may be wary of links on your site that look suspiciously like affiliate links. These are the kinds of URLs that will oftentimes include long strings of incoherent numbers and letters. You know that these represent your affiliate ID or tracking information, but some users may be suspicious and avoid clicking on these links as a result.
Since WPReviewEngine was largely designed with affiliate marketing in mind, it is very nice that the developers have also bundled in a link cloaking feature. This is included in the purchase price of WPReviewEngine, but it mostly operates on its own.

Also directly accessible through the WordPress dashboard, the form to recreate a cloaked affiliate link consists of just two fields. In effect, you are producing a simple redirect file for your affiliate links. Instead of an incredibly long URL filled with apparent gibberish, you get a much shorter URL from your own domain. This adds trust and credibility.
You will need to manually create a new directory ("go") in your blog's root folder. This is where all the redirects will be placed. For example, http://www.hadoukenonline.com/go/sfiv.php redirects to an Amazon.ca search for Street Fighter IV.
You do not need to create or upload these redirect php files manually, since everything can be done from within the WordPress control panel. The Link Cloaker also provides an area where you can manage these created links, deleting them as needed.
Adding a new post with the WPReviewEngine features is much like producing a regular new post from within WordPress. Underneath the main field where you would enter the text for the post itself are a series of fields specific to WPReviewEngine.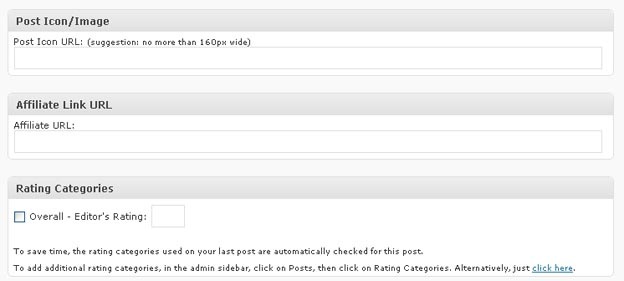 The post icon/image and affiliate link URL will be placed at the top of your post. The small image will link to the affiliate URL, as will the "visit link" text that accompanies it.
The ratings categories are on a scale from zero to five stars, including half-stars. Only the "Overall" rating is shown in the screenshot above, but any additional rating categories that you will define will also appear in this area.
Any additional custom fields that you create will be shown below this area, giving you an area to provide additional information about the product or service being reviewed. If your site is focused on digital photography, for instance, it may be worthwhile to create custom fields for the number of megapixels and maximum ISO rating.
Fruits of My Labour
To run WPReviewEngine through its paces on a real post, I generated the thumbnail, affiliate URL, and star ratings on my review of Street Fighter IV Championship Mode. This information was automatically displayed at the top of the post.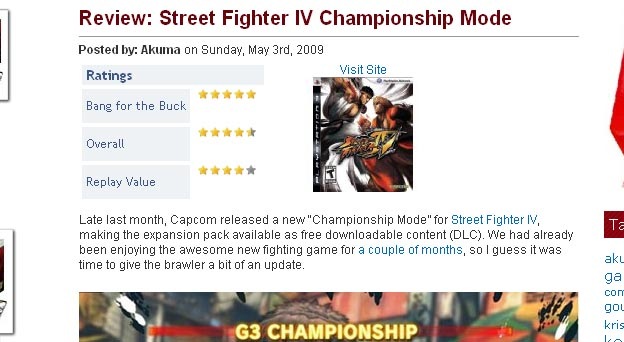 I'd imagine that the appearance of the rating table can be adjusted through CSS, but this is how it looks with its default settings. I found the white space surrounding the post icon to be a big much, but this will depend on the size of the image and the layout of your particular WordPress theme. For reference, the theme being used for that post had a content area of 500px wide.
While the automatic embedding of this information performed as advertised on the site itself, it was not rendered perfectly when the post appeared in my RSS aggregator. Instead of having the post icon next to the ratings table, it appeared down and to the right.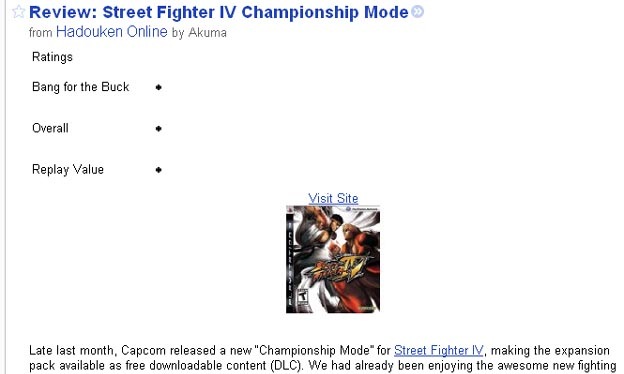 This is not exactly ideal, since WPReviewEngine should be able to accommodate RSS integration out of the box. The issue can likely be alleviate with some adjustment to the code (for either the plugin or the theme), but this would be an additional step that should not be necessary for the end user.
Conclusion
For webmasters looking to run review or shopping comparison sites, WPReviewEngine can be a great addition to a core WordPress framework. The ability to add simple "star" ratings to each product and then being able to compare these ratings using automatically generated tables is great for shopper comparison purposes. The added utilities of link cloaking, automatic comment generation, and Google Maps integration add greatly to the value of this package.
Configuring the different settings for WPReviewEngine is quite easy as well, especially for users who are already familiar with the WordPress dashboard. You will still need to produce the original content on your own (or hire someone to do it), but the rating system offered here is both simple and robust. The ability to include this information without manually adjusting the theme or plugin is also a definite plus.
WPReviewEngine is available with two types of licenses. A lifetime license for a single website is $79.95, whereas a lifetime license for an infinite number of websites is $149.95. For a limited time, you can get 20% off the purchase price by entering the coupon code 'v2release' during the checkout process.