December 10, 2010
Posted by Michael Kwan
The following is a paid review for TylerCruz.com written and reviewed by Michael Kwan. It is completely of Michael Kwan's opinion and is not influenced by being paid. If you're interested in having your site or product reviewed, please view my advertising page.
Just as it is likely in your best interest to have a diversified stock portfolio, the same kind of idea translates through to your online money-making endeavors. Affiliate marketing clearly falls into this line of thought; you probably don't want to put all your proverbial eggs in the same basket and that's why it pays to try out some new CPA networks from time to time.
One of the newer players in this arena is YeahCPA. As you can imagine, it's an affiliate network where you can promote a variety of offers for set commission rates. Generate leads and sales for the advertisers and pocket a nice sum of money for doing so. Is YeahCPA worth your time? Let's find out.
All About YeahCPA
If you're looking for something completely original and off the wall, YeahCPA isn't exactly it. However, the people behind the network seem very passionate about its potential and they want to share this passion for you.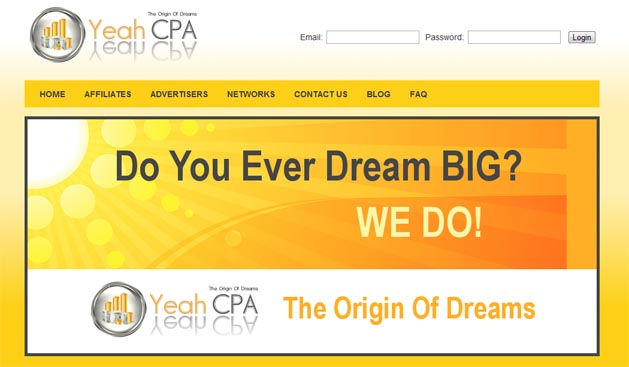 On the main page, one of the first images that hits you asks if you ever dream big. I'm not so sure if it's fair to call YeahCPA "the origin of dreams," but the dream of making a sizable income on the Internet is within your grasp using networks like these.
Going through the standard affiliate sign up form, you see the usual set of information being requested. The application form needs your mailing address, e-mail address, and the like, but there are some unique questions in there too. For example, in addition to asking what types of offers you've had the most success promoting, it also asks you to list "at least two affiliate managers' contact info at other CPA networks." If this was a job application, I'd almost be inclined to think that YeahCPA is asking for references!
It's also interesting that of the choices for "your monthly revenue from affiliate marketing," the lowest option is "over $1000." If you're just starting out with affiliate marketing or you've achieved limited success in the past, you may not have met this threshold. It's possible that YeahCPA is weeding out some of these smaller affiliates right from the get-go.
This Looks Awfully Familiar
What makes YeahCPA different from all the different CPA affiliate networks that are already on the Internet? Interestingly enough, even the folks at YeahCPA admit that they "are not the best CPA network." They do say that they are "growing very fast," though, and they aim to be the best in the future, "because we keep improving ourselves."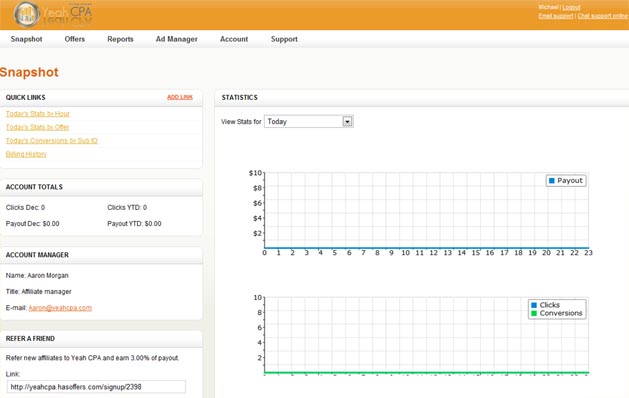 Logging into the user dashboard for YeahCPA, you'll be treated to a very familiar interface. That's because the YeahCPA network is powered by the ever popular HasOffers affiliate engine. If you've worked with any other networks that use this engine, then you'll already know your way around.
The main "snapshot" page shows your current statistics, quick links, account totals, account manager contact information, and referral URL. For the referral program, YeahCPA offers a 3.00% commission (presumably lifetime) for every new affiliate you send their way.
Offers with Daily Payouts
When you look at most other CPA networks, every offer pays into the same coffer and you get your commission payment all at the same time. They have varying payment schedules, but that's the usual way of doing business. For much of YeahCPA, that's the same, but there are currently 50 offers that YeahCPA will pay daily.
This means that if you earn $20 in commission through an offer like this today, you will actually be issued the payment tomorrow. There is no additional fee being charged by YeahCPA for daily payments. Furthermore, YeahCPA will take your suggestions for new offers and they promise to "get it for you [within] 3 business days." That's quite the bold promise. YeahCPA also claims that it takes a very small margin, though exact figures are not mentioned.
Loading and Saving Your Creatives
When I reviewed some other HasOffer-based CPA networks, I found that many did not offer much in terms of ad creatives. It would be up to you to manage these ad banners, landing pages, and other related files on your own. YeahCPA offers a little more on this front.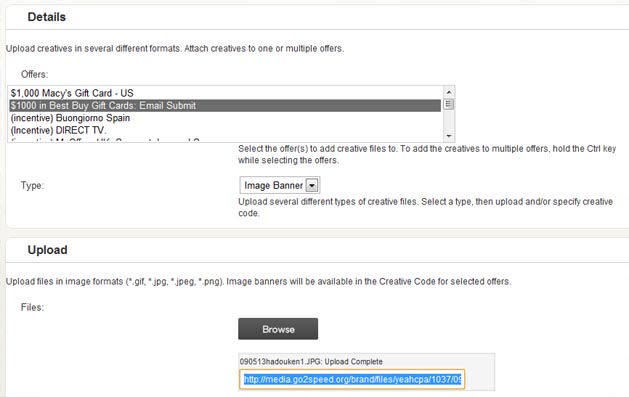 There is a section under "Ad Manager" called "Creative Files." It is here that you can upload your banner images and the like, saving them for later use. The interface seemed simple enough and you can link the uploaded files to specific offers. At least, that's how it's supposed to work in theory.
When I actually went about trying this utility, the file looked like it uploaded and was properly linked to an offer. Unfortunately, going back to the main page for creative files, I was greeted with a message saying that I have not added any files. My assumption is that there is a bug in the coding and this should be quickly addressed by the folks at YeahCPA.
Moving forward, YeahCPA has an in-house programmer who is working on a system to create over 100 landing pages for the various offers in the network. In this way, you may not even need to create your own ad creatives; just pick from the list. This service is free, as long as you stay as a YeahCPA affiliate.
Payment Thresholds and Other Details
When it comes to affiliate networks, standard practice is to offer monthly payments with a $100 threshold. Some networks deviate from this scheme and YeahCPA happens to be one of them.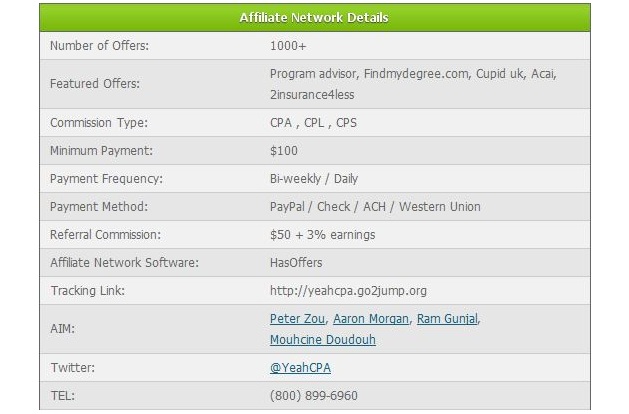 If you check the Affiliates FAQ page, you'll learn that YeahCPA will issue payments bi-weekly or weekly to all affiliates. Payments are made on the 1st and 16th of every month for commissions earned during the previous period. For example, commissions earned between November 15 and November 30 would be paid on December 16. The minimum threshold is $100.
For the vast majority of YeahCPA affiliates, payments are issued by check or PayPal. Alternatively, affiliates can opt for direct deposit, ACH, bank wire, and Western Union.
Say Yes to YeahCPA?
Let's face it. You have way too many options when it comes to affiliate networks these days and it's easy to get paralyzed by all these choices. While YeahCPA might not be the first name to comes to mind in this field, it does offer several features that help separate it from the pack.
The bi-weekly payments are helpful, as are the variety of offers that pay daily. Real-time tracking comes in handy as does the lower margin that YeahCPA claims it takes. It's up to you decide whether these features motivate you enough to sign up for YeahCPA, but the passionate people behind the network seem to make it a worthwhile addition to your Internet marketing portfolio.