January 30, 2016
Posted by Michael Kwan
The following is a paid review for TylerCruz.com written and reviewed by Michael Kwan. It is completely of Michael Kwan's opinion and is not influenced by being paid. If you're interested in having your site or product reviewed, please view my advertising page.
For any number of possible reasons, many people need to borrow some money in the short term every now and then. Maybe they need to cover some unexpected medical expenses. Maybe they have some emergency home repair they need to do. Maybe they don't have enough cash on hand for this month's rent and just need some money to make it to their next paycheck.
The payday and short-term loan industry has been steadily growing these last several years and it's not showing any signs of slowing down. As someone who is interested in making money on the Internet, you'd be remiss to dismiss this potentially lucrative opportunity. Countless lenders are constantly searching for qualified leads and you can reap the profits from directing the right people their way.
Designed with the experience to delivered results, Zero Parallel is a lead generation platform that was built from the ground up with a "systematic ethical approach that serves all parties for the long term." And that includes you as the affiliate too.
Connecting Lenders with Borrowers
At its very core, Zero Parallel is not seeking to reinvent the wheel. It's simply aiming to be the best wheel it can be possibly be, providing a solution that is beneficial for everyone involved.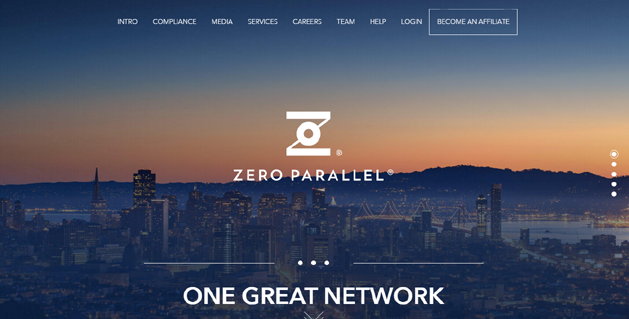 The goal for you as the affiliate is to find (qualified) people who are looking for loans for bad credit for whatever reason they may have. When you generate this lead, it is entered into the Zero Parallel database where lenders can then bid on it. Once a lender and a borrower connect with one another and a loan is provided, you earn yourself a healthy commission.
The actual dollar amount for this CPL (cost per lead) commission can vary based on the quality of the lead and how much the lenders are willing to pay to get it. From what I can gather, the payout level is anywhere from $2 to $200 on average. As you can imagine, a highly qualified lead looking to borrow $10,000 is worth more than a dodgy lead looking to borrow $100.
The Affiliate Experience
After signing up for an account and logging into the affiliate control panel for the first time, you will be prompted to complete the affiliate questionnaire. This will ask you about how and where you intend on promoting Zero Parallel to potential borrowers, among other basic information.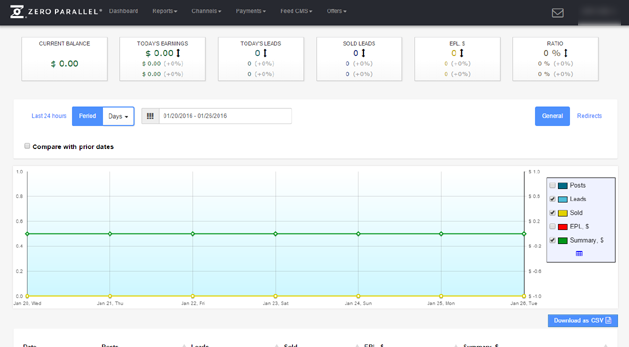 The main affiliate dashboard provides you with at-a-glance information about your current performance, including your current balance, today's earnings, today's leads, earnings per lead and so on. A basic line graph also depicts your generated leads, sold leads, and earnings, among other useful information.
Navigation is found along the top of the page. Clicking on your name can reveal information about your account and your dedicated account manager. To define your payment preferences, you'll need to look under the Payments tab, which is also where you can complete your W-9 form.
By default, payments are paid out weekly with a two-week hold and holds can be reduced to one week for qualified affiliates. The minimum payment threshold for ACH and wire transfers is $1,000, while the minimum for check, PayPal or Webmoney payments is $100.
Creatives and Tools
In regards to promotional tools for generating and directing those leads, Zero Parallel provides affiliates with a wealth of options.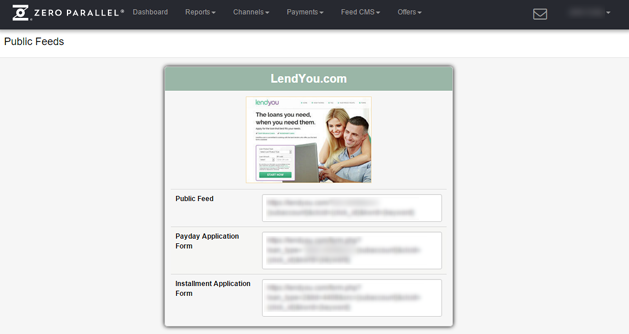 Perhaps one of the simplest ways is through the variety of landing pages that are available. Using search engine marketing, social media marketing, email marketing or any number of other means, you can direct qualified visitors to these pages where they can then request a payday loan.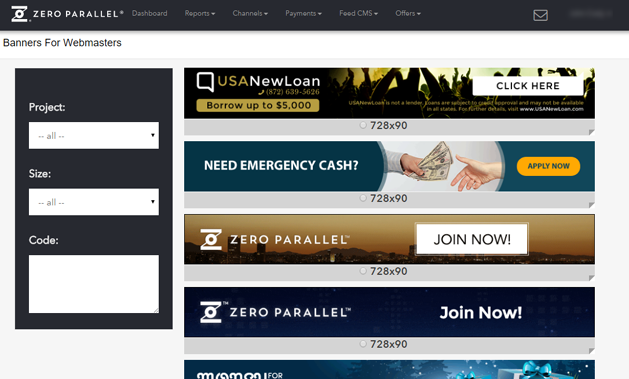 If you've got a content site of your own, you might also make use of the many ad banners that are available through Zero Parallel too. These come in many of the most standard sizes, so you won't have too much trouble integrating these banners onto your blog or website.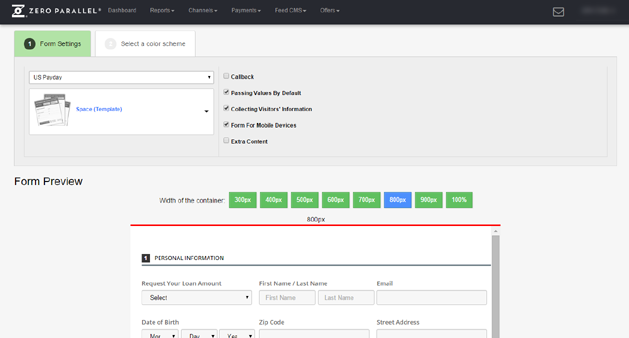 And if instead of directing your readers and visitors to some other website in order to complete a loan application, Zero Parallel also provides you with the option of generating a custom JavaScript form that can then be embedded directly in your website. This can provide even greater peace of mind for fans who already trust your website and brand.
Bonus Draws and Unique Features
To further differentiate itself from other similar affiliate networks, Zero Parallel has instituted a number of features. One of these is the rewards program. Every month, there is a bonus drawing where a random affiliate is awarded with $3,000 in cash. You do need to generate $1,000 or more that month in order to qualify for the drawing.
In addition, Zero Parallel will donate $3,000 every month through its ZP Cares charity division. This month's charity of choice is Habitat for Humanity. In previous months, donations have been given to Arthritis Foundation, UNICEF, the Breast Cancer Research Foundation, Direct Relief, Save the Children, and more.
For the lenders, a great feature of Zero Parallel is the direct call service. This allows lenders to receive phone calls directly from prospective leads, giving them the opportunity to speak with the consumer before purchasing the lead.
Get Your Payday with Zero Parallel
There is a lot to like about Zero Parallel, both from the perspective of the affiliate and that of the lender. The competitive nature ensures that affiliates are paid top dollar for the leads they generate and the robust set of tools arms affiliates with everything they need to attract the qualified leads that lenders desire.
It only takes a few moments to sign up as an affiliate with Zero Parallel. If you've got people on your list who may be interested in short term loans, this network is worth a look.
Click for source link.