January 12, 2008
Posted by Tyler Cruz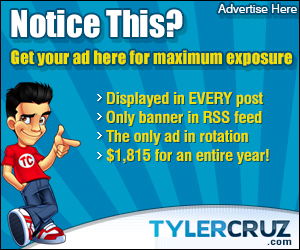 There are now only 3 days left (including today) to get your vote in for me before the competition between Gyutae Park and I ends. If you haven't voted for me yet, for whatever reason, please take the time to do so now!
The current standings are: Tyler: 7 14 Gyutae: 25 30
Gyutae still has the lead, but I made up some ground since my last update so all hope is not lost. We still have a chance in this thing, so don't give up on me just yet!

Upping the Ante
I knew this would turn into an ugly arms race; Gyutae has declared that he is now matching my 100 Entrecard credits, and so I'm now increasing my giveaway from 100 to 150.
Vote for Me and Win Guaranteed Prizes
To recap, 3 lucky winners will each receive $100 via PayPal from the loser of the contest, who we hope will be Gyutae.
In addition, for each person who votes for me, I'm giving out the following prizes:
100 150 Entrecard credits
A plug back to each blog that votes for me
Therefore, if you vote for me, you're guaranteed 150 Entrecard credits, a plug of your blog, and 3 chances to win $100 cash!

How to Vote for Tyler
The details of the contest and competition can be found in my original post, which includes the full details and rules needed to participate.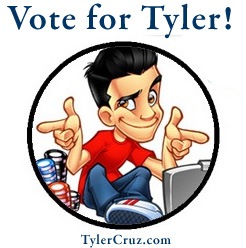 The contest ends on January 14th at 6:00pm Pacific (9:00pm Eastern), so make sure you get your "vote" in before then.

The Saint List
Since my last update on the competition, I've received 7 new votes. I'd like to thank:
SlamBlogger.com – While I appreciate the vote, I'd have to think twice about ever purchasing a paid review from there Read his post and you'll see what I mean…
HellCola.com – One of the most off-topic/untargeted blogs I've ever read I'd highly suggest for the owner to think where they are trying to go with the blog. It is extremely difficult to grow a blog that has no apparent subject matter or topic. I'm not trying to slam the blog (I obviously appreciated the vote), but I just don't understand its purpose.
DigHong.com – I have been recently talking to David Hong on GTalk, and discovered that he was Korean. He was very surprised that I started talking to him in Korean and couldn't understand how I could speak and understand it, hehe. When telling David my woes of missing Korean food, he kindly offered to have his mom mail me some Korean food. I turned it down… although I'm thinking of reconsidering…
ChrisBrandrick.com – Chris is currently giving away free blog reviews on his blog until the end of January, no catch. You'd be silly (stupid) if you didn't get in queue for one. Check out his offer for more details.
YouthCocktail.Blogspot.com – While I always strongly recommend investing $9 for a domain name, this time it has all the more emphasis with this particular subdomain name. If you don't know what I'm referring to, have a read here and then think about it again…
Scoby.ie – Declan Costello of Scoby.ie has been a very long reader/follower of my blog, and so I'd like to give him a few very basic suggestions on how to improve his blog.

- For some reason, in nearly every post there is no author listed even though there is an "Author" label.
- He seems to post only about once a month. He may not be focused on his blog and just wrote his latest vote to help me out (thank you), but if he's serious about his blog, he needs to post at least once a week at the very least.
- He has way too many categories – over 2 dozen. The whole point of categories is to archive your posts easier so people can reference past related posts easily. The problem with having a lot of categories is that it makes it far too difficult for people to find what they're looking for, also, unless you have thousands of posts, there will only be a small amount of posts under each category. I recommend between 5-10 categories.
- The "StumbleUpon It!" button is broken on the single-post template.

BizStudent.net – Another kind long-time reader who voted for me and has me on his blogroll, Jack Morrison of BizStudent.com very recently got a blog makeover. However, I'm not sure if Jack is aware of this which is why I'm writing this, but the blog has several rendering errors in MSIE (Yes, I still use and prefer Internet Explorer :). I'm running v7.0 and the most notable error is the navigation bar wrapping to two lines, resulting in a very ugly line piercing through the center of all the links. Secondly, there is a mysterious "N" next to the top "Contact" link. Hopefully Jack can get the blog designer he hired, Adii, to fix these bugs
Vote for Me, I Need Your Help!
There are still three days left, so lets turn this into the Tortoise and the Hare. With 3 chances of winning $100, a guaranteed 150 Entrecard credits, and a guaranteed plug of your blog, how could you refuse? Vote for me… please.
Posted: January 12th, 2008 under Contests