November 7, 2011
Posted by Tyler Cruz
Wow – 2 posts in 1 day. And 2 posts directly related to making money online in a day. I can't remember the last time I made 2 posts in a day. What on Earth is going on here?
So, if you hadn't read my previous post yet, I suggest you do before reading this one.
If you did read my previous post, then you will probably be curious as to how my campaigns ended up faring. Well, there's good news and bad news.
When given the choice, I always like to start with the bad news (I don't understand why some people choose the good news first… don't they understand that they will then end with the bad?), and so let me begin with that.
The Bad News
Remember how I mentioned at the end of my last post that my traffic had mysteriously stopped around 9:30PM last night?
I was hoping that it would continue in the morning, but unfortunately it didn't. For some reason, all but 1-2 of my campaigns stopped sending in any traffic at all. This was very disappointing… was all that traffic yesterday a fluke from a glitch or something?
I made a number of inquires about it and have yet to hear back from anybody, and so it is frustrating to receive all that traffic yesterday and then just have it suddenly stop for some unknown reason.
I need to find a way to get it back.
The Good News
The good news is that my campaigns completely ROCKED yesterday.
I finished calculating the majority of my campaigns a couple of hours ago, and was pleasantly surprised with the results.
I was a little nervous that my math and predictions may have been off, but it turns out that they were dead-on. It just seemed too good to be true, so I was second guessing myself.
I mean, just check out these ROI's: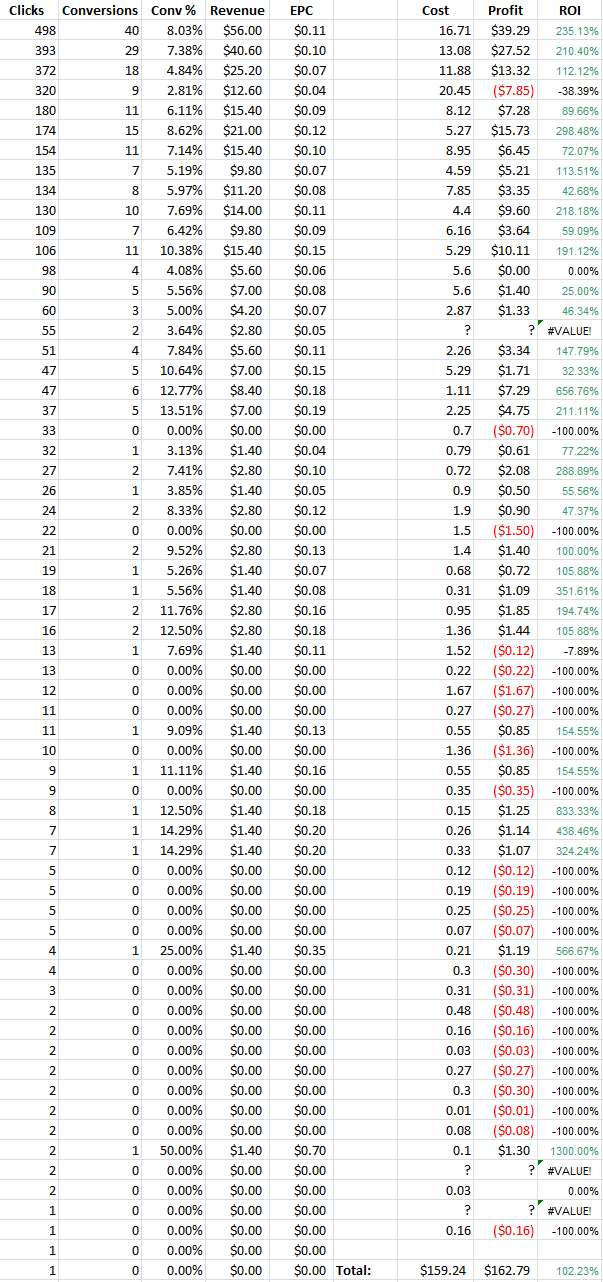 That's an average of 100% ROI across the majority of my campaigns, with the most trafficked ones at 200-300%! You know what that means… SCALE POSSIBILITIES UP THE WA-ZOO!
Ahem…
So yeah, I profited $162 from those campaigns yesterday

Feels awesome, I must admit.
It turns out that I'm also doing well with my CPV campaigns (not included in the stats above), running the traffic through DirectCPV. So, I have something else that I can tinker around with… although, I'm really a complete novice when it comes to CPV (not that I'm not a novice at affiliate marketing in general).
Time to Scale
Now, the question is: can I get that traffic back, and once (if?) I do, can I scale these campaigns?
The ROI's say yes, but often things in theory don't always work out as planned.
To be perfectly honest though, I'd be happy just to get the traffic that I had yesterday back. After all, $162/day works out to $5,000 a month profit.
We will have to wait and see what happens…