November 7, 2011
Posted by Tyler Cruz
I gave an update on my recent resurgence into affiliate marketing a couple of weeks ago.
In the post, I disclose how I found a lot of losing campaigns… in fact, the vast majority of them were losers. I did find some 'winners', but their profit margins were fairly slim which meant that there was not much room to scale.
I continued to work on my campaigns, testing new traffic sources, split-testing ads, and all the usual stuff, with continued mixed results.
But then a couple days ago, I somehow came into contact with an advertiser (who is low-key) who spends $90,000 – $120,000 a month on one of the same sources I've been advertising at.
We got to talking, as he seemed quite interested in sharing information since we were both targeting the same niches and using the same advertising sources, and even though it was a very brief conversation, I came away with 2-3 great ideas and one awesome tip.
The ideas weren't top-secret or things I've never heard about before. In fact, I spent a while pondering the logic behind one of those ideas last year, and briefly did some testing on it… but I quickly became confused and ended my experiment. But after this guy insinuated how it was working wonders for him, I had to give it another try.
And so this past weekend, I spent a fair bit of time testing out this "idea" as well as implementing the awesome "tip" the guy gave me. I apologize for being so vague with all this, but the market is already competitive enough without me aiding the competition. Let me just say that there is a lot you can do with your ads and bidding, and that you should constantly test ideas and split-test ads and campaigns.
250 Leads in 1 Day
I started my new "enlightened" campaigns on Saturday with mixed results. I immediately saw a small handful of ads that had high conversion rates, but it was hard to tell how reliable the data was as the sample size was too low. I ended up doing 59 leads that day – which is good, but would require 3-4 days in order to make a decision as to what ads were working and which weren't.
So, I tried another technique and created a bunch of new campaigns for Sunday. I immediately started seeing fantastic results… results that blew all my past ads and campaigns out of the water. My conversion rate skyrocketed, while my costs were cut in half or more.
I then created even more ads, bidding more to get more traffic, as I wanted a lot of sample data so that I see what I had discovered and what the real possibilities were.
And this is what the end result was for yesterday (Sunday):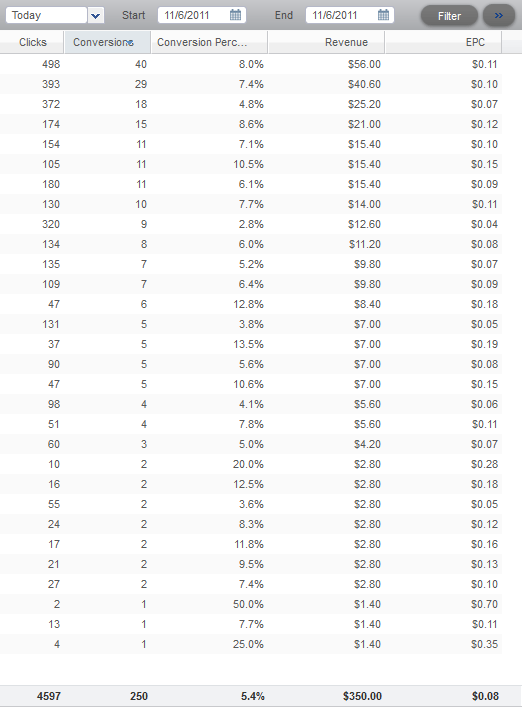 I generated 250 leads in 1 day. They were small payout offers, so the gross total was only $350, but it's still 250 leads nonetheless.
I've never generated anywhere close to this many leads in a day before.
But anyone can generate that amount of leads if they spend enough. What's important is how much I profited. Unfortunately, I won't be able to find out an accurate number until tomorrow, when I take a close look at things.
From my early investigations thus far though, while I did find some losing campaigns, I also think I found some absolute goldmines.
For example, the campaign at the top with the 40 leads – about $35 of that should be profit (I'll find out soon enough what the exact profits are). That's just one campaign, and I wouldn't be surprised if I could generate 300 leads on that campaign tomorrow. It'd be at a smaller margin, but the higher volume would more than make up for that.
That means that unless I'm very off in my math, that I've found winning campaigns that have a lot of room to scale. So the $350 I generated in leads yesterday wasn't scaled… that was just my test run! No wonder this other guy is able to spend $90-$120K a month!
Don't Count Your Chickens Before They Hatch
Before I can jump for joy though, I need to be certain that I've found winning campaigns and that I didn't mess up any basic calculations. I should be able to find out sometime later today what the end results were profit-wise for yesterday. I'll then simply scale up the winners and remove the losers.
The other concern is that my traffic source appears to have mysteriously stopped, or at least slowed down to a crawl, the past few hours. It's weird because it just happened around 9:30 PM (Pacific) or so… and that really worries me. It possible that it's simply due to people going to bed… after all, Eastern time is 3 hours ahead… but the traffic stopped so suddenly that it does worry me. My campaigns weren't paused or anything…
I'll be able to find out in the morning if the traffic will return or not, but it is certainly very disconcerting…