December 27, 2007
Posted by Tyler Cruz
The $300 RSS Contest is now over. I'd like to thank everyone for participating – it went far better than I had expected (more on that below).
I'd also like to thank the various blogs which mentioned the contest, as it helped spread the word I'm sure.
But the biggest thanks has to of course go out to the contest's sponsor, NeverBlueAds. Without their generosity, this contest would have simply not been possible.
If you haven't already read my write-up and short review about them yet, check out the original contest post.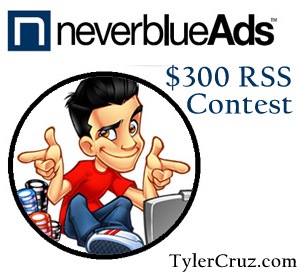 … or simply check out NeverBlueAds for yourself. They are getting rave reviews from everyone right now and offer a referral program as well, so it'd be smart to join and start sending them referrals before the majority of publishers are already signed up with them!
The Winners
Six lucky winners each won $50 via PayPal courtesy of NeverBlueAds.To determine the winners through randomization, I exported my Feedburner E-mail list to Random.org which randomized the entire list for me, and then took the first 6 entries from the randomized list as can be seen in the screenshot below: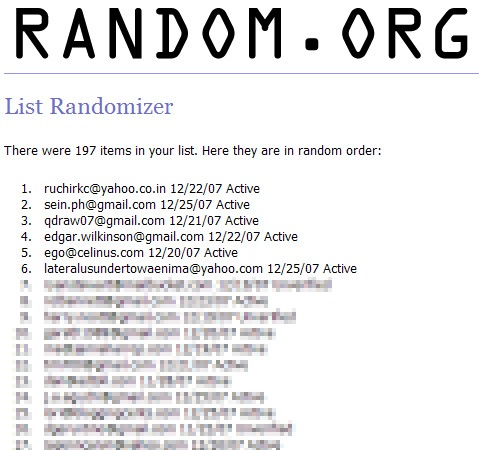 I will be e-mailing the winners shortly after publishing this post – Congratulations! $50 can buy you a domain and hosting for a year, so it's nothing to scoff at 🙂
Effects of the Contest
A lot of you are probably interested to see how much the contest helped me blog (If you aren't, you should be!). I think that the majority of contest holders fail to inform their readers as to the effects of their contests… which is a real shame as it is extremely valuable information.
Sharing this with your readers lets them know what type of contests do well, what doesn't, just exactly how well they do, etc. In fact, part of the reason I held this contest in the first place was to simply see for myself just how much impact running a blog contest had, since I couldn't find much in the way of detailed statistics from other blog contests.
So how did the contest do? Absolutely fantastic. I launched the contest one week ago, and when I launched it I had a total of 29 e-mail RSS subscribers. I now have 197 which means that 168 people subscribed to my RSS e-mail subscription due to this contest.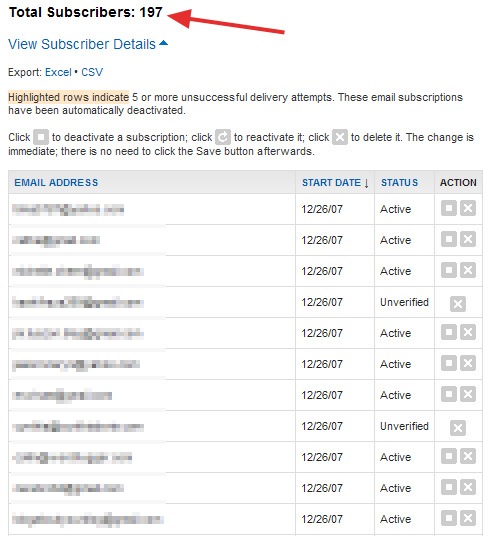 Now, the real question is: now that the contest is over, how many of these people will unsubscribe?
I'm not stupid – I know that a lot of people subscribed purely for the contest, and that's fine – I can't blame anyone for doing that. But I'm also optimistic and think that I managed to sign up a lot of people who will stay on, but just never subscribed before because they were too lazy!
My hope is that 50% of those 168 new RSS subscribers will remain, because 80 new RSS subscribers from a $300 contest is still very good in my opinion. I'll try to keep you guys reminded in a couple weeks to see how the numbers have changed by then – if I don't, somebody remind me 🙂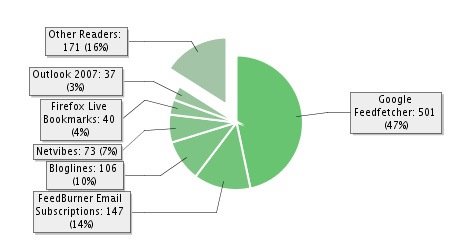 The image above shows the breakdown of my RSS subscription sources. Previously, the FeedBurner Email Subscriptions didn't even show on the pie chart since it made up too small a chunk. Now it accounts for the 3rd largest piece! I like this because diversification is usually a good thing; it's good not to have all your eggs in one basket such as only one website or only one type of advertising, and it's good not to depend on only one source of RSS reader.
The past few days, I've been setting new RSS records each day. I now have 1075 RSS, which is absolutely great! My Technorati is improving, too.
Oh, and I almost forgot. In addition to the RSS increase, I managed to refer 6 publishers to NeverBlueAds through my referral URL, which is great for both them and me.
Sponsor my Next Contest!
In fact, if you're interested in sponsoring my next blog contest, shoot me an e-mail with what you can put up. You'll get a decent amount of exposure, especially since a lot of other blogs post and link about the contest. Just look how much I wrote about NeverBlueAds in my original post, it's almost as good as a Paid Review.
I'm looking for prizes worth at least $200, but the more the better 🙂
Posted: December 27th, 2007 under Contests