February 24, 2008
Posted by Tyler Cruz
Time flies when you're having fun, and my "Banners Galore" RSS contest has come to an end after a week of running.
It went quite well: there was a lot of participation and interest in it, I gained RSS readers, and the sponsor was pleased with the results as well.
The Winners
Congratulations to Josh Morrow and to Tim Johnson of Yimto.com for each winning a Digi Combo ($164 value) courtesy of BannersMall.com. Each Digi Combo consists of:
468×60 Banner
234×60 Banner
125×125 Banner
120×60 Banner
One ANY SIZE Banner of your choice
In addition, BannersMall is throwing in the source PSD for each of the banners which normally costs $5 per banner – a $25 value!
And congratulations to Syia for winning a Peel Away Ad ($80 value) which consists of:
One Peel Away Ad, such as the one in the top right corner of my blog.
Includes the source PSD – a $5 value
To determine the winners through randomization, I exported my Feedburner E-mail list to Random.org which randomized the entire list for me. I then took the first 3 verified e-mails (unverified e-mails were skipped) from the randomized list. The third verified e-mail won the Peel Away Ad.
Effects of the Contest
Blog contests are great because they are a win-win-win situation for everybody. The sponsor gets a lot of exposure, the participants win great prizes, and the blogger gets to give back to his or her readers while usually gaining traffic at the same time. In my case, my goal was to obviously further increase my number of RSS by e-mail subscriptions.
The first RSS contest I ran back in late December was a great success, and ended up bringing in 168 new RSS e-mail subscribers, which was a major boost for me at the time. When organizing this latest contest I did not expect to bring in that many again as I felt I had already "used up" most of my readers. That is, most regular readers who were likely to subscribe to my RSS by e-mail for the contest would have already done do in the first contest.
However, new readers are constantly finding my blog, and so I felt it was worth running another one. I was also interested in seeing just how many new RSS subscribers I could gain.
So, how did I do?
Right before starting this latest contest I had 167 RSS e-mail subscribers. I now have 255, which is an increase of 88 RSS e-mail subscribers.
When I started the contest, I had a total of 1274 RSS subscribers. I now have 1,404, which is an increase of 70 and appears to go hand-in-hand with my RSS e-mail results.
1,404 RSS! That's a new record, and a new milestone! I'll be making a post soon about it. I know some readers are tired of reading my RSS milestone posts, but it will be the last one they have to read until 1,700 🙂
Email subscriptions now make up 16% of my total RSS distribution (it shows 194 there as it was the average from the past 7 days).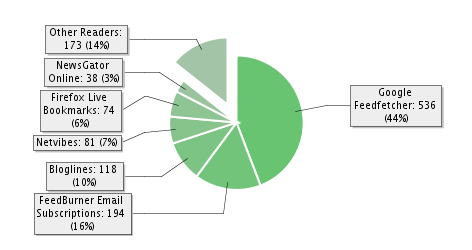 About BannersMall

This contest would obviously not have been possible without the generosity from my friends at BannersMall. I'd like to once again thank them for their sponsorship. Now that the contest is over and the winners announced, run over to BannersMall and get some banners done!

Here again is a bit of information about the banner design company:

Although BannersMall is only run mainly by two people (four in total), they've already done work for over 4,000 clients, having created over 30,000 banners. Some of their clients include HostGator, E-lance, 1&1 Hosting, and the American Red Cross. In fact, looking through their portfolio, it almost seems as though they've created half of the banners that you see online – seriously.

But don't take my word for it – look through their 129 jam-packed pages of their portfolio for yourself to see the quality of their work.

They have a turnaround time of around 3 days, offer 24-hour rush orders, and provide free revisions until you are happy with your banners.

Perhaps the best endorsement I could make, however, would be to say that I'm a longtime and repeat client. I've purchased dozens of banners from BannersMall over the past few years, and have always been very satisfied. Here are a few 468×60 banners they've made for me in the past:

BannersMall Affiliate Program

Recently, BannersMall added a referral program to their site due to popular demand. I know that I've been waiting a very long time for them to do this. So, it shouldn't be a surprise that I was the 6th person to sign up for it 🙂

They pay out 10% per sale, and give you $10 just for signing up (there is a $100 minimum payout to prevent people from abusing this). I only signed up about 6 weeks ago and have already made 8 transactions totalling $51.76. To sign up, click on the "BannersMall Affiliate Program" button located at the top center of their site (it can be easy to miss).

I would highly recommend BannersMall the next time you need some banners done for your websites.

Sponsor my Next Contest!

If you're interested in sponsoring my next blog contest, shoot me an e-mail with what you can put up. You'll get a decent amount of exposure, especially since a lot of other blogs often post and link about the contest.

I'm looking for prizes worth a total of at least $250, but the more the better 🙂
Posted: February 24th, 2008 under Contests