May 24, 2010
Posted by Tyler Cruz
Three days ago marked the final day in my weight loss challenge versus Paul Piotrowski. It ran for 10 weeks and pitted me up against Paul Piotrowski. The contest was that if either of us didn't meet and maintain our weight loss quota on May 21st, 2010 at 10PM Pacific Time, we would have to pay the other person $600 out of our own fat pocket.
Our "weight loss quota" for the competition was that I had to lose 12 pounds and Paul had to lose 13 pounds at the final weigh-in. This worked out to 6% for each of our body weight, in order to make it fair.
With a $600 penalty and a possible $600 reward on the line, both Paul and I were very competitive and took this contest very seriously.
Paul's Weight Loss Results
Paul posted his final weigh-in report in a detailed report complete with video and charts and graphs. With a starting weight of 212lbs, he ended up weighing in at 197lbs which means that he lost a total of 15lbs during the challenge. That's 7% of his body weight!
I was surprised that Paul made the challenge as halfway through the challenge he had only lost 1 or 2 pounds, and so I had thought I had the $600 penalty prize in the bag.
But I know how difficult it is to lose weight so since he made the challenge I can only congratulate him.
You can view his before and after photos on his post. You can most definitely see a reduction in his belly based on his side portrait. For only 10 weeks that is actually very impressive.
The main reason I chose Paul to run this competition with is that I knew he would step up to the plate and work hard. Paul, like me, is extremely competitive and goal-oriented. Choosing such a competitive opponent may seem counter-productive to winning $600, but the fact is that it only motivates me to work harder and beat him.
Throughout the challenge we would do a lot of little things to piss each other off. For example, I would often SMS him photos of me running around Westwood Lake or text him about my new time or distance records, and he wouldn't be shy to gloat in losing 1.4 pounds in a day.
Competition is a very powerful tool to harness if used correctly.
Another New Westwood Lake Time Record!
On May 18th, with only 3 days left in the challenge, I knew I had to really start pushing hard if I was going to make the challenge.
Unfortunately for me, it decided to rain that day. I didn't want to go in the rain, but my options were to either run in the rain or not run at all, so I didn't really have a choice.
I started off well, jogging a good portion, and then continued to jog every chance I could throughout the rest of the lake. I still walked the large majority of it, but constantly tried to walk as fast as I could. For about 1.5 KM I even "power walked", swinging my arms in a goofy fashion (just because I thought the extra motion would help me lose more weight). I think that the cadence of my swinging arms actually helped me stay in a more even rhythm to my music and therefore helped me walk faster.
Despite the weather being so miserable, there was a surprising number of people on the trail. I ended up having to jog past a bunch of them in areas where I normally didn't jog, which also helped me time.
In the end, I finished in 52:39 which is exactly 1 minute and 30 seconds faster than my previous best time! What an improvement! I was so surprised I finished that well – I knew I was doing well and might set a new record, but not by that much.
When you consider that my best time around Westwood Lake last year was 57:55, finishing in at 52:39 really shows how much faster my time has improved.
Here's a video of me after my new record:
The Final Weigh-In
Believe it or not, but on May 18th, with only 3 days left in the challenge, I weighed 195 at that point which meant that I had less than 72 hours to lose 6 pounds.
Think about that for a second. Just under 3 days to lose 6 pounds. The rules stated that starving and sweating yourself were out of the question, so I couldn't just simply not eat.
But I did the the next best thing: starting around dinner time with 2 and a half days left, I decided to go on a very strict fruit, vegetable, and water diet. I wouldn't even allow myself to eat a salad with dressing – just pure fruits and vegetables.
The only thing I did do was add a bit of extra virgin olive oil and salt when I made roasted Brussels sprouts.
This may sound melodramatic, but by the end of the challenge I felt so incredibly weak and starving. My body was just not used to going on such a low calorie diet, even if only for around 70 hours.
Below are the photos of what I ate during the final stretch of the challenge (multiple the apple slices x 6 or so and the unsweetened applesauce by 3-4):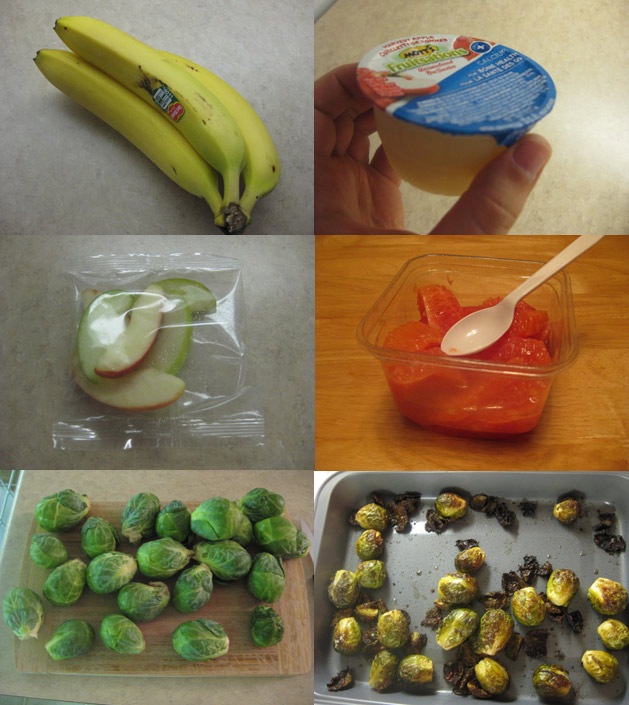 I actually don't think it's healthy or natural for people to only eat fruits and vegetables. But to lose weight for the final stretch, I knew I had to do it.
On the morning of the final day (final weigh-in was 10pm), I weighed in at 190lbs, meaning I had lost 4-5 pounds during the past 48 hours, but still had 1 more pound to go.
I was actually very confident that I would lose that pound just by sitting around and continuing with my diet, but as the clock ticked by and I kept weighing in at 190, I knew I couldn't take the chance of losing the challenge by only 0.5 – 1 pound. That'd be one bad $600 mistake.
So even though I felt incredibly weak and tired, I forced myself to go out and do Westwood Lake one final time. When I got there, I fully intended to set a new distance record by doing 16KM. I knew that I wouldn't be able to set a new time record, but could possibly toughen it out to do a new distance record.
Unfortunately, I was just way too weak to do that. I did my usual one lap around (6KM) and had to stop. My time was incredibly slow too, which just shows how weak I really was. Walking (rather slowly I might add) the whole way, I finished in at 1:07:02 – a full 15 minutes slower than my previous time.
But efforts didn't go unrewarded. Just by casually walking the trail, I lost another 3-4 pounds, weighing in at between 186 and 187. It seems almost impossible to lose 3-4 pounds by only walking 6KM, but that's what happened so I don't know what to tell you.
Since the final weigh-in time was 10PM, I still had to wait about 11 hours, which absolutely sucked. Especially since I had only gotten 3 hours of sleep the night before and woke up around 3AM.
After eating, I ended up weighing in at a final 187 lbs!
On March 11th, I weighed 204 pounds, which means that I lost a total of 17 pounds in 10 weeks! That's over 8 percent of my body weight!
Below is a 5-minute video showing my official final weigh-in, as well as a funny ending:
Here is my official starting (before) photo:
Before…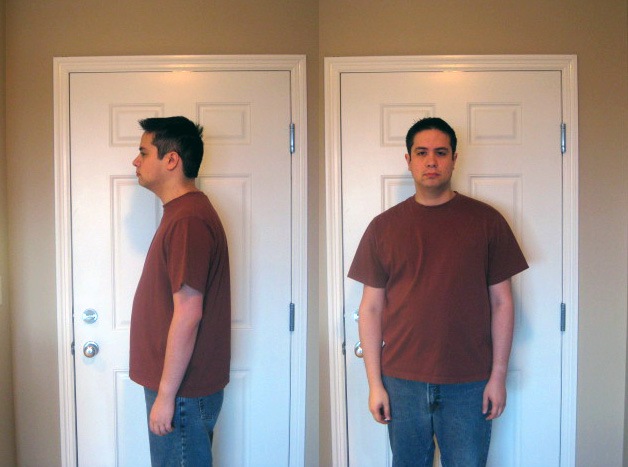 And my after photo wearing the same clothes 10 weeks later:
After…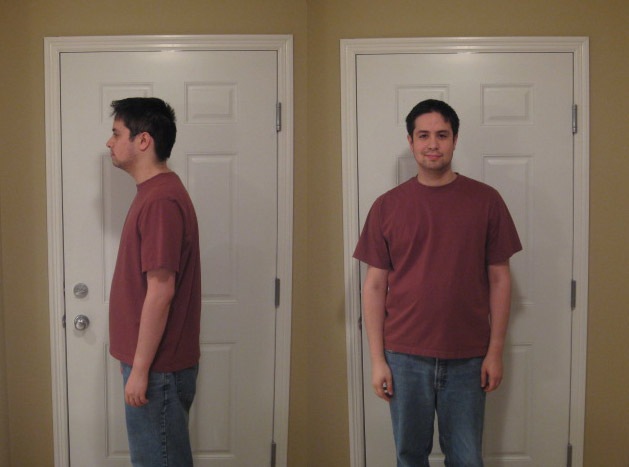 What do you think? I personally think there's hardly any difference between them, haha. But I can see a very slight change. It's weird though because you'd think that losing 8% of your body weight would have a more visible effect.
I would probably have to lose another 17 pounds to see a very noticeable change. But that's not going to happen! Because…
It's time to eat!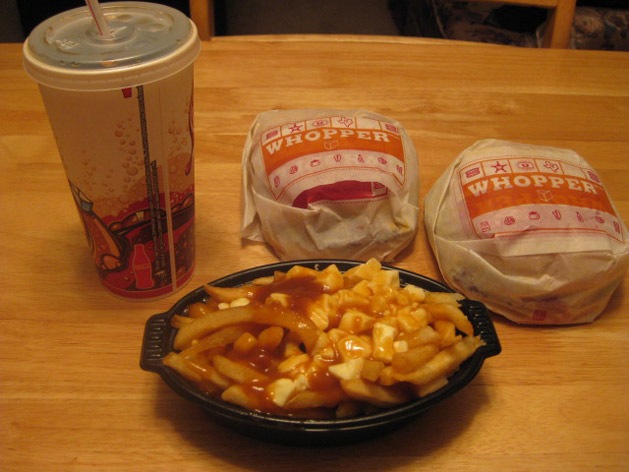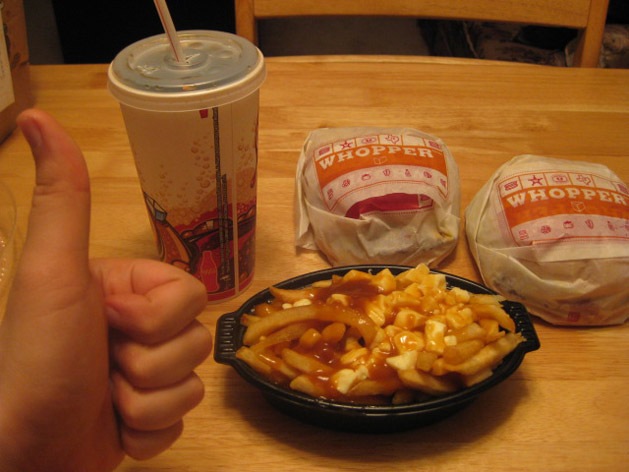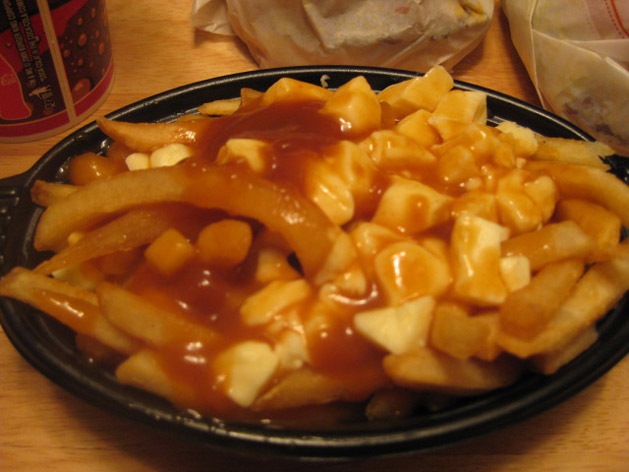 I won't be living off this stuff, but I do need to fulfill my cravings. For those curious, even though I felt like I was starved half to death by the end of the challenge, I only ended up eating the poutine and half a Whopper as that filled me up plenty.
The next day I went out and ate a small pizza at Boston Pizza, and last night after badminton I ate a sub from Subway.
Soon my cravings will be fulfilled and I can get them out of my system, so it's not like I'll be eating like this everyday. But for now it's chow time.
Here's an update on my Westwood Lake and weight loss charts:
Westwood Lake Time
| | | | |
| --- | --- | --- | --- |
| Date | Time | Distance | Comments |
| My 2009 Best Time | 57:55 | 12 KM | Jogged much more in the middle area |
| March 13, 2010 | 1:10:12 | 6 KM | Feet and calves absolutely painful. Very dark out. |
| March 18, 2010 | 1:00:00 | 6 KM | Stretched and used "ML" shoes |
| March 23, 2010 | 1:01:25 | 6 KM | I tried, but in pain and out of breath |
| March 27, 2010 | 1:01:28 | 6 KM | Gave good effort again but too slow |
| April 12, 2010 | 58:45 | 6 KM | Great time, close to new record, only 50 seconds off |
| April 17, 2010 | 57:22 | 6 KM | New Record! Really pushed hard final stretch |
| April 28, 2010 | 55:04 | 6 KM | New Record! Felt really good and bunch of jogging |
| April 30, 2010 | 58:53 | 15 KM | New distance record, but windy and rainy thus slow |
| May 4th, 2010 | 54:35 | 6 KM | New Record! Many jogging stretches |
| May 8th, 2010 | 54:09 | 6 KM | New Record! Did 1st KM super fast |
| May 11th, 2010 | 56:17 | 6 KM | Not very energetic but tried hard last 3KM |
| May 14th, 2010 | 59:40 | 6 KM | Just no energy. Walked the majority of it. |
| May 18th, 2010 | 52:39 | 6 KM | New Record! Pushed hard. Surprised myself. |
| May 22nd, 2010 | 1:07:02 | 6 KM | Final day while malnourished from veggie diet. |
(Note: Times are for first 6KM only)
Weight Loss Status
| | | | | |
| --- | --- | --- | --- | --- |
| Date | Weight | Total Pounds Lost | Pounds To Go | Days Left |
| March 11, 2010 | 204 | +3 | 15 | 70 |
| March 19, 2010 | 203 | +2 | 14 | 62 |
| April 5, 2010 | 199 | -2 | 10 | 46 |
| April 20, 2010 | 196 | -5 | 7 | 31 |
| April 29, 2010 | 195 | -6 | 6 | 22 |
| May 1st, 2010 | 196 | -5 | 7 | 20 |
| May 15th, 2010 | 193 | -7 | 5 | 6 |
| May 21st, 2010 | 187 | -14 | 0 | 0 |
While I didn't end up winning $600 from Paul since he made the challenge as well, I did make $25 in a side bet with Wesley – one of my blog commenters. I would have made another $25 from Lee Ka Hoong but I didn't go ahead with the bet because I wasn't so sure I was going to make it at that point.
While I'm positive that I'll regain a good portion of my lost weight by this time next year, my hope is that I can keep half of it off. Then I can do another weight challenge next year and up the antes once again.
Now that this challenge is over, I have another heads-up challenge between me and Paul brewing. This time it's strictly "make money online" related and I'm sure all of you will love it. It has nothing to do with affiliate marketing either. Stay tuned, as it will be launched very soon.