March 11, 2010
Posted by Tyler Cruz
Last year, I competed in a weight loss challenge against Jonathan Volk in which we both ended up managing to lose 10 pounds each.
Due to the (personal) success of that competition, and since it's already been nearly a year since the last competition started, I am engaging in yet another blogging weight loss challenge.
This will come to the chagrin of many readers, as I know that a lot of you simply aren't interested in these types of posts, but I have raised the stakes for this competition so maybe it will now be a bit more interesting than it was previously.
Some of you may ask what the hell this has to do with making money online or being an internet entrepreneur. It's true: this is largely a personal issue. However, you'd be surprised how much your health can affect how much you make.
I'm sure nobody will contest the fact that eating well and exercising routinely has a direct and positive effect on your energy and concentration levels. I haven't been working much lately, and I blame most of this to the fact that I've been so lethargic again the past few months. I'm hoping that getting back into shape will help give me energy to work and focus better.
The Challenge
This weight loss challenge is between the personal development and make money online blogger, Paul Piotrowski, and myself.
I must lose 12 pounds within 10 weeks
Paul must lose 13 pounds within 10 weeks
Paul needs to lose 1 more pound than me since he weighs more than me. We based these numbers off of 6% of our total body weight.
The final official weight loss will be weighed on May 21st, 2010 at 10PM Pacific Time. If one of us loses the weight earlier, that does not declare a win; it must stay off by the deadline.
Whatever each of us weighs in at on May 21st, 2010 at 10PM is what the results will be based on.
The $600 Penalty
In order to provide a bit of drama, as well as to provide true incentive for each of us to follow through with this competition, we have both agreed to pay the other person $600 should we fail.
Therefore:
If I don't lose 12 pounds by May 21st, 2010 at 10PM, I have to pay Paul $600.
If Paul doesn't lose 13 pounds by May 21st, 2010 at 10PM, he has to pay me $600.
If both Paul and I make our goals, no penalty is paid out. If neither of us make it, then we'll essentially break even.
This latter point may sound like a way out for us, but it really isn't. If Paul is having trouble losing weight, it's only in my best interest to keep going as then I'll have $600 in my pocket. Similarly, I could be out $600 if Paul ended up losing his weight at the last minute.
Paul's starting weight is 212 pounds so he will need to weigh in at 199 pounds or less. My starting weight is 201 pounds so I'll need to weigh in at 189 pounds or less.
Challenge Rules
Both Paul and I have agreed to the following rules for this challenge:
We each must make an official post announcing the challenge with an overview, the rules, etc. In this post we must each post a current "before" photo of ourselves (preferably a front and side portrait). We must also post a short video clip of ourselves getting on the scale to prove our current weight at the beginning of the challenge.
Similarly, at the end of the competition on May 21st, 2010 at 10PM, we must again post current photos and a video of getting on the scale.
Preferably about once or twice every week, we must each make a post updating the status of the competition (current weight, things we're doing to lose the weight, etc.) Photos and or videos here are not mandatory but would be nice.
No weight loss pills, dietary supplements that have weight loss as their primary advertised benefit, colon cleansers (haha), starving of oneself, dehydration techniques, etc. of any kind. Must be all natural old fashioned weight loss.
Let it Begin!
Here is my official starting weigh-in video:
In the video, I actually weighed in at around 203 pounds, but I think I've been averaging closer to 201 so to be fair as well as push myself a bit more, I have declared 201 as my official starting weight.
Also, I made the video a couple hours before deciding to tack another pound onto the challenge with Paul, which is why I say in the video that I'm going for 190, when in actuality it is now 189.
Here is my official starting (before) photo: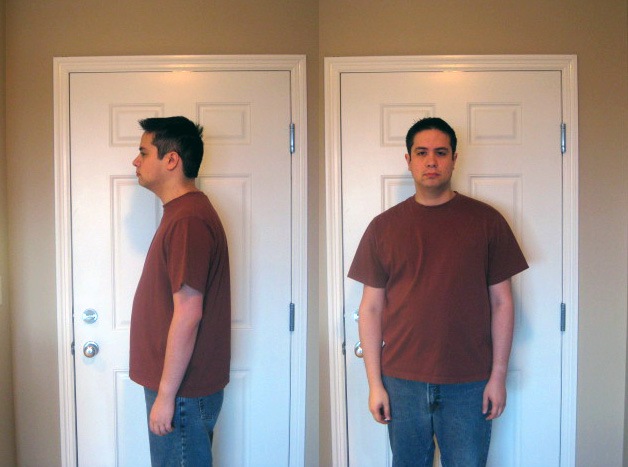 Let the humility begin! Paul Piotrowski's weigh-in post can be found here.
6% in 10 Weeks for $600
For those of you who think that losing 12-13 pounds in 10 weeks is easy, I'd like to disagree.
While it may be easy for some of you, it isn't for me. I had to work my ASS off in the first challenge in order to just barely make the final weigh-in on the last day. By the end of the 10 weeks, I was jogging/power-walking around a lake 14KM a day.
12 pounds accounts for 6% of my total body weight, which is rather significant, and there is a $600 penalty on the line if I don't lose the weight in time.
Effects of My Previous Competition
Some of you may be wondering why I'm back in the 200 pound range again. After all, I finished the last competition by weighing in at 195 pounds.
As I had predicted, I regained half of what I lost over the past year, which is why I'm now at 201. I was originally 206 last year, but managed to keep half off which I'm actually pretty happy with.
To be honest, I reverted to my old horrible diet and lack of exercise (my only exercise being going to badminton twice a week) which is why I have been slowly regaining some of my lost weight back.
But that's what this new competition is for, and by mid-May I should be 189 or less which will actually put me at a normal weight (at least as far as BMI is concerned).
My Plan of Attack
I plan to do exactly what I did last year. After all, it worked. I will slowly adapt my diet by eliminating fast food entirely and then gradually cutting down on all the sugar drinks (pop, juice, sugar in coffee/tea) as well as the high calorie and sodium processed foods. I will also start eating more fruits and vegetables again.
However, diet only accounts for about 20% of my 'technique'. I prefer to focus on exercise. I already go to badminton twice a week, but will once again start going around the 6KM circumference lake here.
I will probably start at just doing 1 circuit at 6KM, but my end goal is to break my 14KM 'record', as well as set a new personal best time for the first 6KM.
I'll also be doing some daily crunches and push-ups, although I don't like to do too many as that will just build muscle and I'm looking to lose weight here, not gain weight!
Wish me luck – this is going to suck.