April 29, 2010
Posted by Tyler Cruz
It's now day 49 out of 70 in my blogging weight loss challenge versus Paul Piotrowski.
I'd like to remind you that this competition between Paul Piotrowski and myself is not just any ordinary friendly weight loss challenge. If one of us doesn't meet and maintain our weight loss quota on May 21st, 2010 at 10PM Pacific Time, we will have to pay the other person $600 out of our own fat pocket.
As a reminder, the competition states that I must lose 12 pounds within 10 weeks and Paul must lose 13 pounds within 10 weeks. This works out to 6% for each of our body weight, in order to make it fair.
As I write this very sentence, there are only 22 days, 23 hours, 7 minutes, and 29 seconds left in the challenge, which means that both Paul and I have to really focus and make things happen before it's too late.
Paul's Weight Loss Status
Late yesterday, Paul posted an update on his weight loss.
For the first 35 days of the challenge he basically made minor changes to his diet, and did nothing else. As a result, he basically lost no weight.
During the past 12 days, in order to really kick things up a notch, Paul went on a hardcore diet. I'm actually pretty impressed with how strict his diet was/is – he's eating a ton of fruit and vegetables and is only drinking water. He also cut out all meat except seafood.
He actually took photos of a bunch of the foods he has been eating over the past 12 days which you can view in more detail on his post.
I personally like how the 5th photo is unlabelled and unidentified. Must have not tasted too good… 😀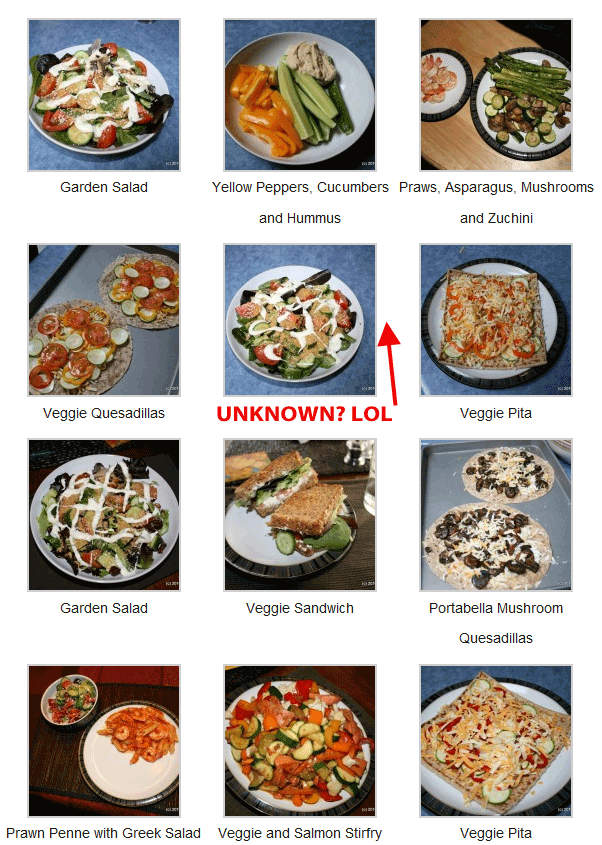 Anyhow, as of yesterday morning, Paul has lost a total of 3.8 pounds… so he only lost 0.4 pounds during the past 9 days! However, yesterday he was at –5.4 which was a new weight loss record for him in this challenge so far.
With only 22 days left in the challenge, Paul still has to lose 9.2 pounds. That means that Paul needs to lose at least an average of 0.41 pounds every day for the next 22 days straight. I like my odds 🙂
What I've Been Doing
As usual, I've been sticking with my regular routine of doing my "daily lists", going to badminton thrice a week, and doing Westwood Lake whenever I can push myself to do so. I've also been continuing to avoid unhealthy food such as fast food, pop, etc.
Since my last update, I also increased my daily walk by another minute. Yes, it's only a minute more, but don't underestimate incremental increases!
I'm actually considering replacing two of my badminton nights by going around Westwood Lake instead. The badminton club that I go to during those 2 days has really gone downhill during the past year, and I never get a workout when I go there anymore. The Sunday badminton club is still awesome though, kicking my ass every time. I may also try going to a new club on Wednesday nights, as I hear it's made up of most of the same players of the Sunday night group.
Another New Westwood Lake Record!
Time flies, and I was surprised that I actually hadn't done Westwood Lake in 8 days. So after eating my Mini-Wheats this morning I went to the lake with Lisa.
I really surprised and even frightened her today because she always beats me by a good margin, and I rarely see her beyond the 1.5KM mark. But for some reason today my body felt really good cardio-wise, and I managed to always keep her in sight all the way to the 4KM mark. At one point around the 2KM mark I even jogged for a stretch and actually felt not too bad… almost good!
However, she disappeared at the 4KM mark and I didn't see her again until right before the 5KM mark. When she did see me again though, she couldn't believe it as I had never closed the gap anywhere near that point before. She ended up beating me in the end, but overall I did really well today, walking at a very brisk pace and jogging several stretches.
In the end, I set yet another new personal best time! My last best time was actually during my previous run, making these back-to-back records which is great.
The crazy thing is that I actually had more gas in the tank during the last half a kilometre and could have actually jogged a good portion of it, but instead just walked briskly the rest of the way back. My thinking was that I didn't want to beat my time by too much as it would only be that much harder to beat it again next time 🙂
I ended up finishing in 55:04. That's over 2 minutes faster than my previous best time!
In fact, during my first time around Westwood Lake this year 5 weeks ago, my time was 1:10:12. Today's time was over 15 minutes faster! Maybe there is actually something to this whole fitness thing after all…
I had enough energy to go around a second time, but as a reward for setting a new record I let myself relax instead.
Here's an update on my charts:
Westwood Lake Time
| | | | |
| --- | --- | --- | --- |
| Date | Time | Distance | Comments |
| My 2009 Best Time | 57:55 | 12 KM | Jogged much more in the middle area |
| March 13, 2010 | 1:10:12 | 6 KM | Feet and calves absolutely painful. Very dark out. |
| March 18, 2010 | 1:00:00 | 6 KM | Stretched and used "ML" shoes |
| March 23, 2010 | 1:01:25 | 6 KM | I tried, but in pain and out of breath |
| March 27, 2010 | 1:01:28 | 6 KM | Gave good effort again but too slow |
| April 12, 2010 | 58:45 | 6 KM | Great time, close to new record, only 50 seconds off |
| April 17, 2010 | 57:22 | 6 KM | New Record! Really pushed hard final stretch |
| April 28, 2010 | 55:04 | 6 KM | New Record! Felt really good and bunch of jogging |
(Note: Times are for first 6KM only)
Weight Loss Status
| | | | | |
| --- | --- | --- | --- | --- |
| Date | Weight | Total Pounds Lost | Pounds To Go | Days Left |
| March 11, 2010 | 204 | +3 | 15 | 70 |
| March 19, 2010 | 203 | +2 | 14 | 62 |
| April 5, 2010 | 199 | -2 | 10 | 46 |
| April 20, 2010 | 196 | -5 | 7 | 31 |
| April 29, 2010 | 195 | -6 | 6 | 22 |
I only lost 1 pound during the past 9 days which isn't the best, but it is progress so I'm satisfied with it. It also means that I have lost 9 pounds during the past 5 weeks which isn't too shabby if I say so myself.
However, I still have to lose 6 more pounds during the next 22 days (and keep it off) or I'm out $600. So that's 9.2 more for Paul, and 6 more for me. Let's hope Paul doesn't make it so that he has to pay me $600!