June 29, 2011
Posted by Tyler Cruz
Five weeks ago, I started my weight loss challenge against Paul Piotrowski.
As a quick recap, we each must lose 14% of our starting body weight (which works out to 30 pounds each) within 4 months (120 days). If one of us doesn't make it, then he will have to pay the other $650. If neither of us make it, then we will donate $650 to the BCSPCA.
It is already day 37… it never ceases to amaze me just how fast time seems to blow past when you're doing a time-limited challenge. We're already 30% into our 4-month deadline.
Below is an updated line graph comparing my weight loss progress to Paul's: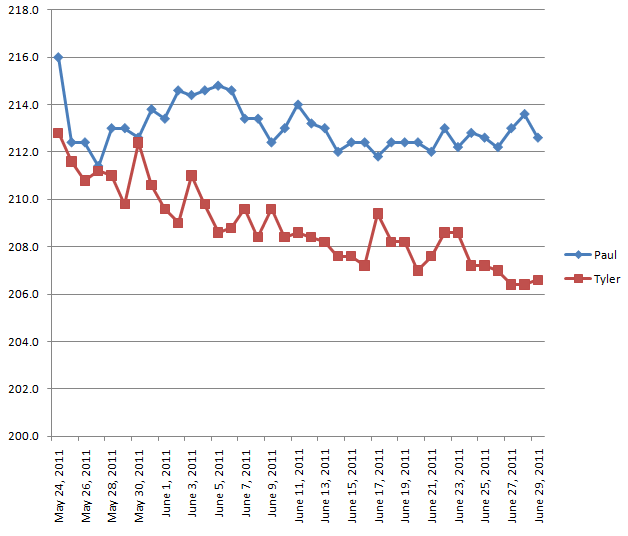 It's interesting to see the trend in my line graph – I tend to slowly and gradually lose weight, and then have a relapse for a day or two before getting back on track.
I am not changing my routine or anything during those relapses… it's just something my body is doing on its own.
Paul's graph… well… has no real rhyme or reason to it…
Below is an update on the overall numerical data, taken from the last update to today, for those who may be interested: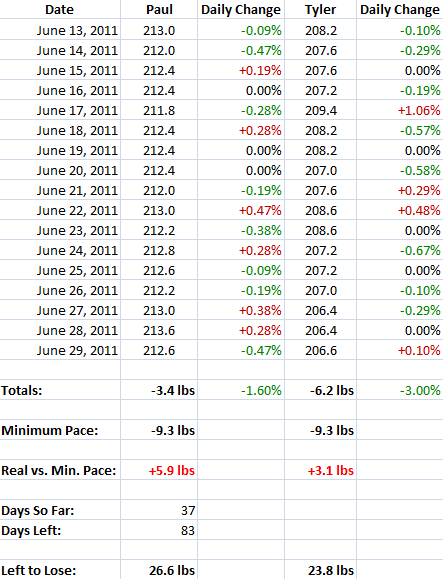 Each day, I'm slowly getting more and more behind my minimum pace. This really is an ambitious weight loss challenge… it's difficult to HAVE to lose at least 0.25 lbs. each and every day for 4 months.
While I'm behind schedule, it's comforting to know that Paul is doing even worse. He's only lost 3.4 pounds so far which means that he needs to lose 26.6 pounds in 83 days, which is no easy task.
The Minimum Pace is taking the average amount of weight we need to lose each day (which works out to 0.25 lbs.) over 120 days in order to just barely lose 30 pounds, multiplied by the number of days so far.
The Real vs Min. Pace is the difference between our current weight loss and the Minimum Pace.
Please note, however, that all of the weigh-in's apart from the initial one, are of us wearing lighter clothes than what we originally weighed ourselves in. For example, I'm usually wearing shorts and am not holding my camera when I weigh-in, which probably equates to a total of roughly 1 pound. We will, of course, wear the exact same clothes that we originally weighed in, at the final weigh-in.
In addition, I'll also admit that the vast majority of these weigh-in's are taken at the most ideal time – shortly after I wake up and before I've eaten anything. The final weigh-in is at 10 PM, which is probably the WORST time, although it would give me the whole day to work out.
The owner said he will try to add these suggestions soon.
Our Weight Loss Sponsor
In my last update, I mentioned how Healthy Weight Calculator is sponsoring both Paul and I.
They have agreed to award each of us $100 each if we successfully make the challenge.
My plan was to display my weight progress on here with their free weight loss web tool, but they're having some technical difficulties right now so I'll have to wait to see if I can include it in my next update.
My Efforts
I've been continuing to do my same routine and rules. Sure, I could do more drastic measures, but I'm trying to also come up with things that I will be able to follow through long-term so that I don't regain all my lost weight a year after the challenge has ended.
I'm still on a no fast food/restaurant ban as well as anything high in calories. I'm also eating a ton more vegetables and fruit than before, and am drinking more water as well.
I'm also doing daily push-ups and crunches, as well as walking every day. I'm still going to badminton twice a week as well which is a real cardio workout.
I've increased by daily walk by a minute a few times since starting my challenge, making it 6-minutes longer than it initially was. I know this sounds ludicrous, but it's part of my OCD to want to increment slowly and gradually like that.
I'm not walking very far… only around 2 KM (1.2 miles), but I do this every single day without fail.
Every day I go a different route from my place, to mix things up a bit and make things more interesting. I then check on Google Maps to see where I want and the distance.
I actually found some cool little areas around my place that I didn't know about before. Here's a little path I call the "bunny trail".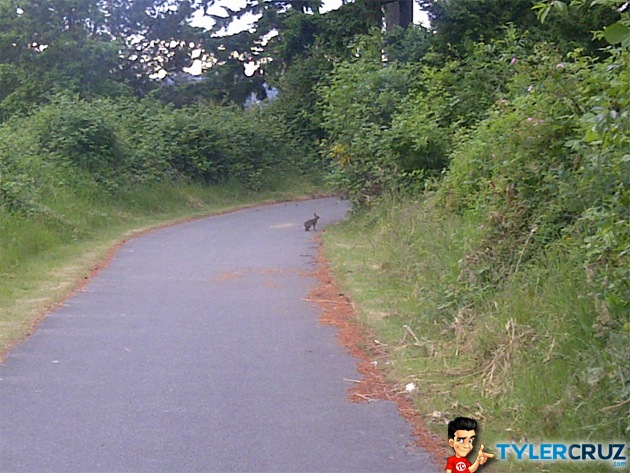 I enjoy walking around a construction zone near my place that is in the very early stages of construction (they just recently cleared the forest), as I like to see the progress they make each day. I'm curious to see what they've done.
I've been continuing to cook a lot more as well, since I'm on a no fast-food/restaurant ban and eat way less prepared meals.
I bought a bamboo steamer and made the Filipino desert/snack puto for the first time. It came out perfectly!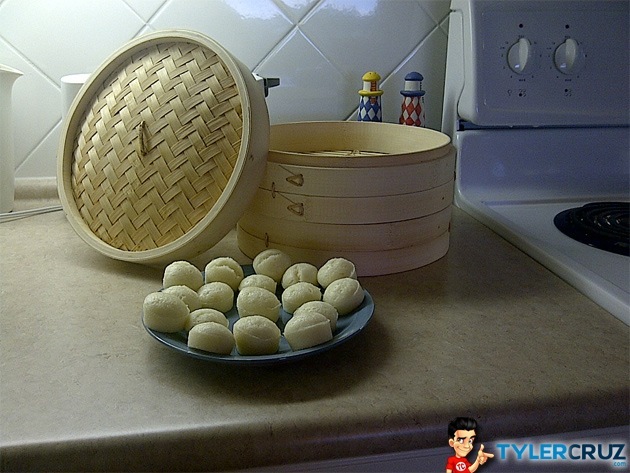 These aren't healthy at all, but it does show that I am cooking (steaming) more.
Plus I just wanted to show off my perfect puto.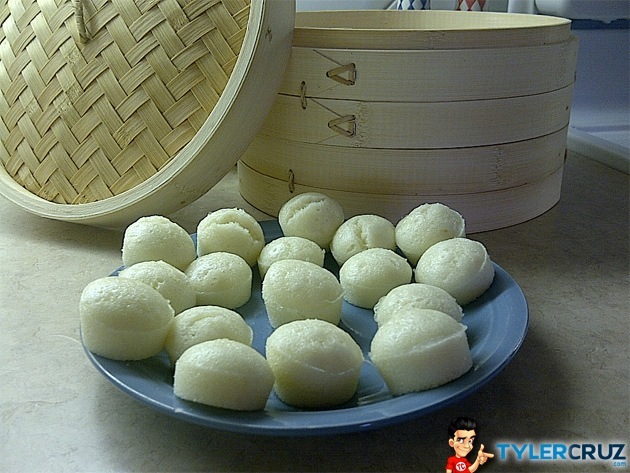 I've made plenty of healthy dishes. Below is my homemade broccoli soup. It has some cheese in it, but not very much (it wasn't very good… too watery… but very healthy):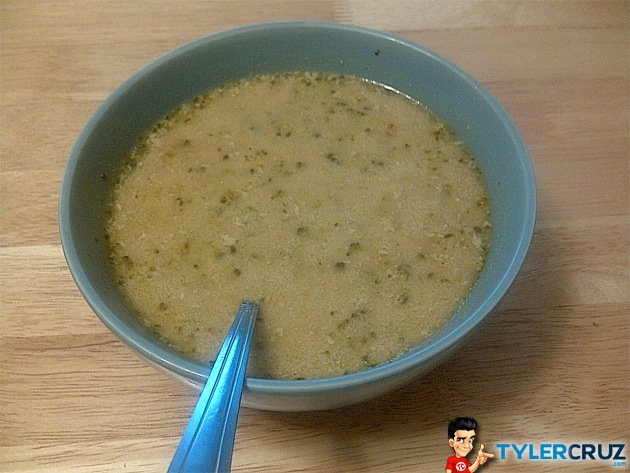 That's right. I'm watermarking my images. Don't steal my broccoli soup images bitch!
Below is another example of the types of meals I'm making and eating. It's salmon with a healthy dill sauce (which was actually surprisingly good), carrots, and a mini ciabatta bun.
The mini ciabatta bun wasn't really healthy, but it was hard to find small whole wheat buns: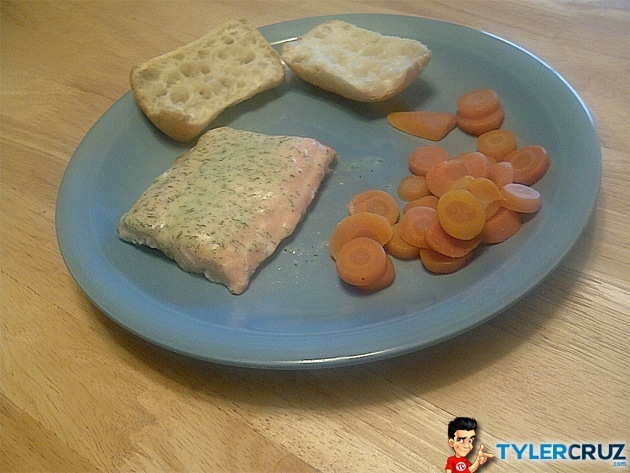 Paul's Efforts
From my discussions with Paul, he hasn't been making many changes to his weight loss strategy, although he has been slowly stepping it up.
He's very slowly starting to eat healthier, by trying to eat a bit less fast food and stuff like that. He's also starting to run on his treadmill.
But I think it's the food that's going to be his downfall if he doesn't make bigger changes soon. He's eating less fast food, but he's still eating it… and fairly often still from what I gather.
I'm behind my minimum daily schedule so I don't really have the right to lecture him, but he has only lost 3.4 pounds in 5 weeks… and yesterday it was 2.4 pounds!
The chances of Paul having to fork over $650 to me at the end of this challenge are getting higher and higher…